A little late this time, but here we go again. I still need letters and news from outside, inside and nearby. My due date for the next issue is 30 June 76. Please write or write again and again.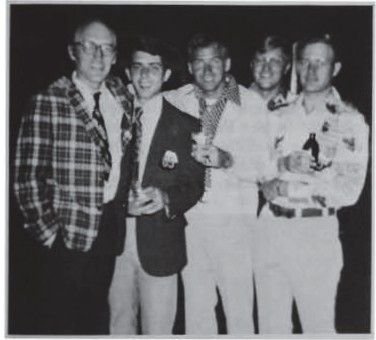 From Germany I received a letter from Clair Gill, the Dir of Fac Engrs, Ansback, which advises that he and Sherry had a baby girl on 14 Oct 75. It also seems Colin & Muriel Halvorsen had a mini-get-together at their qtrs in Illesheim on 17 Jan. Those attending were Steve & Marilyn Kempf of Mainz (Steve is S3, l/59th ADA (C/V), Jack & Dottie Keith of Schwaebisch and Clair & Sherry Gill. Clair also reports that he has seen John McCullough in Grailsheim and that he saw Rich Sinnreich's name in the 1st ADArty. Also in Germany is Charles McCloskey, who saw several classmates at Founders Day to include Lee & Ed Simpson, Pauline & Bob deLaar, Preston Moats and wife (mother of 4) and Tom Shaw and wife. Anyone in Jakarta, Indonesia, should look up the law firm of Adnan Bayins Assution and Assoc and drop in on Greg Letterman. He has been there since 18 Feb 76 and he plans to stay at least 3 yrs. Great place but a little out of my leave travel range, Greg.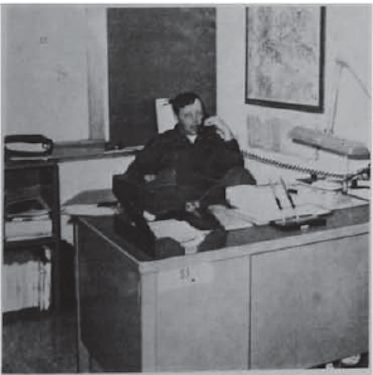 Enclosed are 2 great photos of old, old, old I-2 cadets. Ernie Westpheling provided the shots. By the way, John Longhouser and I had a mini-reunion in Crabtown this years after both gymnastics and swimming buried Navy. John is Army's last eastern coll champ in gymnastics. Where did I hear that before? From the South, Bob Guy reports that Jodie, Bobby, Kathryn and he will report the 24th Div at Ft Stewart, GA. "You-all come on down and visit." Although mum's the word, Sue & Don Erbes are headed for my favorite town-Gainesville, FL. Whatever you do, Sue, do not let Don work late. Speaking of K-1, where are Steve & Olive Paek?
Moving southwest, Skip O'Donnell of 1903 Great Plains Blvd, Lawton, OK 73501, says he works in the post G3 shop at Ft Sill, that Lee Atchley is headed for Korea and that Bill Tredennicks is in the S1 shop of III Corps Arty. Skip also reports that Frank Meier and Bill Birdseye are in Korea and Bill Bradburn, Bill Lehman and Dave Benton are at the Pentagon. Deep in the heart of Kileen, TX, Rick Wetherill reports that he is in the lst Cav where be started out organizing the Div Educ Cen, then became Asst S3 of 2d Bde and now is the S3 of the 1/5 Cav (Mech). He says he heads out for Wildfleclcen 18 May and returns 15 Nov. Rick says Mike Watson bought a house down the street. Rick, Mary Ann Jody and Mark Wetherill should leave Jun-Jul 77.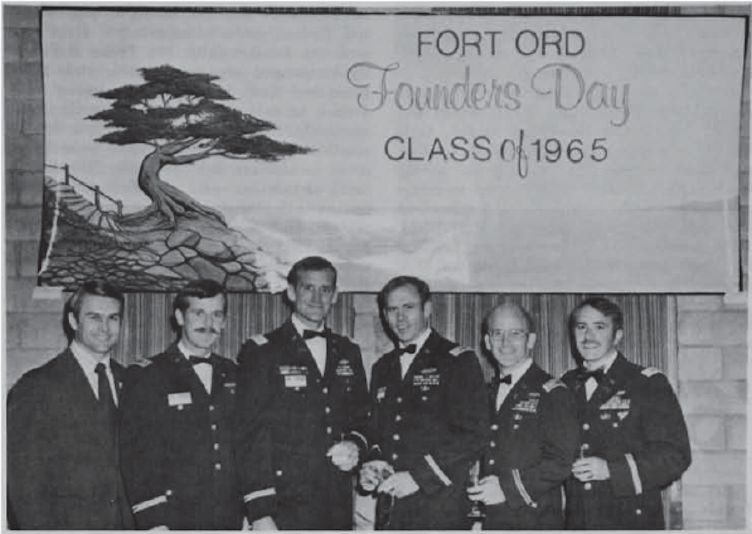 1965: I-2 Reunion 1975.




1965: Bill and Sue Sherrell.

1965:Founders Day Ft Sheridon.




1965: Founders Day: Anderson, Smith, Mace, Griffin, Kniker.
In OH Andrew A. Zaleski is a member of the B-1 Sys Prog Office (SPO) which has earned the AF Org Excellent Award. Andy is a sys prog mgr at Rockwell Intl, L.A. Honored for exceptionally meritorious service from 1 Jun 70 to 30 Jun 75, the members are credited with the successful development and flight tests of the new B-1 strat bmbr. Andy holds an M.A. degree from USC at L.A. and is currently working on an M.S. degree.
By now, much of the current Apr news will be history, and the new headlines are upon us. Please write. Strength & Drive. Bud.