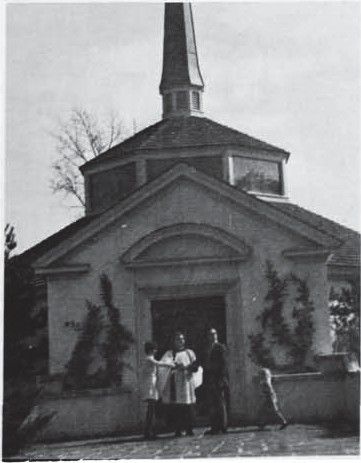 Swensson here. I'll take the license of this being my last column to start with personal news. The scribe & Susie Oviatt of Madison, WI were married on 15 Mar at Williamsburg, VA. After making me sign a statement to bring up the children as Lutherans, Jim Ford performed the ceremony and then flew back for Sun services at USMA. Thanks, Jim. We were joined for the great event by Kimberly and Samantha and my family. Susie has 3 children of her own, so now we look like the Waltons. We will attend the Reunion-thank goodness, they don't charge for children-and head for a 2-yr tour with the mission in Kinshasa, Zaire (Susie said she'd marry me if I'd take her out of the Midwest). We arc already expecting houseguests as Joe Anderson spends his summers in Kinshasa working on his dissertation; if any of the rest of you get over Zaire, plan on staying with us. Our address will he US Mil Msn ZAMISH, APO NY 09662.
In looking for a replacement scribe we wanted to find someone with an English background. The Engl Dept had found Grosvenor Wardwell Fish some years ago and, in view of his additional experience with the subject, and his work on Class activities this past year at USMA, he was elected. Bud, I know the AOG will be glad to have a scribe who gets the column in on time. I encourage you to keep Bud posted on your doings and include black and white pictures when you write. Good luck, Bud.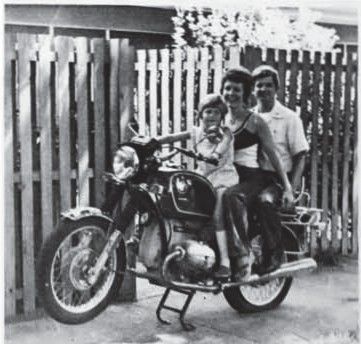 I spent 3 days last month in Tampa, FL with Gerry & Michelle Hoffman and their lovely daughter, Heather. Gerry was the 1st Regl Cmdr over Plebe Christmas, Best Plebe of NCB, and was otherwise quite well known before his departure cow summer for Baylor Med Sch. He is currently chief of pathology at MacDill AFB Hospital but will soon be reassigned to TX to take a 2d internship in anesthesiology. Those of us who are concerned about the sloth with which promotions to CPT occur should have gone AF, MC. Gerry should be an LTC next year. Gerry and his wife and daughter are a real asset to the Class and hopefully they will be attending the Reunion.
Long letter with picture from George and Carol Bell. The picture was taken at an Army-Navy party last fall. George says the party was only a prelude to the Reunion, and that Tony Gamboa was arranging a sequel for a party at Annapolis over the A/N Winter Sports weekend. He also said that party might produce police photos, but none have been received. The Bells expect to transfer to Philly-there's another possible party next year with the added plus of a victory-where George will be on the Regl Counsel's Staff of the IRS mid-Atlantic region office. Get your taxes in!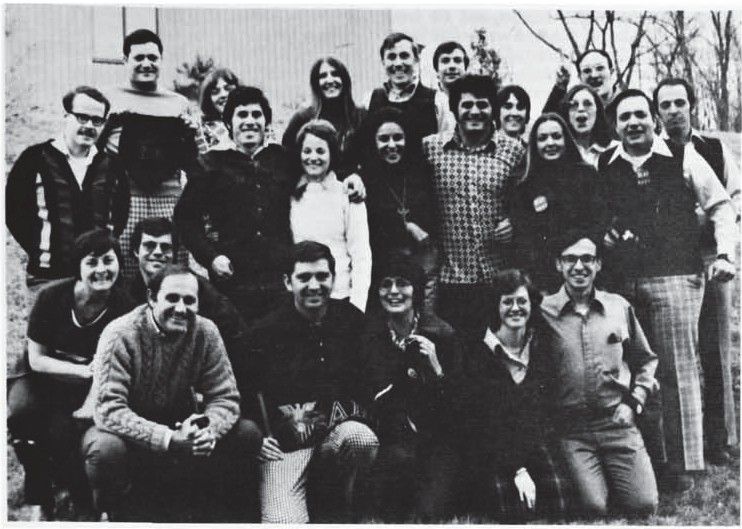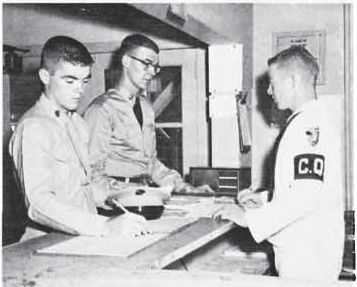 Larry Strassner is a banker in Baltimore and drives-or drove-a nice Porsche. Evidently Loco took it out for a spin and stripped the gears. George commented, "You know those Italians can't count up to 4 or 5 to do all that shifting, especially after a bottle of Chianti." George also adds that Locurcio and Bob Wolff are to blame for all the water and environmental pollution. They both work in OCE, "and Wolff looks like such a nice, respectable type guy."
If you don't pay taxes to Bell, Gamboa is a JAG at Ft Meade and Ray Pollard is moonlighting nights as a law stu at U. MD, commuting from APG. Cam, I hope and trust Frank is back home from Korea by now. Kosciusko is working 6 days a week at the Pentagon and Stan Genega is looking for another school to attend since he has a portion of his Olmsted Scholarship left. George's comment, "Hopefully this time it will be an American school. You know those 'star men'-perpetual students. Maybe someday Genega will drop out of school, settle down and get a job. "
| | |
| --- | --- |
| 1965: A-N party at Redstone Arsenal: Drinkwaters, Klines, Heckers, Bunns and Molepskes. | 1965: McMillan and Thames, Founders Day 1975. |
I'll quote George's next paragraph verbatim - I wouldn't touch it. "Marsh Schwartz is working for the govt but doesn't talk about his job-it's of a secret nature with DOD, State, Agriculture or one of those other clandestine agencies. That's what I like about IRS-so open and above board. May be Marsh is Batman." George, thanks for all the great news. I hope Bud gets such interesting and informative correspondence. George & Carol are at 15583 Peachwalker, Bowie, MD. Maybe Marshall walks peaches.
Also received a nice letter from Steve Morrissey. Steve and Beverly are in Atlanta-anyone headed for FORSCOM?-where he is the Dir of Proj Mgmt with Cushman Corp, a large real estate developer. I wonder if Steve gives large discounts to classmates? For further information, write 4622 Kingsdown Rd in Atlanta.
Nancy Hecker sent a note and picture of the Class party at Redstone Ars last Nov. The Heckers also had a going away party for the Bunns before they left for AK via the Alcan Hiway. Fred & Nancy will be driving up for the Reunion.
Some random notes on important people from various sources: T.C. Barron, always having trouble holding a job, has now become a Dir with Emory Ayers Assoc, Mgmt Consultants, 575 Madison' Ave, NYC. Congratulations are in order. Fred Smith recently received a Master of Engr degree from Penn State. Fred, I'm surprised you went there after they fattened our bus tires after the football game in 63.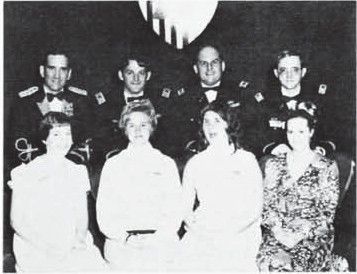 Ed Armstrong was recently awarded a BSM for meritorious service as Ch of Opns, 8th CE Sq, Ubon Royal AFB, Thailand. Ed and Karen are now assigned to the Space & Msl Sys Org, L.A. AF Sta, CA. Congratulations to what may be the last of the BSM's for a while.
Kent Brown & Sherrie are finishing up their last year in the Soc Sci Dept and are headed for Leavenworth along with Ferguson , exscribe Frank, Gehringer, Doughy, Guy, Kennedy, Longhouser, Skidmore, Surles (Hi Tom), and Jim Wood. Howell and Timmerman (Hi Sue) are headed for the Marine Corps Staff Coll in Quantico. No word on who the Class Secy will be next year, but Gilchrist will assume Treas's duties. On that subject, WE NEED MONEY in the operating fund. We don't even have enough money to get the column typed and the money from our fixed account is in a class gift fund (hopefully, don't read "water fountain") and is inviolate. I have sent Bill Birdseye a check for the operating f und c/o the Dept of Engl, and would encourage you to do the same if you have a few sheckels (no offense intended, Tom) lying about. In that regard I have asked that we have a general Class business meeting at the Reunion to discuss such things as operating funds, scholarship funds, projects, etc. In all candor I think we've reached a point where it would behoove us as a Class to start thinking about a few items that could use our attention. Enough said.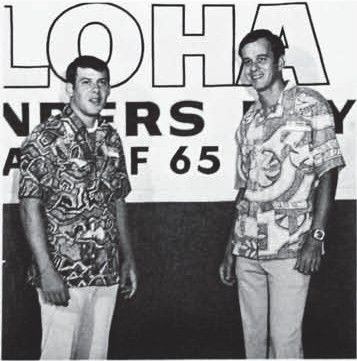 Bill reports that Barre and Ellie Bernier are on their way to the USAH at Ft Carson. Rich and Jeannie Boerckel are headed for Panama and the 2 Captains Birdseye are being assigned to Korea. Nice not to even be eligible for a hard ship tour by definition. Also on the short tour list is John Morris Pickler, Esq., who is headed for Turkey. Karen, Nevelyn & Andy will spend the year in Chattanooga; may the time pass quickly. Dick Knudson is headed for an Armor unit at Ft Hood. I'm not sure where Rick and Carol Sinnreich are headed (Germany?) but Rick is healing well from a very serious accident at WP. Rick set the Acad record for getting from the 4th floor of Thayer to the 1st when he fell down an elevator shaft. Our prayers have been with you Rick, and we're thrilled to know that you are back up and about.
Congratulations to Frank & Lisa Cumberland on the birth of their 3d child, Eric Joan Colleen in Tokyo on 4 Mar. I can remember Frank on Recondo swearing he'd never get married.
That's all the hard news on classmates; I wish there were more, but that's all I've received. Plans for the Reunion appear to be going smoothly and I'm sure we will all enjoy getting together again.
One last philosophical point and I'll head for the rest home for old scribes. Homer Smith spoke at the Founders Day dinner here at Indianapolis and gave a very frank and encouraging talk. Afterwards I overheard a few alumni (NOT our classmates though we were represented at the dinner by the Hustons, Kleinmaiers, and scribe) express to Homer their disappointment over the Army-Navy game. I wonder if that is really necessary. It has been my privilege and that of many other members of the Class to know Homer and to be thoroughly impressed with what he has done, what he is doing, and how he is doing it. I personally think he has "got his stuff together," and that we can expect good results in the future. I think we need to pull together with him and enjoy the football program. I'll put my money on Homer Smith and hope you would do the same-Better yet, send money to Birdseye in case Bud can't type either.
Well, it's been fun. I have enjoyed trying to put these columns together for the last 2 yrs; the greatest privilege has been hearing from classmates and hope you will keep Bud informed of your doings. It is my hope that the Reunion will allow us even greater opportunities to serve as a Class and a chance for more fellowship than these printed pages offer.