Letters for this column arrived from Paris, Tanzania, Okinawa, Turkey, and elsewhere and are greatly appreciated. I'll offer to trade the stamps for letters for the next column. Frog and Danielle Clement and I are now safely ensconced in IN. Steve is working for the Cmbt Devl Agcy and doing a lot of traveling which also helps the news dept. The scribe is being a student again.
At a WP Soc dinner here last month, I saw Mike and Joanie Huston. Mike is an atty in town and the Hustons have 2 children with a 3d on the way. Joanie is the sister of Judy Klink. The Klinks are in Wellesley, MA, where Ed works for Kuras real estate devl. Ted and Betsy Kleinmaier and their 3 children are also in Indianapolis where Ted is the compt of C.W. Jackson Constr. Ted reports that Ron and Dollie Layer are in Gary where Ron practices law.
The great T.C. Barron sent a nice long letter from Tanzania where he and Tosh are both consulting the govt there in mgmt sys. By the time this is in print they should be back in Manhattan via stops in Kinshasa, Zaire, to see that renowned elephant hunter, Mike Abbott, and the Homecoming game in Oct. T.C. staged a mini-reunion in Apr with Sandy Hallenbeck (where was Roe?) and Mike and Maybelle Teeters. Mike sells computers for IBM in Birmingham. They all went to Trader Vic's and then had dinner in Chinatown and "solved most of the world's political, social, and economic problems." Thanks again for the lunch last year, Tom, and the Class thanks you for the letter. I hope I have solved your motivational problems about writing scribes.
Preston Hughes wrote from Turkey where he and Glenn Nenninger command U.S. detachments. Paul Rau is also in the S3 Sec there and all (less Glenn who should be with Joanmary and Bernard and the 82d Abn Div) can be reached at TUSLOG , Det 97, APO NY 09324. Cyprus has been keeping that unholy trio busy, but Preston, who is a grad of the FAST prog, is being reassigned as Asst Attache in Ankara in Aug of 75 after some schooling at Ft Meade in Jan. Preston plans on joining us for the June Week reunion.
Yes, it's now official. John Mogan pushed a piece of paper through the innards of the bureaucracy and we will be gathering for June Week. There was a pretty clear consensus on this being the preferred time and we will have 64 more classmates available for billeting (actually 65, but Frank is too newly married and he wants $10 per room, per night anyway). A class luncheon was held last week and Joe DeFrancisco was elected as the pres of the WP contingent with Doug Richardson picking up Veep duties. They and Bill Birdseye and Fred Timmerman are working on rounding up a Reunion Cmte and hopefully we'll hear from them soon. Again a reminder that if you haven't updated your address with the AOG, the reunion committee will not be able to get in touch with you. If you have not done so, do so.
Gil Gilchrist, my old BOQ mate from USMA, left a note I found as I was moving out which said that Jerrv Ledzinski and wife had a boy, Justin Adams. on 12 Jul. Congratulations (and Gil, I still have a green melmac plate of yours which I'll bring back June Week). While we are on the subject of babies, I have an announcement from Don Phillpotts which I'll quote verbatim:
"To clear up the twice published predictions-the baby is a boy. Wade Travis was finally born in Feb, thereby shooting down the medics' various guesses of due date as well as wives-tale predictions of sex. Now that we've done our bit to preserve the family name, we quit and join the ZPG.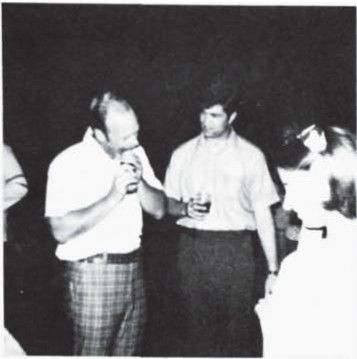 "There is no news to forward from Okinawa. In fact, I have to check the daily USARPAC reorganization guidance to see if Okinawa still exists. According to the local roster, I'm the only one on-island from '65. DA will probably try to pull us back to the States in 76 unless I can figure a good excuse to stay out in this area."
Congratulations to Don and Sharon. Don, we still want to know why you didn't take any Xmas leaves as a cadet.
Have a 4-page letter here from Genega which starts off, "Just a short note." Stan and Barbara attended a class reunion in DC and Stash was kind enough to send picture and news. Attendees included the Genega (2 children; Balt Dist Engr), Don and Kathy Parcells (3 children; Citibank , NYC), Marshall Schwartz (Marsh isn't really a hippie; he is on the Army Staff in a security position). Greg Letterman (Fed Power Comm, DC), Tony and Irene Gamboa (3 children; SJA, Ft Meade), Ed and Lynette Zabka (one child; HQAF Sys, Andrews AFB), Tom and Georgia Abraham (Artery Constr, Chevy Chase), Bob and Phyllis Wolff (2 children; OCE), Jim and Deedee Hardin (3 children; CAA, Bethesda, MD), Rich and Dagmar Kuzman (2 children; DIA), and Janet Dyer (2 children; Arlington Hall; Jim was on TDY). The accompanying pictures including the one with Kuzman eating a beer bottle show that all enjoyed themselves.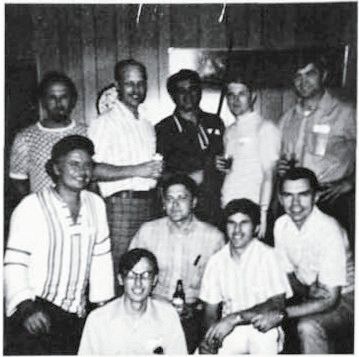 Stan also reported that George and Carol Bell are in Bowie, MD, where George is a lawyer with the IRS. John and Carol Knowles are living in Severn, MD, while John is assigned to Andrews AFB. Ray and Ginny Paske live in NJ and Ray commutes to Citibank where he works with Parcells. Could Dietzel be the pers mgr? Stash, I really appreciate all the news and the fine pictures; I was out of Camp Buckner reruns. Many thanks.
Bob Guy sent a welcome post card. He and Jodie saw Ray and Eleanor Schaltenbrand recently. Ray is a mortgage analyst with Northwestern Mutual Life in Detroit, and having shaved his head to swim faster as a cadet, he now sports a vandyke and mustache and, according to Bob, looks "dignified." Thanks, Bob.
The AOG Press section sent 3 releases. The first shows that Wally Divers is now an obstetric-gynecologist interning at Keesler AFB, Biloxi, MS. Wally took his degree from the U. of TX. Ed and Karen Armstrong are at the L.A. AF Sta. Ed recently returned from a tour in Thailand and was awarded the BSM for his efforts. Congratulations on the award and on being back home. The final press release noted that Jay Vaughn graduated from Leavenworth but makes no mention of his assignment. Anyone know where Jay and Sharon are?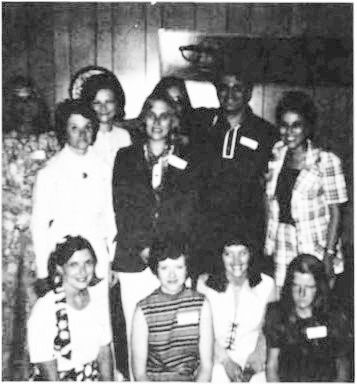 I'll conclude the column with a great letter from Chuck Shaw:
"My family (wife, Lucy; son, Charles III; and daughter, Lydia) have enjoyed living in Paris where I've been the European Rep for a TX bank. We've been here long enough so that our children have started correcting their parents' French. This humiliation and my interest in the wine industry have resulted in my resignation from the bank effective Dec 74 and my making preparations for a move to a small vineyard property I've purchased in Napa Valley, CA, near St. Helena. There I'm planning to establish a premium winery which will specialize on a very narrow product line of dry table wines. We're enthusiastic about our new lives and are anxious to get started. I promise my vintage 78 will be a great wine.
"On a recent trip to the U. S. I was able to spend some time with John and Donna Seymour who are neighbors of my parents in MI. The Seymours have 4 beautiful children and John is active there with his job in oil products and enjoys neighborhood and community activities. John is mainly a family man and keeps in close contact with football through his brothers' and cousins' prof careers. Donna Seymour is as attractive as ever.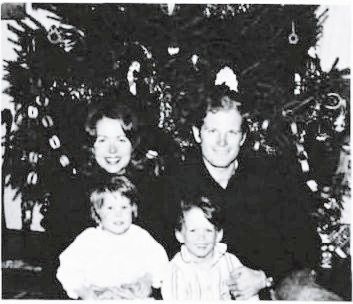 "From Detroit, I travelled to Minneapolis to visit Jim and Jan Stephenson and Kenny and Andrea Hjelm. After Harvard Law Sch, Jim took a position with a MN law firm and works in the firm's commercial section which deals mainly with a large bank holding company's business. Kenny Hjelm, after MIT's Sloan Sch, worked for FNCB in the Pacific Basin and now works for 3M in Minneapolis­St. Paul with responsibilities for their Far East activities. Jan Stephenson is working in biological rsch which I believe is related to the U. of MN's Med Sch. The Stephensons and Hjelms are close friends and both have lovely homes in the lake area of Minneapolis. I was really impressed by the tour they gave me of Minneapolis and know both families love living there. The Hjelms have one daughter, Alicia, who rivals her mother in beauty which, for anyone who knows Andrea, is not easy to do. Jim and Kenny share an iceboat and go snowmobiling, and Kenny remains a rabid hockey fan.
"My wife is from Houston where we've kept relatively close contact with Mike and Lynn Hudson. Mike lives in Austin where he heads up the state's consumer protection work which is related to Ralph Nader's national group. Mike was instrumental in passing legislation to protect consumers from unfair pricing of generic prescription drugs. He's appeared on local and state TV on this subject. Mike and Lynn are enthusiastic with their activities and enjoy Austin.
"While reporting to my bank's hqs in Houston this summer, I talked to Tom Thompson who is living in the Dallas-Ft Worth area. Tom was recently married and is working for the AF Log Cmd at the old Dallas airport, Love Field.
"Dennis Sellers and I keep in close contact because our wives are cousins. Dennis is very happy at the Bank of America in San Fran where he is an officer in the bank's Natl Div. The Sellers, Karen and Dennis, and daughter Aldin, have purchased a new home in Walnut Creek which is east of San Fran.
"Jack and Polly Jannarone live in the beach area of L.A. where Jack is assigned to the AF SAMSO in El Segundo, CA. Jack recently completed work on his MS in Aeronautical Engr at AZ State U."
Chuck closed with a note, "My small winery will give us West Pointers a bridgehead in this important strategic industry where I may be able to divert a million tons of premium vitis vinigera grapes to indus alcohol for mil use." Maybe Chuck is vying for scribe duty with such a massive missive. My thanks to you, Chuck, and I'm still trying to figure out the 63 BOQ incident in Augsburg. Good luck with the vineyard.
Well, this has been an easy column with FONECONS with John Mogan and all the splendid letters. Apologies to Terry Carlsen whose departure from the service I prematurely reported in the last column. Terry is currently doing penance in Korea and I'm doing the same in the midwest hoping the Xmas cards will bring more news for the next column. Merry Xmas to all.
Does anyone remember when Doug Gentzkow was dating Liza Minelli?