The last snow of winter is falling outside signaling the end of winter, and informing the Plebe Parents who are here for their weekend what Gloom Period can be like. Hardly seems appropriate, though, for the 29th of Mar. Must have been caused by a sunspot with a lot of strength and drive. Some old business before proceeding on with the new. My announcement in the last column that Fred Timmerman had received a Ph.D. in physics from UNC was a surprise to both Fred and UNC. His doctorate was actually in counselling psychology and was awarded by Duke. My original informant of that piece of misinformation shall remain anonymous.
My query about a memorial article for Mike Berdy brought responses from Chris Dorney, Ralph Locurcio, Stan Genega, and Roger Frydrychowski. that project appears to be well in hand. Article or not, Mike is missed by us all.
Too, I have found Ed Knaus's missing letter. He and Sue and their 3 boys (including twins!) are living in Bedford, MA. Ed is the Dir of Northeast Sys Activities, Science Applications Inc. Ed reports that they are doing DOD test work including the Safeguard Sys. Our class novelist can pick that up and add it to his military industrial file.
Turning to new business. Obviously some safeguard sys need more testing as the class wins the quarterly fertility award. Among the proud new parents at WP are Bob and Vivian Rood with a new daughter, Heidi Marie; Lucky and Pauline deLaar with a new son, Mark Alexander; Ann and Hank Sterbenz with a new daughter, Kristen Ann; Cal and Pat Kahara with a new daughter, Emily; and Bob and Jodie Guy whose daughter Kathryn Louise was born this past Sunday. Also Jack and Peggy Koletty, recently assigned to an Air Base in CA (Where, Jack?) recently had their 2d son, John William. I also have a note here written on a paper placemat from our last class luncheon that Don and Sharon Philpotts had a baby. Probably because of a teletype breakdown between here and Okinawa, I have no other information but it was predicted as a girl in the last column.
Local news first; then I'll move to the real world. We recently held elections for 2 local class officers with John Mogan, local HMIC, presiding. Bill Birdseye was nominated by an assoc member (Helen) to be Treas. The voting was unanimous. Jim Golden has dutifully held down that position for the past 3 yrs and we'll miss him as he departs for Leavenworth. Fred Timmerman was elected Secy, partly because of his personality and partly because Sue has an electric typewriter. Jack Lowe has done a great job as Secy this past year and he and Annette, Bruce and Mary Melanie, are off for the 2/11 ACR in Bad Kissingen. We will have elections for Pres and VP (currently Joe Anderson) in the fall after the new crop arrives. (Not much quantity in the new crop; rather smallish pool left to draw from.) Among the inbounds are Barber, Carll, DeFrancisco Gilchrist, Kulbacki, Lemley, Olmstead, Powers, Riley, Ryan (Hi, Nancy), Vaughn, and Westpheling.
On the way out, but not previously reported are Mike and Leslie Fligg to Korea along with Hal Jenkins who is sending LaVerne to U.S.C. to get her Master's in Library Science while he is gone. Does the Army still taste like ice cream, Hal? Ed "Dee" Winstead is slated for ACOM, Camp Zama, 96343. Not to be outdone by Aron's stylish departure to civ life (What about the 10-year book, Steve?), Dee .celebrated his coming departure for the Orient by renting the ballroom and green room of the WPAM and inviting 150 couples, with a large class attendance. Advertised as a Bachelor Bash, the party was alternately rumored to be a Marimba concert (Dee has been secretly practicing for 2 yrs) or an engagement party. Dee assisted the latter rumor by going to the extreme length of getting a NY State blood test after asking around the office how long they were good for. After a few misleading remarks by Chaplain Ford (Gustavus Adolphus '29, USMA '65) who had a Bible in hand, Dee announced the engagement of 1LT Betsy Gibson, an assoc member and CO of the USMA WAC Det, to Cdt Paul Clark (USMA '74). On the subject of marriage, Bob Frank (Hist Dept) was married last week to the lovely Mary Viehdorfer, CPT, ANC, and they are currently off on their honeymoon in Jamaica.
I have on my desk a newspaper article "Hero Backs Viet Day." It starts off "Medal of Honor Winner Paul W. Bucha said Wednesday he now supports a special day for Vietnam Veterans." Bud was addressing a local Kiwanis organization. I also have a press release from Armstrong Cork announcing that Rick Horst has been promoted to Purchasing Agent. You can send congratulatory messages to Armstrong Cork, Lancaster, PA.
Recent MAJs include Joe Zurlo and Barry Bernier, MC, and Billy Mitchell, Joe Kosciusko (currently at AFSC in Norfolk), Bill Bradburn, and Gordy Long, USAF. A few of the remaining flyboners are getting nervous about the forthcoming Army list which should be out before this column. Not among them is LCDR Tim Vogel who was recently awarded the AM. His wife Cynthia pinned it on but a picture did not accompany the news clipping. Congratulations, Tim. The AF info came in a nice letter complete with a Phantom jet and the inscription "525th TFS, Bulldogs Inc.," for letterhead from Billy Mitchell, who after some years with the Inf, heard there was more glory for people with his name in the AF. Billy and bride are at Bitburg, Germany, APO 09132, where he is extremely happy (have you ever known him not to be?) and flying 25-30 hours a month. He and Gordy Long are both soon to be en route to the AF C&SC at Maxwell AFB, AL and should arrive there this summer. I know Billy will be glad to return to the Southland. Also in Germany at present are Sonny and Sherry Ray in the Berlin Bde and Art and Mae Hester. Art is commanding an Armored Cav Troop in the 1/11 ACR in Fulda and fast-talking Sonny is in the S4 business.
I received a nice memo from Lee Hewitt reporting on his Founders Day trips which he took while accompanying the Supe. Lee comments "Unfortunately some of the notes I took were apparently cleaned up by the maid in a Pittsburgh hotel-she must have thought my writing looked like trash." In spite of his bout with the maid, Lee provided a great deal of info. At Ft McPherson he saw Bob and Julie Radcliffe. Bob is a student at GA State and is headed for Leavenworth and then here to the Tac Dept. Bill Connolly (FORSCOM) and his wife were also there. Bob Axley and his wife Michelle attended the dinner in Dallas. Bob is an atty with "one of the hottest and fastest growing firms in Dallas." Lee Atchley (FA Bd), Tom Cindric, and Frank Meier (both of Cmbt & Tng Dev) ate peas and chicken at Ft Sill. John Shuford was on TDY to DC but was represented by his wife. Lee notes that they are all considering whether muzzle loading arty still has a place in the Army. Lee also notes that "if there is anyone from '65 in the Pittsburgh area, they did not show up for the dinner ...a number of people who are listed in AOG records as living in various areas no longer live there." A reminder that it is a good idea to forward a change of address card to the AOG. Many of you haven't updated your address since you were LTs. I have their address list and will provide addresses (correct or otherwise) in exchange for some info for the column. I got some great info from Ray Pollard who called today to say that Frank Hennessee heard that some classmate at the Founders Day dinner at Annapolis was getting out to work for Westinghouse. But Frank hadn't gone to the dinner either so neither knew his name. I really appreciate all the accurate help. Frank is being reassigned to Korea in Aug. Hopefully Cam will have had her baby by then as she is expecting in Jul.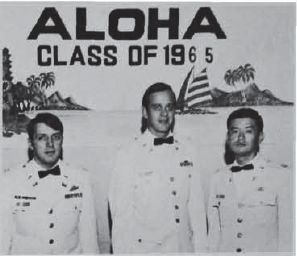 We had a great Founders Day dinner this year at WP with a good class turnout. GEN Abrams gave an address that was truly inspiring, and those who weren't headed for Westinghouse got the impression that the Anny is in good hands. One thinks the same thing about the Army football team under Homer Smith. He is already making his mark here and will address a class luncheon next month.
A nice long letter from "Loco" Locurcio who, with his wife Ingrid, is assigned to the OCE Bd of Rivers and Harbors, Ft Belvoir. They have a girl, Susan, and a son, Michael. Ralph reports he was a ROTC instr at Notre Dame before getting his master's in CE at Purdue. Also in the OCE is Dr. Bob Wolff (see cover of the last ASSEMBLY; he can be identified because his name is printed on his foot) who just returned from Cambodia and is currently a DAC, having been awarded his Ph.D. in Engr-Economic Planning from Stanford. Ralph also reports that Stan Genega is with the Ft Meade area office of the Baltimore Dist Engr. My thanks to Ralph for all of his help. Bob Higgins, reports that another engr, Pat Kenny, is en route to C&GSC and then to the Tac Dept. Can you imagine Pat writing quill?
Rick Chapman, Asst Area Engr here, provides the following on the more intelligent members of our Class: Tom Johnson (USAF) is working on his Ph.D. in Plasma Physics (Controlled Thermonuclear Reaction) at Lawrence Labs, U. of CA. Tom also writes some awfully good poetry. Omar Rood is working at the Const Engr Rsch Lab (CERL), Champaign, IL. Besides working on a re-design of the commissary sys, he is getting a Ph.D. in CE from the U. of IL. Rick Osgood, with Ph.D. in Physics, is working on lasers at MIT Lincoln Lab. He lives in Winchester, MA with wife Ann and 3 children, Nathaniel, Rick Jr., and Jennifer. Thanks Rick.
Chris Dorney is assigned to a rsch unit at Ft Ord (address: 239 Metz Rd) and spends his days counting his TDY money and going to sensitivity sessions. He is doing computer studies of group morale, all of which sounds fascinating. Chris and Mary Ellen have 4 children. Chris provided an update of the CA set. Bob Sellers is at Monterey studying Thai after which he and Betty and 2 children will head for Thailand. Also at DLI is Jack Concannon studying Russian. Chris Needles is at the Navy post grad sch in Monterey, and recently-married Dick Williams is with CDEC at Ord. They are all investing their money with Jerry Ledzinski who is with an investment service company in Monterey.
Random notes: Ron Bailey who was scheduled for C&GSC has accepted a slot with the Ranger Bn at Ft Benning. Emory Pylant at C&CSC is off to advise the Nicaraguan NG. Bruce Gailey has departed the toy factory to work at a bank in Chicago with Alex Alexander. Tom Abraham is a townhouse contractor in the DC area, in case anyone wants to buy a house. After graduating from UT, Mike Hudson is The Exec Dir, TX Public Interest Research Group, in Austin, TX. He and Lynn have one daughter, Lauryn, and are expecting their 2d child in Apr. That last piece of info comes from John and Shirley Howell.
CLASS REUNION: At our last luncheon we decided to ask AOG to let us hold our 10 year reunion in June Week of 75 rather than at homecoming the fall thereafter. Our rationale was that we will have more classmates stationed here which will make for a larger reunion gathering and will facilitate housing. Start making plans for a big reunion! I'll publish a housing list and details next year. In the meantime, please write one letter to the Scribe.
Parting shot. Lee Wood, famous at WP for her Charleston, asked that I put her lesser known husband's name in the column, as it has never been here before. James Hayward Wood. O.K., Lee?
All right, who is working for Westinghouse?