Lot to report this issue thanks to much help from classmates. AOG says to keep it short, claiming a paper shortage, so I'll send it all in and see what happens. Hope they have the Xmas spirit. Bob Frank has ret. to the old scribe's home and John Mogan conned me into writing, though we are still negotiating salary, royalties, etc.
The last ASSEMBLY carried the sad announcement of Pete (Kenneth D.) McArthur's death, which occurred in Aug while Pete was on a business trip in OH. Carolyn reports that she is doing well, considering the circumstances. She is living at 5159 Wippledale Ave, Roanoke, VA, with their 2 girls. If you are passing through, I am sure that Carolyn would appreciate a call. Pete was a grand guy with a wonderful sense of humor. We shall all miss him. Ed Knauf wrote in to express his condolences; but, regretfully I misplaced his letter. If anyone could help with a memorial article on Pete for the ASSEM BLY please contact Carolyn.
On that subject we have several classmates about whom memorial articles have not been written. Among them is Mike Berdy whose father, I know, would appreciate it. If you knew someone well enough to write an article, please let me know and I'll put you in touch with the proper people.
Army-Navy game saw a large class turnout-through the first 3 qtrs. Thanks to the organizational efforts of Bill and Bonnie Ritch, we at least won the party. They reserved one wing of the Country Squire Inn, and we all had a grand time, partying both Fri and Sat nights. In addition to about 12 WP couples, Ray and Peggy Pollard and Frank and Cam (who says to please write) Hennessee drove up from Aberdeen PG where they test things ranging from tanks to WAC underwear. Interesting job. Also in attendance were Jim and Bobbie Green who flew in from Atlanta where Jim is based as a flight engr for Delta Airlines. Pat and Alice Kenny drove over from across town. Pat is with the Area Engr office in Philly. Kathy Applin was very chic walking around with a cane which, fortunately for Mike, she has since discarded. Also at the party or the game or both were Steve and Janet Ammon (the old "cannon cocker" has gotten out, had 3 children, and gone to work for a Def Contract Agcy in Springfield, NJ), Joe Barkley, Denny Gibson, Joan Mary Nenninger, Sandy and Rose Hallenbeck (Sandy is at Penn State getting ready to return to the Soc Sci dept. They said he must be smart because he slept through so many of their classes), Sonny Arkangel, Chuck Heindrichs (still bald ), Fred Smith, Denny Coll, John and Didi Malpass (home on leave from Korea?), Joe and Nancy Sanchez (Joe is a purchasing agent for a large indl outfit in Pennsauken, NJ), Dave Gnau, Phil Olmstead Ed and Carol Maness (Ed is a sys engr for the Johnson Environmental Protection Co. in Birmingham, AL), Bruce Hulin (Data Sys Co, NYC), and Jim and Margy Berry (Johnson and Johnson, Philadelphia). It wasn't really a bachelor party, but I could not get all the wives' names and watch the game at the same time. To those wives and to anyone else whose name I omitted, my apologies. Random gossip picked up at the game: Frank and Sue Arnall are selling life ins in Jacksonville, FL. John Johnson is at the career course at Ft Benning, studying the squad in the attack and basic battle drills. Lee Hewitt, who is now aide to the Supe, reports that he saw Bill and Nancy Hecker at the GA Tech game.
Congratulations to the rather large class contingent who were selected for Leavenworth. From WP the group included Kempf, Herb Smith, Halvorson, Lyons, Gill, Golden, Pickler, Higgins, Hannan, Rood and Bruce Clarke.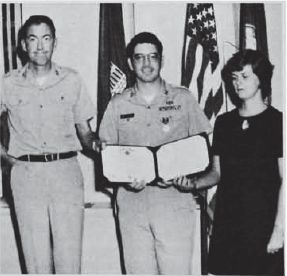 Kudos also to Andy Zaleski who recently won the AF Sr Missileman Badge "in recognition of his support of the Minuteman Missile program." Andy is assigned to the L.A. AF Sta. Chuck McCloskey won his 2d OLC to the AR COM for developing the Codurus Creek Wastewater Mgmt Study in York, PA, and for contracting a $5,000,000 building which will house a model of the Chesapeake Bay. Must be a big model. No word on the fishing at either site. Dave Vann recently graduated with honors from the Supply Mgmt Officer course at the QM Sch at Ft Lee.
Also on the plus side, Helen Birdseye (CPT, ANC), Bill's wife, broke the sex barrier by being accepted as the first female member of the WP Society of NY. She was installed at a luncheon at Mama Leone's. On that subject I'm happy to report that Mama Leone's is continuing their tradition of quick seating for grads. Just bang your ring on the counter when you walk in.
Fred and Sue Timmerman recently (5 Jul) had a baby girl, Erin. Fred just sent in his PhD dissertation in Physics to UNC. Frog Clement also finished his dissertation which pleased Danielle immensely because she had to type it. One other recent "doctor" is Jon Blades who was turned back to that motley bunch in '66-for academics. Some irony there. John's PhD is in sociology. Congratulations to them all.
Bill Lehman recently graduated from the JAG basic course. Phil Harper graduated last year from U. Miami Law Sch, which wasn't bad for the class goat. Phil just bought a new house in Richmond, complete with a 2-level pool, one level being for wheel chair swimming. Phil is currently pres of the VA chapter of the Paraplegic Vets of America and is doing much work in the VA area toward improving working and living conditions for paraplegics. Brenda Berzal usually at Phil's on weekends. Phil reports that Mike and Barbara O'Grady are living in Augusta, GA, with their son Mike Jr. Mike is a medical salesman for a major pharmaceutical co. and parks cars during the Master's tourney. Phil had also received a letter from Dan and Nancy Speilman. Dan is riding the Army gravy train once again, letting them put him through med sch at the U. of TX. This is a long tradition with Dan. While in grad sch en route to ES&GS, he went to the Virgin Is to do his MA thesis on tourism there. Also at med sch at UT are Don and Sue Erbes. Don is studying teeth and will probably do experimental cavity work on anyone who passes through. Also in Med Sch, but at Penn State (Box 1268, Hershey, PA) is Bill Byrne. Fred Ammerman has recently reported in as the Registrar, USAH, USMA.
Ross Woolen sent in a nice letter. He graduated from UVA law and is currently a barrister with the rather prestigious firn of Mudge, Rose, Guthrie, and Alexander in NYC. He is engaged to Miss Carolyn Schaperkotter of Columbia, MO. Congratulations! Ross advised that Roger and Cheryl Frydrychowski recently had a baby boy and have bought a new home in Silver Spgs, MD. He also said that Alex and Stevie Alexander have moved from L.A. to a Chicago high rise. Ross' address is 465 W. 23d St, Apt 8A, NYC.
Another barrister is Bob Stowell who is working for the prestigious firm of Stowell and Stowell (anything is prestigious in Ord, NB). Jean and their 2 daughters are enjoying the good life that comes with the NB countryside. Bob is the only member of our class who spent 2 days in combat in a 12 month tour and managed to win the DSC.
J.C. "Mosky" Devitto wrote in from Korea where he is the Passenger Travel Officer in Seoul for the 25th Trans Cen (MC) (APO SF 96301). He advises that Maureen and their 4 children (Harmans still lead with 5) are staying at Woodbridge, VA. Mosky saw Dan Philpotts in Okinawa. Dan's wife Sharon is expecting a new sister for Tara in Jan. Also in Korea is Dave Jones who is flying helicopters with the 128th AHC. Patti, Kim, and Kris are marking time in CA. John's letter closed with the admonishment, "Take care and be kind. I know how those P's can be." We are always kind.
Steve Darrah is in the 197th Bde at Ft Benning, GA, and also finishing his master's degree at UGA. Wonder if Steve is still drag racing his blue Corvette at the strip in Alabama? From the same anonymous source comes the news that Bruce Gailey is working for Fischer-Price toys in Hamburg, NY as a rsch analyst. How do you research a toy, Bruce?
Far afield are Jimmy and Diana Miyashiro who, with their children Mike and Tracy, are at 3577-39 Pinao St, Honolulu, HI. Jim is an engr with somebody. Peggy Pollard can't remember.
Rich Boerckel was wandering through the Buenos Aires airport this summer and ran into Steve Burrell. Steve is the Latin American sales rep for J.F. Pritchard and Co. He is married, has 2 children in spite of almost constant travelling, and lives in Kansas City, MO.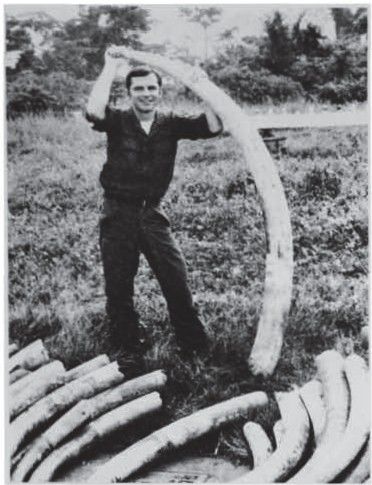 The remotest news comes from Bob Doughty in Hist, but is about Carol and Mike Abbott and their one-year-old son, Berch. Mike is a mil attache stationed in Zaire, Africa. One of his latest missions was walking in the jungle with a guide and 10 pygmies to take a picture of a family of gorillas living in the mountains. Sounds like intelligence activity to me. I don't know whether to believe Mike's claim, but he provided the caption on the picture.
Lee Oscar Atchley, wife Nancy, and daughter Cathy are reported to be at Ft Sill. Lee is with the FA Bd. Cookie and Colleen Leverett and daughters, Terri Sue and Tricia, are at Randolph AFB in San Ant. Cookie is supposed to be flying C118's for the AF, but after all the problems he had as a passenger on a C118 on a glee club trip to AFA in 63, that is hard to believe. Probably takes a lot of dramamine.
Local class Pres, John Mogan , reports that Mike and Val Deems have moved from GA Tech to Ft Ord. John also notes that Dick Mohlere was up for Homecoming with his wife Delores and their 2 sons. Dick was assigned to the CSEC in DC. He resigned from the service but remained in the same job as a DAC. Probably got a healthy pay raise. Also in the DC area is Bernie Ziegler.
A very humorous announcement all done up in formal script, tissue paper insert, etc., was received from Steve Aron as an indication that he has joined civ life. The text is quoted verbatim: "Charles M. Aron / formerly / Captain United States Army / announces / that he has died and gone to heaven / accompanied by Wife Monday / and / Daughter Genevieve / 1908 Grand Avenue / Laramie, Wyoming / In lieu of flowers / Please contribute to your favorite Charity." Some people go out with style. In view of the marvelous job Steve did with our HOWITZER, I'll wonder publicly if Steve would be interested in doing our 10-year book, or if he would accept a draft? It's almost getting to be that time.
A new class record! Bryant Bachman's wife Ann has now totalled 2 of their cars. Fortunately, she has not been hurt either time. Bryant, always patient, went back to the store and bought another VW.
Steve Hannan , local JOC pres, reports that Jim and Connie Mirando and 2 children are in the construction business in New Cumberland, PA. Jim and Jeanne Harmon and their 2 daughters are living on Long Is and expecting #3. We certainly are prolific. Jim is an Asst DA in NYC. Jim Webb and Diana and their 3 girls are at Ft Belvoir where Jim is aide to CSC CG. Jim will also be en route to C&GSC this summer.
Jill and George Seaworth were blessed with a daughter, Theresa, on 7 Dec. Along with several other classmates, George works for Quaker Oats in Chicago.
Thought I'd close with the following note which I received from one of the 3 musketeers named in the first line: "Tom White, Steve Harman, and Terry Carlson, in their 3d year as math P's, welcomed Bill Bienlich and Doug Richardson to the dept this year. All are trying to undo the 'un-image' of math P's. Steve has been selected for C&GSC next fall and Terry and Tom continue to stay together as they have from 5 Jul 1961 (living across the hall in Beast). Their teeth are already chattering thinking about a 'cheery?' FA assignment in heaven, spelled K-O-R-E-A [with Malpass]. Terry said Doug and Janet Gibson are still in New Providence, NJ expecting #3 in Jan. John and Carol Roseberg are enjoying law sch at the U. of IL. Joe and Lynne DeFrancisco said the social life at Leavenworth was great with Jay Vaughn, Dan Christman, Ken Olmstead, Emory Pylant, Walt Kulbacki, Zig Roebuck, and Gil Gilchrist making up the '65 contingent there this year. Also that T.J. (dirty old man) Kelly and his lovely wife Cas and 2 tiny Kellys will probably be leaving UT in the spring and retuming to CA for another AF vacation. T.J. and Cas went to the Army-AF game; wonder whom they rooted for after half time? Oh, yes, the Math Dept still says 'Take boards' every day for anybody who things the 'Corps has gone to ----' completely, except now we say it with a smile."
To all of those who wrote or message-centered in, my thanks. I'll publish all the errata next time. Malpass is not really in Korea. He is in the currently frozen wasteland of OPE. A closing thought. In football the low score wins.