The Class joins me in, welcoming back Bob. Jones from over 5 yrs of captivity in the infamous Hanoi Hilton." Bob, a bachelor then (and still at last report), was shot out of the saddle of his F4C while on a bombing mission in the Hanoi area on 18 Jan 68; he was captured almost immediately and remained a POW until 14 Mar of this yr when he was finally released. For those of us who saw him step from the C141 at Clark AFB on TV early that morning, it was a moving and memorable moment. Through the diligent efforts of Dennis Lewis and his lovely wife, Marie, a splendid "Welcome Back to the World" party was held in Warren, OH 27, 28 and 29 Apr .In attendance were the following: Jerry Merges of AM Castle Steel Co, Dayton, OH; Tom Abraham of McCarthy Construction Co., Falls Church, VA; Dennis Lewis, Genl Contr, Warren, OH; Bill Zadel of Quaker Oats Co. Chicago, IL; Labe Jackson of Jobes Tree Food Spikes, Lexington, KY. Don Parcells of Continental Can, Cleveland and NY, Jim Hall, of GM, Trenton , NJ ; Rollie Stichweh, Dir of Camp Dudley, Westport, NY: Ray Hawkins, QM Sch, Ft Lee, VA; Rocco McGurk, AMC, DC; Clair Gill, Dean's Office, WP, NY: Nick Principe of Imperial Oil & Grease, Chicago, IL; Ray Paske of First Natl City Bank, NYC; Ray Woodruff of Ryan Homes, Warren, OH; John Seymour of Imperial Oil & Grease, Bloomfield Hills, MI; and Bob Jones, Westover AFB, currently on convalescent leave until the end of Aug (41A Hillside Ave, Chatham, NJ 07928). The highlight of the weekend was Bob's recounting in detail of his experiences and impressions now that he is back. Of significant note was his comment on how he had gathered strength from the good character of the close friends and classmates he admired and respected; when faced with heavy mental or physical anguish, he would presuppose how these friends would react and pattern his responses accordingly. Following his talk, the group presented Bob with a replica of his class ring which had been taken by the VN villagers upon his capture. The ring was graciously reproduced and donated by the pres of L.C. Balfour Co. Bob was reported to be in excellent health and enjoying his new freedom to the hilt. It is good to have you back home, Bob.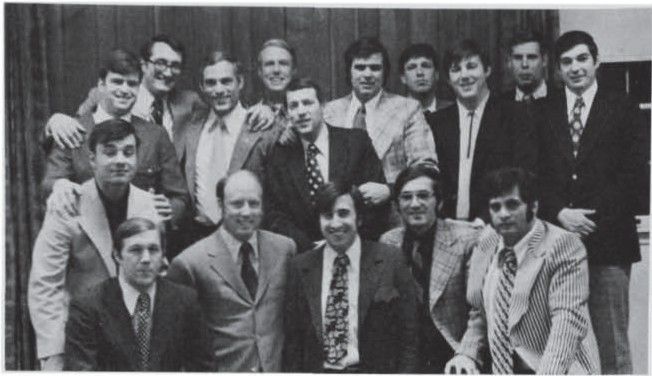 Last issue's column generated a desirable reaction-I have been receiving mail! Of course, many people still in the service are traveling this summer. Once they get settled in new surroundings, I would hope to hear from them. Relocation is most noticeable here at WP where more class members are still arriving than are departing. The Class should be reaching peak strength shortly. Among the departees was Dan Christman, pres of the class group at WP. Dan is bound for Ft Leavenworth. He leaves his former position vacant for the summer and Clair Gill, the VP, is handling class related matters until a fall election ratifies a successor. Clair will be glad to assist in the answering of inquiries about class activities and plans at WP. Give him enough lead time.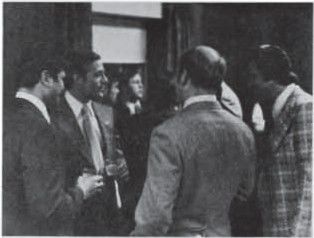 Departing here for Germany were Art Hester and Preston Motes. Dan Speilman, our other departee, is off to med sch. The new arrivals include: Oleh Koropey, Hank Sterbenz, John Davis, Joe Bishop, Doug Richardson, John Vann, Bill Beinlich, Joe Anderson, 'Spuds' Sperry, Jim Long and Tom Genetti. I have not seen them all yet, but football season should bring us together.
Skip O'Donnell passed through on his way to Uijongbu, Korea, where he is Camp Jackson CO. He saw John Vann in Seoul, where John worked in the Eighth Army PMO before returning to WP. John Malpass left here for the MI HQS in Seoul and was able to take his family along. John Alger also stopped by. John is back at Stanford after a short tour in RVN. He plans to finish his dissertation before returning to the Dept of Hist via Ft Leavenworth. Sherry and Sonny Ray also stopped by this spring. They are now in Berlin. Sonny was to be asgd to HQS Co 3/6th Inf. The doors are opened to any of you visiting Berlin.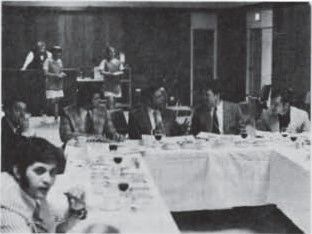 Our Class has added a few women to the group. On 28 Mar, Ellen Genser and Bob Cato were married in the Cadet Chapel. Bob joined the Adm Office this summer. Emory Pylant was married on 8 Jul to Joanna Ball in Huntsville, AL. He is en route to Ft Leavenworth after 2 yrs with Safeguard. Don Appler and Carolyn Hogue were wed in Jackson, MS, on 16 Jun. Don now works in Adm, and Carol joins CPT Helen Birdseye as 65's contribution to the ANC at WP. Rich Boerckel and Jean Ashford were married on 7 Jul at the Old Cadet Chapel. Rich works in ES&GS.
Unfortunately, all the news from WP is not happy. The accidental death last spring of Sean Mogan was felt not only by Donna and John, but by the Class and the WP community at large.
My travels took me to Puerto Rico over spring leave and in Jun, where I visited Jose Sanchez. He was working for the Port Authority at the airport. Jose is moving back to the Phila area, where he is lining up a job with Rohm and Haas (Industrial Chemicals) and preparing for a post (and maybe even a pre-) Army-Navy game gathering. I also ran into Mert Munson's in-laws and learned that he and Gerry are at Ft Hood. Mert is a tank co. CO, but is looking forward to flying again. Gordon Larson traveled from WA (Seattle U.) to WP for the ROTC summer workshop. Two other bits of info: Joe De Francisco just finished at U. of Houston and is now at Leavenworth. He joins the Dept of Hist next summer. Bill Ritch celebrated his birthday in NY with, among others, Bud Bucha. Buddy is working for H. Ross Perot and should now be living in the Dallas area.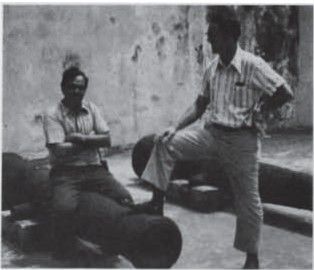 Gunner Hennig wrote his first letter to this scribe. He got out in 70 to work for Weyerhaeuser. Diana and Gunner and their 2 kids have been working their way south, starting at Plymouth, NC, where he was project engr in a pulp and paper mill. He is now plant engr in Adel, GA, in a particle board plant. They hope to get into FL. Gunner says he enjoys the small towns, but it doesn't give him much contact with classmates. He saw Bo DeSantis (who is now somewhere in TX) back in 70 and Mike O'Grady in Augusta, GA, in 72. The door is open to anyone traveling by; and, surprisingly enough, Adel is just off I-75.
Mack Gill wrote of his move from VA to Oxford, MS. Mack received an MSM for his work at Vint Hill Farms Sta. He is now working on his MA in history at U. of MS. Stop by when you finish seeing Gunner!
Jon King is recuperating from the grind of law sch. He was graduated with honors from GWU. in DC. He still had to take his bar exam, so his plans were not firm. Jon did say the door to 521 G St, SW is open.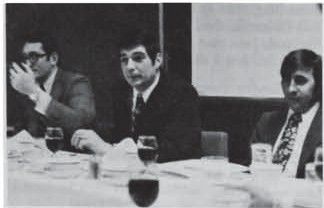 Dr. (as of Jun) Rick Osgood is working for MIT at Lexington, MA. Rickey, 6, Nate, 5, and Jenney, 3, along with Alice were on hand to see the bestowal of the sheep skin. Alice writes that Maria and Pete Cahill are in HI. The Cahills have a year old son and a daughter. Heidi and Pete Lounsbury also have a new son. They are still at Kodak in Rochester.
Ron Williams writes from Fairbanks that the Engr Office there is busy with flood control projects (and sports too). Bob Harter has been busy with duties as Rifle Co. CO with 4/9th Inf. Ft Wainwright is not a large garrison, but there is lots to do and much mischief to be gotten into!
Sorry if left anyone out, but I had so much input this time that I could not get it organized. Hope you had a happy Reorgy week!