There were quite a few Hometown News Releases handed to me recently. They are not the best source since the info is normally incomplete, but at least you get the word on some of the class members' activities. For example, Ray Shaltenbrand completed a supply school; so we know that he lives in Prince George, VA, in the vicinity of Ft Lee. Dave Wade also attended a Ft Lee school - ORSA. Margaret and he live in Newport News, VA. Hank Sterbenz finished the Naval Post-Grad School in Jun with an MS in Physics. Kudos go to Chuck Boohar-Doctor of Jurisprudence, bestowed in Jun by William & Mary. And Steve Bliss was recognized for his efforts in keeping POL moving. Steve worked with the Saigon Support Command.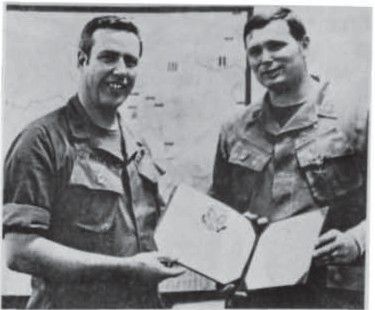 Congratulations also go to Phil Harper-Juris Doctor, U of Miami. The FL distractions did not seem to keep him from cracking the law books. Another lawyer, Greg Letterman, reports that he is working for the Federal Power Comm. in DC. He says that Tony Gamboa finished his legal book work and is going to be a legal clerk for a Baltimore federal judge. Tony has been on extended leave from the Army since about 68. Fidelity Bank in Philadelphia was happy to announce that Scotty Nelson is an asst trust officer for their personal trust division, and we are happy for Scotty. Hope to see him in Phillie.
First to the correspondence from overseas. Skip O'Donnell wrote from Stuttgart where he was with the FSE of VII Corps. Skip reported that Marilyn was due in Oct-number 3. Plans for the future-an ROTC slot in VA beginning this Feb. An anonymous letter (honest!) offered the following: Zig Roebuck turned over his ADA battery and went TDY with his family to Greece. Ladd Metzger is an ADA battalion S-3. I got a garbled message about Cathie and his exploits at the Madrid Playboy Club.
Although news of the IL group appeared last issue, the accompanying photo just arrived-thanks to Mary Holmes. We now know that the Holmes live in Overland Park, KS-to include Holly (5) and Nicholas (3); Mary located Loretta and Chuck Heindncks at Chester. PA, where he teaches at PMC. Doris and Pat Kenny are in East Stroudsburg, PA. Ronnie and Don Kurtz live in Huntingdon Valley, PA now. Don is a stockbroker. Mary closed by extending a warm welcome to anyone passing through Kansas City area.
Janet and Jim Dyer are overjoyed about David Andrew born 17 May. Jim is in his last year of EE at the U. of AZ.
Tom Johnson wrote from Livermore, CA. He is working on his dissertation in plasma physics! We could see him here this spring. Tom said that Omar Reed was at U of IL. working on his Ph.D. in C.E. Dick Osgood has become a nationally known expert in the field of carbon monoxide lasers. Step Tyner got his MA in International Relations from Johns Hopkins-so DA sent him to Korea. Barry Levine and Doug Kline are at Los Alamos doing research. Don Knowland is a research associate at Livermore Lab. And in DC: Harry Dermody is with DA, and Dave Mastran is with systems analysis. Tom, thanks for the poop-you sure keep up with a lot of people.
For those of you near Ft Hood, Shirley and Ron Bailey are there, along with Christine (born 10 Aug). Ron is a test evaluator on MASSTER. Mike and Cheryl Viani also have a family addition, Paul Lawrence , born the middle of Sep.
Heard that Emory Pylant got back to Huntsville from Wilkes-Barre flood control district. Emory should be moving on this spring. I hope that he can wangle his way up here; the people around here need to see a real fisherman at work!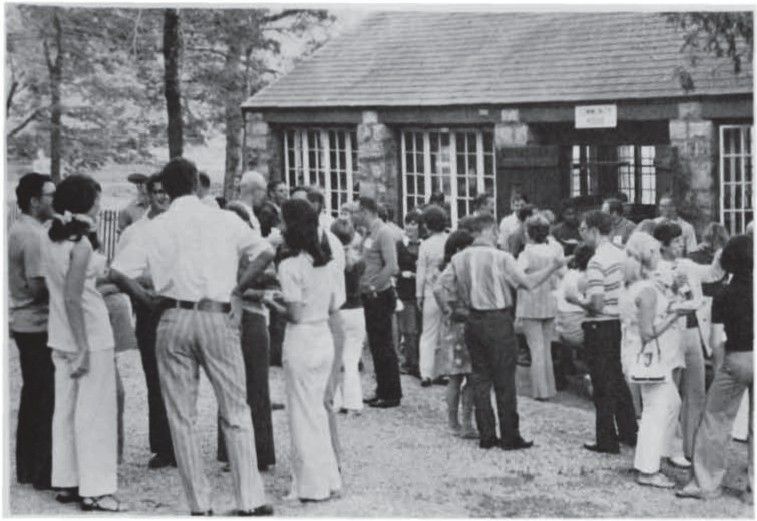 Two big events were attended by me so far. First, through the efforts of the Tom Whites and the Toby Halvorsons, a class picnic at Round Pond was pulled off. About 100 people were involved, which gives you some idea of the size of the local contingent. It would be impossible to list everyone, or even the FNC's (newcomers). I'll just say that "old weird Harold" Jenkins is still as cantankerous as ever. Our first departure from the group was Bud Bucha, who left the Academy and Service bound for Harvard Law School. Bud made an impact here, and his departure consequently received much attention. I wish him well in the new things he will endeavor. The second event was a joy for me to attend (not that the first wasn't). Let me give you some background: When John Thompson returned from his vacation in Panama, he issued a "warning order" to his girlfriend Linda. Although John is used to armor operations, he was not prepared for the speed with which his decision to get married would be executed-about a month and a half. In that short time, he was able to get John and Donna Seymour to come from Detroit for the occasion. Other guests came from all-over. John Johnson and Jack Lowe were in the wedding party, and I was on the sidelines as a partial observer. You see I got John's suite after he vacated the BOQ.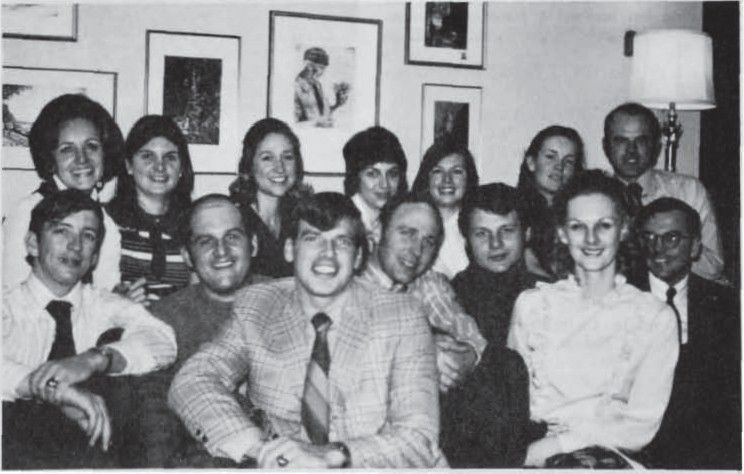 Donna Reller wrote from Golden (just outside of Denver) where Frank is doing ROTC duty at the CO School of Mines. Reluctant at first to leave the work at Belvoir, they now find the overwhelming beauty of CO more than enough compensation. Donna said that Susie and Wayne Scholl are back in DC; Wayne is in OPO. Colleen and Cookie Leverett are at Columbus AFB, MS. He is an instructor pilot-and just loves flying. Tricia Collen (born Feb) and Terri Sue (4) keep Colleen busy. Susan and Frank Arnall added to the Jacksonville, FL, population; Franklyn was born in Feb. John and Celia Bohannon are still at Ft Richardson. Chuck and Rosemary McCloskey are in Baltimore, where he works for the District Engineer. Emory Chase returned from Panama to the AF Academy.
Born to Betty Lemley: Virginia Caroline on 6 Sep. Ken is at UCLA for studies in geography. He is slated for ES&CS. The Lemleys are living in Santa Monica for anyone In the L.A. area.
At a class meeting on 20 Sep, the existence of a class fund was made known by Jim Golden. A committee was formed to deal with suggestions for the use of the fund. Anyone desiring to proffer a suggestion can send to Jim (Dept of SS) or myself.
Have a joyous life this Christmas. Peace!