Well, sports fans, the 2 yrs of Southern CA living is over for me, and it is back to the grind of the acad yrs at WP. However, this time I get to enter the classroom late.
It seems that an unfortunate ailment has plagued the mail bag, which is suffering from paucity of corr. As a consequence, the quarterly column is becoming a meager item, a mere shadow of its former self. I am sure that with all the summer relocations, there is plenty of news. Just think, someone you know would like to know where you are and how you are doing.
Rick Wetherill tried to fill me in on his actvs for all those yrs he remained "Unknown." He just reported to Ft Benning for the Adv Crse, after a 3 yr tour at U. of AZ. Rick taught ROTC for 2 yrs and picked up his MBA the last yr. With him are Mary-Ann and their 2 kids; Jody 6, and Mark Thomas 2. Rick says that Bob Berdan is working for Contl Can in Augusta, GA. Also from Tucson comes news that Ann and Burke Buntz departed for Ft Monmouth. Burke finished his Master's in EE, then picked the kids-Doug, 4, and Heidi Ann (born 12 Apr 72)-for the long trip. He is now working for CDC.
Jim Long also moved eastward. There were many tears shed when he had to leave the ski slopes around Ft Carson after 2 glorious yrs. Those of us at WP will see Jim in 73, when he joins the TO after a year of studies at UNC, Chapel Hill.
Jerry Ledzinski says that one of the prime benefits of civ life is having a fixed location (which, I am told, is not true in all cases). And Jerry seems to be thriving in Monterey, CA. He was nice enough to forward a copy of the wedding invitation from Tom Barron and Tosh Rapport . Tom was till in Boston as of Jun.
Cam Hennessee wrote from MD. It seems that when Frank got to Edwards AFB, someone realized he did not have the computer skill for which they were looking. So after a brief stay, they moved across country again-to APC. On the way to Edwards, the Hennessees got to see Sue and Don Erbes and Martha and Harry Joyner in Dallas. Civ life agrees with them. Cathy and Walt Kulbacki were visited in the Ft Huachuca area. Cam says that Peggy and Ray Pollard were due to show up at APC in Jun. Other moves: Karen and Keyes Hudson to Ft Knox; Jim McEliece to Ft Lee.
Our Class certainly has gotten involved in grad schooling. Some more news from the world of Academe. Bob White received his MS in chem from Penn St. Marty Andresen received an MA in hist from U. of IA. Bob Selkis is now the DA LnO at the U. of IL. He says it is difficult to keep track of the small, but active, contingent there. Tom Cindric left in Jan for Ft. Sill. Mark Walsh left in Jun to work for the UN in Israel! Jim Holmes left in May for the Kansas City office of the FBI. Leo Kennedy is now in the AdmsO here at WP. Pat Kenny got a job on a CE proj in the wilds of PA­ on the pale of civilization, according to Bob. Alice Kenny was delivered of a 10 lb boy in Apr. A few did stay behind in Champaign with Bob. They are Rick Chapman and Gene O'Neil. Denny Hawker is also at U. of IL, but as a civ. He is in the Environmental Engineering program. Besides working on an MA in sociology, Bob helped to bring lacrosse to the cornfields. The only help that he could get from classmates familiar with the game was a lot of advice and even more excuses about old age setting in.
I have one contr to the news of acad achievements. As I was reading the Mar 72 Issue of the Journal of Economic History, I was intrigued by a summary of the rsch of a doctoral candidate concerning the US railroads at the tum of the century. I was even more amazed, and proud, to recognize the name of Jim Golden as the contributor.
Some overseas news: John Bohannon took cmd of Co B, 5th of the 23d Inf at Ft Richardson in Apr. Sonny Ray recd a BSM for the outstanding work he did while CO of D, 2d of the 5th Cav. Jim McCullough assumed cmd of HHC, 3d Bde, lst Cav-Air mobile! And from Berlin comes news from Ernie Westpheling. Sue Todd (1) and he are enjoying duty with the Berlin Bde. Ernie moved there after 18 mos with Hq VII Corps in Stuttgart. He reports that be is the only class member there; in other words, no one else is quite so fortunate.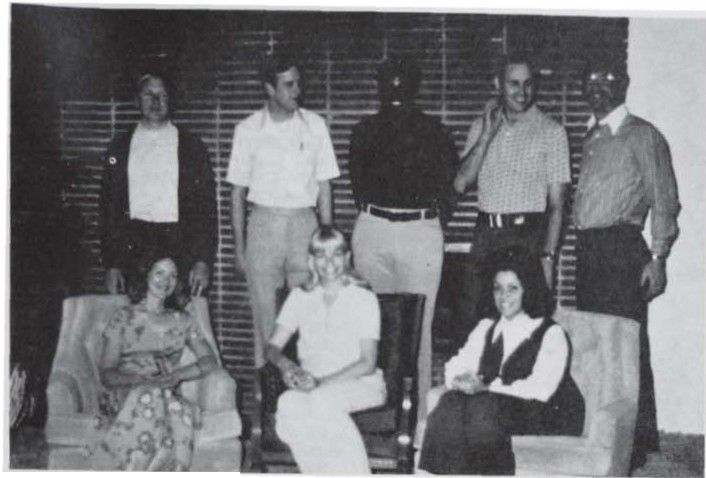 Well, the group in L.A. has not been so quiet either. We got together at Joe Anderson's just before everyone left. Bob Mace was in the area again and came as my blind date-thanks to Bob Doughty. That, however, is not the cause for my agonized pose in the pie. I still had not recovered from the short dash from camera to pose. Bob Doughty tried his hand at being photogenic. (Actually, he looks exactly the same on TV as in real life!) He got on "Hollywood Squares," aired around Memorial Day. Although he did not win any games, the consolation prizes were quite rewarding. So we left L.A. with fond memories-and a bit of our sweat and toil.
A short notice (and late entry): Our Class will have a "tail-gate party" in conjunction with Homecoming festivities. For info, please contact Mike Fligg (914-978-4450) or Tom White (914-565-6787).