This is my last column from Southern CA. It is difficult to believe that two yrs have gone by so rapidly. As you can see by the new address, I am transferring my ops ctr to the Hudson R. Valley. The location of the Class Scribe at WP yields several benefits, which I hope to be able to pass on to you in terms of better service. The recent formation and activity of a Class org at WP will facilitate our being of assistance to any and all members of tile Class. I hope you will avail yourself of the better chances to get info, or to forward news, or even to relate some "war stories," if you are so inclined.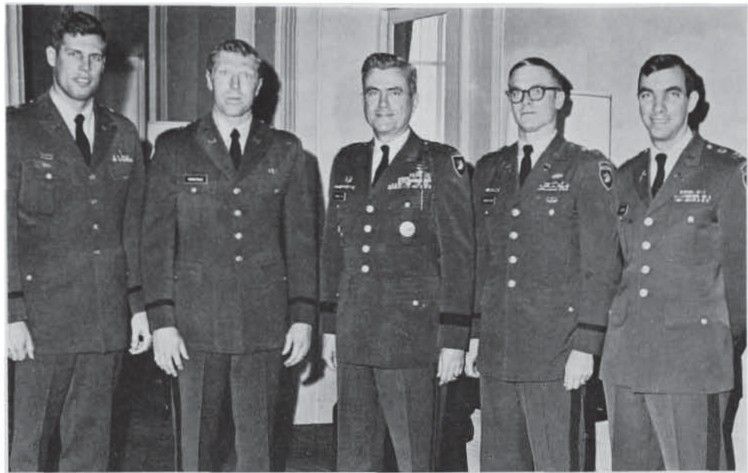 John Swensson has been keeping me posted on the Class activities at WP. You can see from the photo that the Class officers are young, healthy, and a cheerful lot, ready and willing to do abundant labor. John sent me some misc tidbits in the random order that only an English "P" could get away with: Steve Olson was a member of the Squad Tac Comm at TIS as of the ARMY­Navy Game. Phil Harper is knocking their eyes out around the U. of Miami Law School with his new Corvette. It is good to know that he has finally ended his long convalescence. Apparently John does much of his socializing at Michie Stad. He saw Jim and Connie Mirando there. Jim and Jerry Eichelberger are partners in EME Const Co working out of Harrisburg, PA. John also saw Dave Hurley and his wife at the football games. Dave is living in NJ and commuting to "the City'" (New York, of course). Bruce Hulin also lives in the area and works for an oil co.
There are four birth announcements: Heather Lynn born in Dec to Carolyn and Buddy Bucha, and Laura Harmon born on 4 Nov to Jeanne and Jim. Jim is an asst DA in Manhattan. Born to Casimera and T.J. Kelly, Joel Kieran on 8 Dec at Hull AFB, UT. T.J. is there skiing and in his spare time he works on Titan II and Minuteman sys. For all three families, it was the 2d addition. Phyllis and Bob Wolff unveiled Allen Drew on 7 Jan, but I am not sure what the headcount is in the Wolff household. After receiving his doctorate in Water Resources Planning, Bob went to work in the OCE in DC.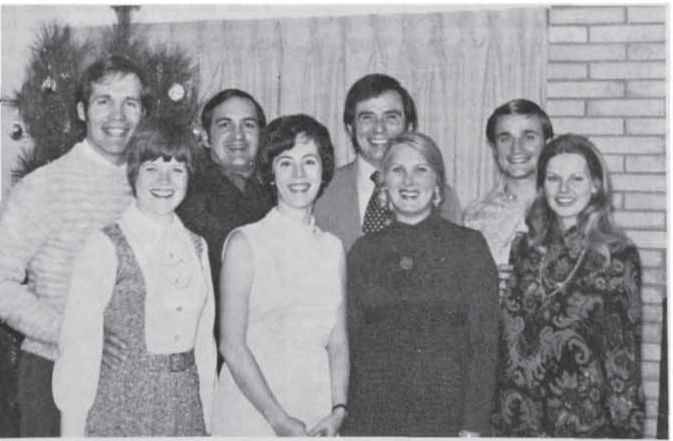 News from Chuck Moseley is that he left SF and the Army to join Carolina Power and Light in their nuclear power div. He took the family's newest addition "Chip," (born in Nov) to grow up among the Eastern pines. Chuck explains that the others in the photo work in the SF area: Duncan for Hewlett Packard's laser div, Denny for Memorex, and Don works at Livermore Lab. Further news was that Chuck Shaw can be found in Houston; Jack Jannarone joined the contingent at Tempe, AZ, to work on a Masters. This fall, Ed Simpson will be going to Med Sch somewhere on the East Coast. Perhaps he will stop by WP. Bill McKemey is now at Cornell for more schooling.
Going through schooling of a different sort is Jim Coughlin. Jim fnished the primary helicopter course at Ft Wolters and started more adv tng at Ft. Rucker in Feb.
The only other news I have is of Bob Mace. Bob was in LA for TDY to check on some computer sys that Litton is producing. Bob got his MS in computer sciences and was then assigned to the CDC element at Ft. Belvoir.
Well, gang, there wasn't much in the mail bag. Hope some will be awaiting me at WP. Bob Doughty and John Howell are also headed in that direction this summer. That leaves only Joe Anderson to hold "the fort" in LA. He has been doing an admirable job of that so far.