I hope that this first article of '72 finds all of you sufficiently recovered from the end of the yr. activities. It was pleasant to receive a bonus to help cover some of my heavy year -end expenditures. Good news for those enjoying their Captaincy: it looks as if we will enjoy a few more yrs. of it.
This column will look like an article from "Life": a photo essay. From WP comes several lovely shots showing a joyous gathering at Lloyd Briggs' last Sept. I'll let the viewer pick out the faces in the crowd. John Swensson was nice enough to send me the notes of a meeting on 20 Oct. of most of the 35 members of '65 at WP. The nascent organization included: Pres. Dan Christman (Soc Sci), VP Clair Gill (Dean's Off), Treas. Jim Golden (Soc Sci), and Secy John Swensson (Engl). Terry Carlson (Math) is responsible for assisting in getting tickets for various events; at the risk of incurring his wrath­ his extensions are 3743/4604.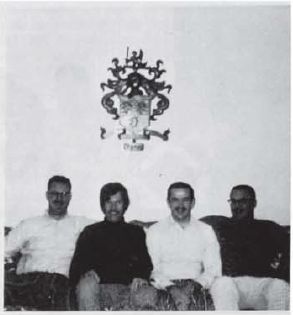 Art Hester in the Admissions Off will sift through any nominations for the Thayer Award . Jim Golden reported that a local Class f und is used to purchase flowers on Memorial and Veterans' Days for those classmates interred at WP. Additions to the Class at WP were Suzanne Christine Clarke (I Nov.) and Heather Elizabeth Golden (4 Nov.).
I was able to see Ric Shinseki while I was in Hawaii. I am happy to say that he is up and around these days. After spending some time as a patient in Tripler, Ric decided it would be more enjoyable to work in USARPAC Gl. He is in the telephone book and offers assistance to anyone coming to or passing through Honolulu. I missed Jim Coughlin, who had just departed for fixed-wing school at Ft. Rucker; and Kuk Kukea is one of those hard-working grad students who is too difficult to find.
In case any of you are wondering how I could do so badly on spelling Kwajalein (Steve Pack's assignment), all I can say is "no excuse, sir" and take my -.2 for spelling.
Bob Radcliffe still writes to me, even after I tried to send him back to RVN. I do not need to explain the pic. except that Fred Laughlin is a civilian, so the hair length is acceptable. Mert Munson is in the class behind them. Don Appler is supposedly headed for grad. school before returning to WP. Bob pin-pointed Steve Darrah with the 2-l7th Cav, "Airborne!," RVN.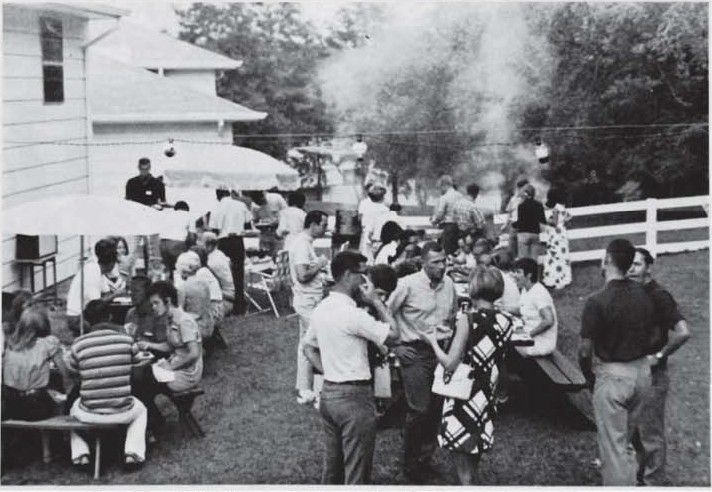 Bev Conley dropped a line from N.Y. Jim is now a major force (Exec. Dir.) in Capital Formation, a non-profit organization "helping minority-owned enterprises become competitive in the market place." A testimony to Jim and the organization's success was the fact that the "New York Post" did a close-up article on Jim, 11 Oct. I have a copy for anyone interested. Bev keeps busy cleaning house. After all, three kids can stir up dust (even in a vacuum); and Kimberly Erin (5), Kelli Denise (3), and James III (9 mos.) are active. Bev reports that Teddy and Jack Terry are in Gutenberg, N.J. where he works for Warner-Lambert Labs. (No wonder I couldn't find him out here in Newport Beach!) Bev says that anyone near Laurelton is invited to behold the unbelievable: green grass in Queens.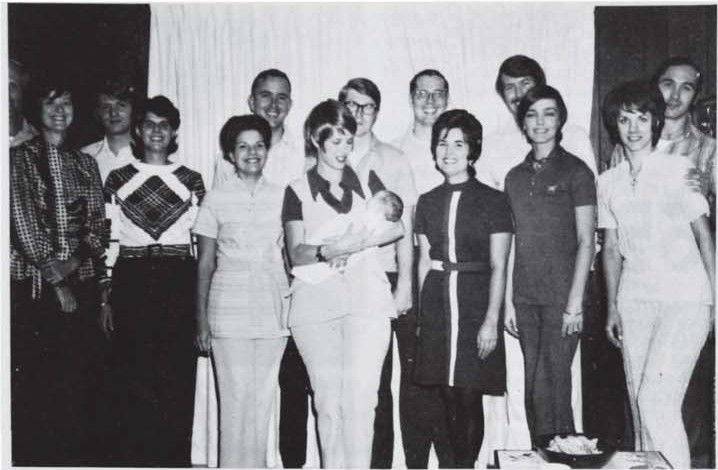 Atlanta, Ga., was the scene of merriment; while those in Phila. got wet on the outside, those at Lee Atchley's got wet inside. Ga. Tech students: Indus. Mngt.-Hank Michells, Ray Pollard, Jim McEliece , Dick Williams and Lee ; Indus. Engrg.-Frank. Hennessee and Keyes Hudson; Mech. Engrg. -Jim Ferguson ; and Doug Richardson in Math. The latter two are slated to return to the womb (WP). Frank Hennessee must have been talking to Milk Deems about Calif., for Frank is now out here on one of the numerous AF bases.
I was crushed to find that my former roomie, Cal Kahara, replaced me with a permanent (and better) model. Pat is not the only one keeping him company at U. of Okla.; there are Jimmy (5) and Jason (2). Carol and Mike Barker are also in Norman, Okla., with their two kids, Connie (5) and Clinton (1). Both Cal and Mike are scheduled to return to ES&GS to teach geography. Cal reports that wife Judy, Dawn, and Arpad De Kovacsy are in N.C. Arp is in Duke Law School.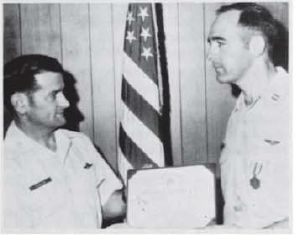 Tidbits about others in school: Joe De Francisco at the U. of Houston, and Bob Frey was granted an M.Ed. in Phys. from Penn State. Karl Plotkin got his M.S. in Chem. before joining the faculty of the AFA in Feb. With him are Gail, Sheryl (4), and Beth (2).
Bob Bedell is an Instr Pilot at the 'copter school at Sheppard AFB, Tex. With him is wife Carolyn. (Bob looks like the same guy that bloodied my nose in Plebe Boxing-much to the delight of Coach Palone!)
The New Orleans contingent of '65 is about as big as the Atlanta group. Nancy Hecker says that the total in N.O. is 11. At Tulane Bus. School: Mike Connor, Chris (and Mary Ellen) Dorney, John (and Linda) Harrington, Jim Hardin, Manny Maimone, and Marv Jeffcoat. Mike Connor should have departed for Ft. Benning with Reggie and Jim (2)-and one "on-the-way, wait." There will be a few more birth announcements from New Orleans, I'm told.
Tulane's Engrg. School boasts: John (and Kaye Ellen) Connor, Rick (and Dagmar) Kuzman, Ben (and Gladys) Whitehouse. In the Phys. Dept. are Bill Hecker and Steve Sperry. Steve just got back from RVN in time for the fall semester; Carol and daughter Michelle (1) are keeping him company. The Heckers enticed Dotty and Jack Keith away from bustling Tuscaloosa (U. of Ala.) for Thanksgiving. Nancy says that Betsy and Howard Reed should be leaving Belvoir after he finishes the Car Crse in Feb. Although Jack Cooley is in the Notre Dame Law School, you have to go to London to visit Maria and him this yr. He will be back to finish next yr. in South Bend.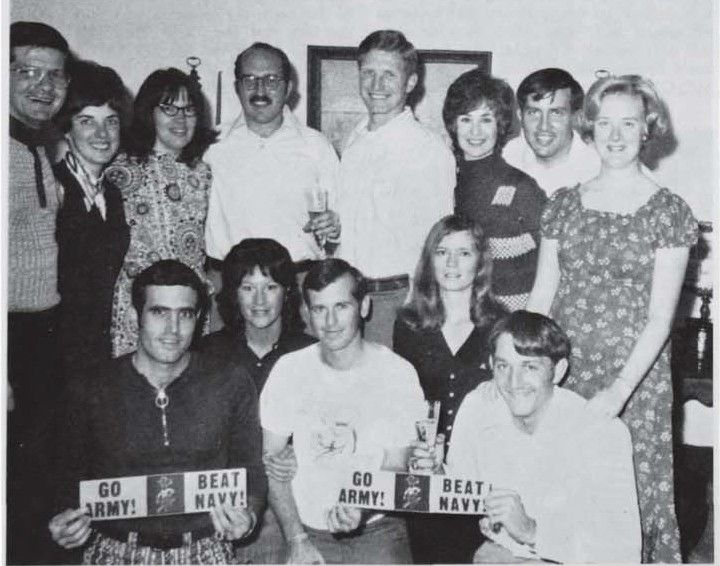 I got a brief note from Ron Williams, who was with an Air Cav Trp of the now defunct (I know that's not proper terminology, but what do you expect from an historian?) America! Div. He was not sure where he was going next.
For those interested, the "Register of Graduates" lists 385 members of the Class still on active duty. I'm beginning to wonder why I haven't heard from more of you. That goes for the civilians too.