"For life and death are one, even as the river and the sea are one....And what is it to cease breathing, but to free the breath from its restless tides, that it may rise and extend and seek God unencumbered?" (Gibran) It is sad to note the death of Pat O'Connor on 13 June at Walter Reed. Pat succumbed to cancer. Our sympathies extend to his widow Sue Ann who resides in Tampa, Fla. Pat was interred at WP. So long, dear friend.
A pattern is beginning to develop. I seem to be going on a trip at the time of submission of my column. This time I am off to Hawaii for a much needed change of scenery. I might even clear some of the smog from my lungs! I have been in L.A. for a year and have been conditioned to expect the surprising. Nevertheless, I was startled to learn that Harlan Fricke lived about a mile away fro nearly seven months without my knowing it. By the time that I found out, he had moved to Redwood City, outside San Jose, Calif. Harlan got out of the Army in Mar. '70, and joined a general contracting firm. With him are Caroline and a two-year-old daughter.
There are quite a few others traveling right about now. Mert Munson is returning in Oct. from Korea and will proceed to Ft. Knox for the Car Crse, where he'll be kept company by Cerry and son Greg. Mert saw Mike Barker in July at Eighth Army Hqs. Mike was doing research on the DMZ for a paper for the grad div of U. of Okla. Also traveling was Al Clark. I got a call to turn on TV, and, sure enough, Al was on one of the game shows. With a true affinity for things military, Al responded that the well-known high school grad march is Pomp and Ceremony. He'll have plenty of time to think of the correct answer in Thailand.
Bob Guy reports that he has done some moving recently. Jodie, Bobby Jr., and he relocated in West Lafayette, Ind., to be close to Purdue. Bob will work on Indus. Relations before returning to the TD next Aug. He also reports that both Frank Meier and Mary Johnson are studying physics there. Steve Clement received a Ph.D. before returning to WP. Bob espouses the Open Door Policy for all those passing through the area.
I got my wires crossed in the last column. Bob Radcliffe was traveling, but he ended up at Ft. Knox for the Adv Crse. I talked to Bob and got quite a bit of poop. First, Jeffrey Fielding was born 29 July '71 to increase the Radcliffe headcount to five, to include the patrol leader and his asst. "Tree" saw Steve Darrah at Ft. Benning before Steve relocated Phyllis as Enterprise, Ala., and left for RVN. Also at Benning was Jerry Cecil (ex '65 and '66); he is now in Korea. John DeVitto just left Ga. Tech for the CDC at Ft. Belvoir. Bob said Don Appler is training people on the "Sheridan" at Ft. Knox. Frank Kolezar is also on the S&F at the "University of Armor." Terry Ryan is in Bob's class; Terry recently got his M.C.E from U. of Ill. Bob continued: Slats Letterie and Dean Loftin are students at U. of Ala. Jim Helberg is back on active duty. And Dick Kramer is finishing at Knox after a Service transfer from the AF.
Bob Harter got off a letter before leaving ROTC, E. Mich U. for Ft. Benning. He picked up an M.S. in physics while he was there. His wife Mary and two Kids Bob (4) and Michelle (2) were looking forward to the relatively warm Ga. Winters. Bob reports that Paul Singelyn was teaching ROTC at Mich. St. prior to his separation. Paul Barber was the Aide to DCG Fifth Army. Paul was trying to go to U. of Ill. So that he and his wife could complete degrees.
I talked to Sherry Ray, who says she is settled into Enterprise, Ala. Sonny joined 2d of the 5th Cav in Sept. sonny finished his last year at Boonville under a new PMS, COL Meek, of memory to ur G2 classmates. Sherry is a wealth of information: Rick and Marleene Charles are in Warsaw, Mo., working for the Kansas City Dist. Engr on the Truman Dam Project. Pete Cahill works for the St. Louis Dist Engr and lives with wife Maria in Belleville, Ill. Kala and Carol Kukea have a year-old son Nalu Gregg. Kuk is working on an ocean engrg degree at U. of Hawaii. Sandy and Rosemary Hallenbeck are in Augsburg. Dave and Marcella Gnau are living as civilians in Mt. Vernon, Ohio. Rick and Marianne Chapman are among the many classmates in Champaign-Urbana. Tom Barron returned from Tanzania recently. I talked to his father, who said Tom could not resist the opportunity to return to the area he visited on Opns Crossroads. Tom worked for the McKenzie Co., evaluating the social programs of the Tanzanian govt. Tom is now back at Harvard for his second year. Tom's father reports that LTC Portera of the Span Dept is now teaching at San Fernando Valley St. College.
A few announcements: born to Janice and Ron Walter on 9 June, Brett Thomas; born to Jill and George Seaworth on 10 Aug., Douglas Allen; married on 8 Ang. and residing at Ft. McPherson were Lynda Mann and Barrie Zais; born to Jean and Bob Scully in Mar. a second son Eric.
News from Carol Bell: she and George now have three kids. George is making steady progress on his law degree while in Akron, Ohio. Sue and Don Erbes are settled into Dallas since he received his M.S. in aeronautical engrg from Ohio State. Kent and Sherri Brown combined to bring twin boys into the world on 28 Apr. Kent should be arriving at WP soon. Olive and Steve Paek got a dream assignment on the Quadqualime Isls.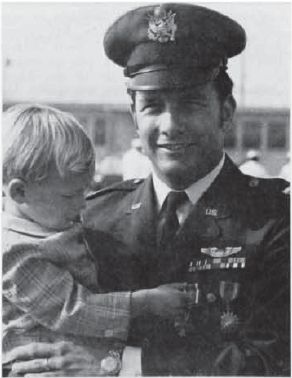 Mike Leibowitz added some info to the sketchy statement which appeared in the last column. Mike served his last two years with the Finance Corps and managed to get an M.B.A. from Drury College while stationed at Ft. Leonard Wood. Judy, Jody, and he are living in N.J. near the N.J. office of Solomon Huber Assoc. Of other classmates, Mike reports: Sonny and Judy Arkangel with one wee one are living in Monmouth Beach while Sonny is teaching ROTC and taking courses at Seton Hall U. Bob and Tricia Clover are still at Ft. Dix at last report, and the family size is now four with the arrival of Bob Jr. Glenn, Joan, and Glenn Jr. Nenninger are at Valley Forge MA. Jerry Dernar was in adv. golf at Ft. Monmouth's Sig Sch. Jerry Lipsit is working for Bell Te1ephone and presently living with wife Pam and David and Becky in Toms River, N.J.
Dave Kuhn reports that it was difficult to get into the blue suit for an awards ceremony; he had gained a few pounds as a civilian. (Life with the airlines is pretty good!) Dave is shown with son David Edward and the DFCs and AMs he received. Dave flew AC-119K's and got himself a total of two DFCs and 10 AMs as well as a good deal of target practice. Also with PSA in San Diego are Maurine and Doug Gentzkow and a six-month-old daughter. For those in the area, Dave is living in Rancho Bernardo.
Who is not a love seeker
when December comes?
Even children pray to Santa Claus.
(Rod McEuen)
Happy Holidays!