Here it is time to write again. I can always tell when that time comes, for my deadline is conveniently the same time as exam week at UCLA. Looking over the wealth of one line announcements, I tried to organize it logically. Frustrated, I turned to the following: pseudo-stream of consciousness.
Two new arrivals in the Los Angeles area are Joe and Betty Anderson and John Howell. Joe just returned from RVN where he was an aide-de-camp after several months in the boonies. Now he is going to relax at UCLA for two yrs. I have not seen John, as he just got to LA from the Adv Crse at Sill. John is scheduled for an M.B.A. from USC. (Of course, those of us attending the state school don't associate with the rich kids at Southern Calf) Other school types: Bill Hecker and Jack Keith. Bill returned from getting his adv degree in warfare (second RVN tour) and has started work on an M. S. in Physics at Tulane. Nancy and Bill III (three yrs.) are residing in New Orleans to provide him with distractions. The Heckers stopped at Tuscaloosa (U. of Ala.) to visit Dotty and Jack Keith, where he is at work on an M.B.A.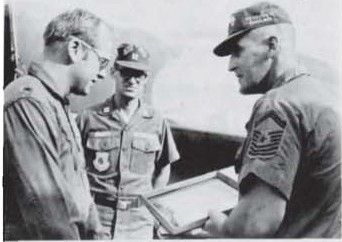 After seeing his name in print, Pete Linn decided to write from Harvard. He had some interesting tidbits: Gene Manghi has taken a wife Bernadette, on 16 June. Gene is working as an Engr for a brake-drum co. in Mahwah, N.J., and attending Columbia at night for an M.S.C.E. Pete says Tom Van Dyk is enjoying U. of Wis. Med School; so are his wife Jane and son Fred (two yrs.). Pete says Paul Barber, wife, and two kids were at Ft. Sheridan in the ReservesO, Fifth Army. Paul hoped to get to U. of Ill. this fall.
Also at school is Ed Armstrong with wife Karen. He is attending the AF's SqO School at Maxwell AFB, Ala. Many have just finished school and are returning to another one. Names on the WP housing list were: Golden; Brown, D.R.; Viani, Brock, Frey, White, T.R.; Lowe, Pickler; Fligg; Carlson; Clarke; Harman; Rood, R.D.; Clement, Walter; Speilman; Campbell; Sinnreich; Lyons; Swensson;-the good guys. For the Tacs: Kempf; Halvorson; Higgins; Bryan; Jenkins. Hal Jenkins says Bob De Laar should be added to the list of good guys. Leaving Purdue with Hal are Walt and Kathy Kulbacki with two kids headed for Ft. Huachuca. Staying in Ind. are Marty and Vicki Johnson with their two boys and Frank and Kathy Meier. Both are working on physics degrees.
George Seaworth was in LA recently to test some devices for Quaker Oats' tortilla mix! He said that Bill Zadel moved to the Shiremanstown, Pa., plant and is involved in production activities. (I wonder if he meant more kids?) Bob Scully is still in Chicago in the Engrg Chem Div.
Separations in the "Army Times": Jim Harmon , Omar Rood, and Terry Grandstaff. Orders page: Bob Radcliffe from APO NY (Iran) to Long Binh. Social page: Ann Grimshaw is now taming Preston Hughes down. Preston is working in the FAS program and is now at Brigham Young U. in Salt Lake City.
My former roommate John Olson published an article in a recent "Armor" magazine. John worked at the Thai Ranger School before attending the Adv Crse. I do not know where he is now.
During Spring break I passed through Palo Alto (Stanford) where the Baileys put up with me for a night. Emory Pylant and Ken Brown (my nickname for him) were putting their Engrg degrees to work-pouring concrete. They haven't improved their technique since the days slopping around in the basement of Thayer Hall! Emory is now an ADC at the Redstone.
Other announcements: born 27 Feb. to Mark and Linda Sheridan, Jennifer Susan; born 10 Apr. to Mark and Linda Walsh, Kirstin Erica; born 16 May to the Phillpotts, Tara. Mike Leibowitz is now with Solomon Huber Assoc. of N.Y. and N.J.
Orlin Mullen has been to flight school since Apr. '69, and is now with the 17th Cav at Ft. Bragg, where he was A Trp CO and Sq S3. He reportedly flew a few recons of Jane Fonda and the coffee house crew. Orlin is expecting orders for RVN this fall.
Pete Lounsberry is working hard for Kodak at Rochester, N. Y. He is attending school at night for an M.B.A. His wife Heidi and son Todd absorb any free time he can find. Working for a rival (Polaroid) is Jim Tomaswick. He and Carol are living in Londonderry, N.H. Also working for Polaroid are Tom Henneberry and Tom Abraham but in the Boston area.
From overseas: Skip O'Donnell switched to 5th/73d Arty near Crailsheim. He apologizes for missing the local Founders Day Celebration, but he was in Crete while Marilyn had to enjoy the cold German winter. John Koletty is on the other side of the world. He is in charge of the Wpns Loading Sec for the 432d Tac Recon Wg. From the picture, he looks in good health. In Nov., he will pick up Peggy and son Kenneth, who are in the D.C. area, and proceed to Wright-Patterson AFB so he can begin work on an M.S. in Aerosp Engrg.
A valuable from Tom Fergusson: "After two years at MI Branch, OPD, assigning MI CPTs, someone finally assigned me!" I am sure you will love Vientianne, Laos. Tom! He says he'd rather be there than back in OPD, where he left Tad Ono to work for the Engr Br. Manny Maimone is at Tulane for Opns Rsch. Jay Vaughn just finished there and is now in D.C. with Hq ASA. Rich Hennig completed work at U. of Virginia and is now at Ft. Bragg, USAIMA. (Look that abbreviation up in your Funk & Wagnalls!) Marsh Schwartz should be on the way to RVN; he finished at GWU in Aug. with an M.A. in Intl Relations. Jack Concannon is Aide to CG, JUSMATT in Ankara, Turkey. Bob Selkis is at U. of Ill. after returning from Korea. Les Hagie is now in the FAS program and is learning Russian at Monterey. Jim Hardin went from the Def Intell Crse to Tulane for Opns Rsch. George Brock moved to USMA Admissions & RegistrarO from U. of Maryland with an M.B.A. Jim Coughlin is in Hawaii with the ASA until flight school in the fall. Rich Boerckel at Oregon before returning to ES&GS in '72. Joe McChristian departed Holabird for a 2d look at RVN.
That's it. I've got to get this thing in the mail before my plane leaves for El Paso. Hope to hear from you, and its great to be in the "over 6" pay bracket!