My 1st column passed by without much critical comment-I way or the other. There were a few mistakes, as will probably be true of each column. The most noticeable was caused by our failure at Phila. The earlier loss of the Homecoming Game was, I am told, offset by the camaraderie of the Class get-together. I have the signatures of at least 40 who were in attendance. Thanks go to the ad hoc committee of 5 for paragraphs 3 and 4 of the OPORD.
My Xmas closing may have confused some of you. I try not to inject my personal opinions into the column. One bit of personal feeling I will state is the following: I have very strong ties to the Class of '65. It is your column I write for all of you. I would hope that those who have left the Services do not feel they have left the Class, to which, in fact, they are forever bound. It is my desire to maintain contact with every classmate, and report his progress through the years. Enough said.
The 1970 copy of the "Register of Graduates" lists 102 classmates who resigned during FY 1970. The total remaining on active duty as of 1 July '70: 381 Army, 55 AF, 6 Marine Corps, and 2 Navy. Among recent separations seen in "Army Times": Bill McCreary, Bill Reisner, Ed Maness, Lee Atteberry, John Anderson, Jose Sanchez, Bob Sterba, and Kip Spire. I visited Dave Kuhn, who got out of the AF upon return from RVN in Sept. Looks as if he'll fly for PSA out of San Diego for a while. Bob Anderson returned to the States in Dec. from a 2d RVN tour and was hoping to enter GWU for an MBA in Hosp. Admin. Greg Letterman took time out from reading case studies to say he is in his 2d yr. at Yale Law School. Don and Sue Erbes are in Dallas where Don works for Western Electric. The headcount is 5 including Sherri, Karen, and Rowdy. Don states that Martha and Harry Joyner are in the area; Harry works for Electronic Data Systems. Also in Tex. are Judi and Joe Weatherall for Law schooling.
My ol' Ranger buddy Jim Lane is working for Humble Oil as a systems analyst. He and Glory live in Houston. No headcount from him, but then my Ranger buddy always did have trouble passing up the count! Jim said that Steve Ganshert settled in the Memphis, Tenn. area.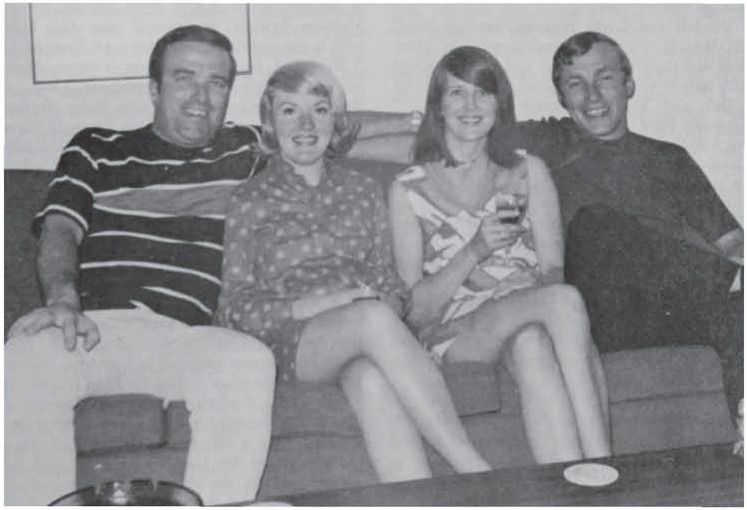 Denny Coll wrote after seeing his name in print last time. He added a son Brian to the family last Mar. I dutifully beat my head in when I learned that Mike O'Grady is with Wesvaco, a West-by-God-Virginia paper company. Denny said that Mike, Susie, and Brian Scholl moved to Va. where Mike works at DOD computer center. Jim and Julie McEleice are at Georgia Tech for his Master's. It seems that the Colls entertain quite a few travelers passing through Chicago; they have told me to make known their open invitation to visit Arlington Heights to the Class.
The Chases-Emery, Eleanora, Emery John (4), and Douglas (2)-enjoyed a warm Xmas in Panama. Emery is running the Andrew J. Weben, a power barge which produces energy for the Panama Canal Co. Also enjoying a warm Xmas was Bob Radcliffe. "Tree" is the ADC to the head of the MAAG Army component to Iran. He and Julie now have 2 kids-Greg (4) and Jennifer (2). He said that John Cullen passed through! Not so surprising since he is ADC to MG Latta of STRATCOM. Bob passes on that Steve and Phyllis Darrah are at Benning for the course! Jamie Bryan and Chris Dorney are also there. Bob Guy sent further poop. He, Jodie, and Bob Jr. (2) will be there until Mar., along with Joe Bishop, Frank Probst, and Doug Richardson. After graduating from the Adv Crse, Steve Hallenbeck left for Germany; Keyes Hudson left for Georgia Tech grad school; and Chris Needels joined the Golden Knights at Ft. Bragg. John Malpass stayed on to work for the Inf Board. Bob Radclille also said that Mike and Connie Watson are in Hi. with Keith (2). Mike is a systems control officer for a USARPAC Signal unit. I was corrected about Wes Taylor, who is at UC, Santa Barbara, ROTC. (That is where the students keep burning down the Bank of America. Good luck, Wes!)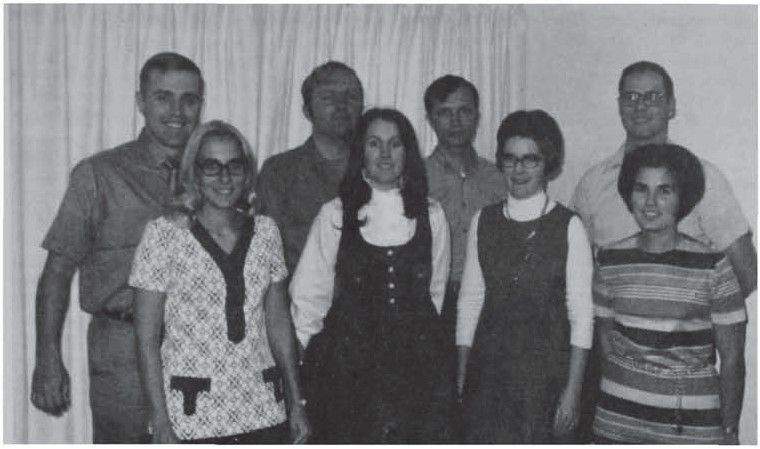 Tom Powers spent a warm Xmas too. His wife, Dorothy, states that he is Asst Mil Attache in Phnom Penh, while she and Jacqueline Veronica (1) are in Park Forest, Ill. I also spent a warm Xmas in Los Angeles but Bob Doughty went north to Ore. (which is unusual for the Louisianan). He is attending UCLA with me, also in the history field. I am grateful for his company and the ability of his wife Donna to cook. Bob relaxes between studies with his son Michael. Mert Munson said that it's cold in Korea, but Bib Selkis got out from under the brown boy to greet him at HQs, Eighth Anny.
The wives are active contributors! Alice and Rick Osgood announced Jennifer Anne on 10 July. She said Heidi and Pete Lounsberry live in Webster, N.Y. where Pete works for Kodak. Sherry Ray says Sonny helped out a little with Michael Charles born 6 Sept. Sonny is in ROTC in Boonville, Mo., until May when he expects to go to Benning for the Car Crse. Dotty Shantz says Denny is enjoying AFROTC at Washburn U. in Topeka, Kan. He is in charge of the girl cadets, and has little time for other things!
Donna Reller wrote a column herself. Frank was at EOAC, Ft. Belvoir until June; he is now in a nuc engr project there. Kelly Kathleen was born 16 Nov., just after the Rellers visited WP for Homecoming. They saw Susan, Bess, and Frank Arnall; he is selling insurance in Jacksonville, Fla. Ed Winstead is at home in Chapel Hill, N. C., for a degree and will then join the Engl Dept. Celia and John Bohannon are at Benning waiting for their 1st child in Mar. Sharon and Don Philpotts arrived at Ft. Hood and await the stork in May. Colleen, Terri Sue (2), and Cookie Leverett are at Columbus AFB after he Service-transferred for the lure of silver wings. So did Billy Mitchell according to an AF release from Moody AFB. Donna said that in the D.C. area as of 10 Dec. were: Bud Fish, Cam McConnell, Rick Charles, Dave Brown, Tom Johnson, Larry Leskovjan, Stan Genega, Grant Fredericks, Step Tyner, Nick Merriam, Bill Juchau, Tad Ono, Ed Sharkness, and Bill Lyons. The Rellers are looking for Jack Cooley - where are you? Thanks Donna.
Tony Livic is at Westover AFB, Mass. He was awarded the Outstanding Unit Award w/ "V" device for opns in RVN. Also in Mass. is Bob Huffines. He is in Boston at Natick Lab.
Burke and. Ann Buntz are at the U. of Arizona for an EE degree. Burke reports on the local representation. Lee Hewitt tied the knot with Sandie Potter 17 Oct. Lee is looking for an MS in Physics before returning to WP in summer of '72. Rick Wetherill is an ROTC instructor at the U. Jim and Janet Dyer are at Ft. Huachuca. So are Ben and Gladys Whitehouse. Ben leaves in the spring for a degree from Tulane.
Joann and Jack Lyons announce James Gilpatrick born 21 July. Caomera and T. J. Kelly announce the arrival of Maura Sullivan on 8 Aug. Betty and Ken Lemley announce Kendall McRae, born 20 Sept. If you prospective parents schedule the births closer to my deadlines, the announcements will be more timely; a little help is appreciated.
Miscellaneous poop gleaned from the rolls of the WP Society of New York. Garrett Davis is a rep. of TPO of NYC. Jerry Derner is with HQs S. European Task Force. Julio De Santis is a special agent of Northwest Mutual Life in N.Y. Rog Frydrychowski is at the Inf School. Steve Harman is a student at Ft. Monmouth. Nat Kantor is Pres. of Academy Consultants in N.Y. Mike Leibowitz is an auditor for Westinghouse in N.J. Charles "Skip" O'Donnell is in Europe with 1/68 Artillery. Rich Pullen is a student at Downstate Med Center in Brooklyn.
Happy Founder's Day!