I am sorry to report the death of Bob Zonne, who was killed in a helicopter crash in VN on 20 Apr. He was buried at WP on 1 May. I know the Class joins me in expressing our deepest sympathy to Patricia and to Bob's family. Linda Taylor and Angie Boyter attended the funeral as well as Ron Bailey (escort), Jim Scheiner, Bud Bucba, and I.
I learned from Linda that Wes Taylor is slated for an ROTC assignment at UCLA when he returns from VN. Ron Bailey is attending grad school at Stanford. Pat Zonne was uncertain about her plans, but is staying, at least temporarily, with her parents in Canada.
I'm sure most of you are aware that Bud Bucha was awarded the Medal of Honor in May for his actions as a Co. Comdr in VN. We are proud of you, Bud.
Pat Kenny wrote from RVN. He, John McCullough, and Dan Christman are all members of the 326 Engr Bn, 101st Abn Div, near Hue. John has a company; Pat and Dan had companies, but are now the Bn Sl and S4, respectively. Alice Kenny is living in N.J. with their 2 daughters. Pat expects to be assigned as a TAC at WP, arriving this summer. Dan Christman will be going to the EOAC at Belvoir and from there to the Soc Sci Dept at WP. Susan Christman is teaching school in Hi. in the meantime. John's wife is living in Tenn. with their daughters. Pat reports that Emory Pylant left the Bn in Dec. and is now attending grad school at Stanford. Emory is still a bachelor. Pat reports: Dean Loftin is presently 1st Bde, 101st Abn Div S3, but getting very short. Dave Brown is in the S3 sec of the 45th Engr Gp and will be going to Belvoir after leaving VN. Pat also mentioned seeing Barrie Zais, who was 3d Bde Asst S3 at the time.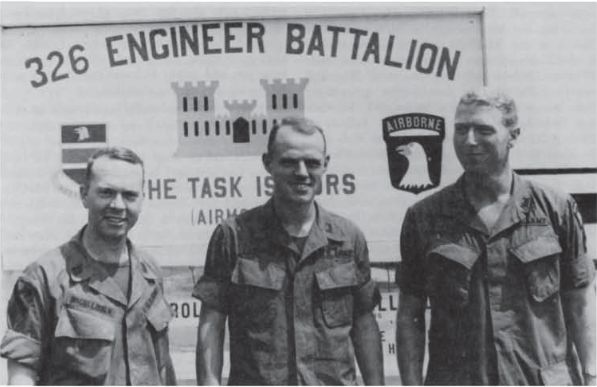 Rick Bunn wrote from VN, where he commanded a searchlight btry, but should be back in the States now, attending Stevens Institute of Tech in Hoboken, N.J. Rick and Donna have a girl and a boy, Sheri and Bobby.
While serving in VN as a Co. Comdr in the 4th Inf Div in Mar. of 1966, Jack Terry stepped on a mine and. lost his left leg above the knee as a result. The prospect of staying in the Army as a staff officer pushing papers didn't appeal to Jack, so he retired in Oct. of '66. I quote from his letter-"From Oct. '66 to June '69 I coached high school football, taught algebra (hope the Math Dept at WP doesn't hear about it), took 9 credits of polisci at night school, spent 6 weeks hitch-hiking through Europe, and ran a mayoralty campaign in my hometown of Allentown, Pa. June of 69 is when I married Teddie. She is a local girl, a R.N. whom I met one evening at a dance. Last fall I packed bag and baggage and came out to Calif., presently Newport Beach. Ted is working as a R.N. in a local hospital, and I have a job as a salesman with Gen Diagnostics (a div of Warner-Lambert Pharmaceutical Co.). Calif. is really great! We've got a motor scooter and spend a lot of time at the beach or camping in the mountains."
I think YOU are really great, Jack, and I'm glad the loss of a leg hasn't slowed you down any. Jack mentioned seeing Tom and Judy Genetti when they visited him in the hospital, Ed Winstead, Ray Paske, and Jim Conley. Jack reports that John Malpass is attending the U. of Ill. for a Master's in PE and will then go on to WP.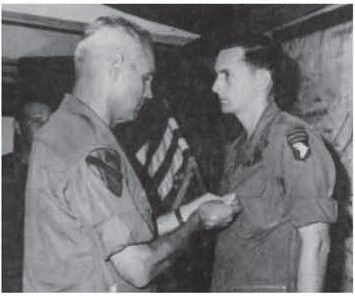 Bob Baldinger wrote from the U. of Ill. He, along with Terry Ryan, Pete Cahill, Duncan Brown, and Tad Ono, are C.E. students. Art Mark is with the ROTC and is also working on a degree in M.E. Tad is going to the Adv Crse in June, and Bob is leaving in Aug. for Ft. Carson.
Grant Fredricks returned from RVN in Jan. and is now working in the OPO-Engr Br. He and Anita live in Md. near Andrews AFB. Grant saw Fred Smith (assigned to the Engr school), Frank Reller and Chuck McCloskey (both in EOAC) at the Engr Ball. He also ran into Bud Fish, who is on the staff at the school. Jim Stephenson is participating in the excess leave program for law school. Roger Frydrychowski is attending IOAC and is scheduled for an ROTC job in Me. Grant reports that in RVN he worked closely with Frank Skidmore (now at Stanford), Larry Leskovjan, and Dave Bodde (now out of the Army).
I got a birth announcement from J. P. and Bobbye Greene. The Greenes now have Debbie, 3, Jimmy 2, and Becky just arrived 4 Mar. J. P. is flying with the 3d Army Flight Detach in Atlanta, Ga. They live in College Park, Ga.
Bob Higgins writes from Ft. Benning, where he is in the Adv Crse 3-70. Dave Jones, who is going to fixed wing flt tng, Keyes Hudson, who is going to Ga. Tech, and Jim Wood are also in Bob's class. Also in the Adv Crse at Benning are: Dave and John Vann, Hugh Kelley, Barry Zais, Chris Dorney, Chris Needels, Fred Timmerman, Marv Jeffcoat, Nat Kniker, Billy Ritch, Jim Tillman (Instructor), John Malpass, Bill Connolly, Mike Barker, Mike Shaver, Step Tyner, and Randy Hallenbeck. Bob reports that Tom Gennetti is attending rotary wing flight school at Ft. Rucker, Ala. Lee Atteberry is at the Adv Crse at Sill and is expecting a 2d child soon.
The following is from news releases. Ed Knauf, a project officer in the Minuteman Systems Program Office at Norton AFB, Calif., was named Junior Officer of the Quarter. Joe Kosciusko's unit, the 49th Tac Ftr Wing, was awarded the MacKay Trophy for the most meritorious flight of the year. Joe is at Holloman AFB, N.Mex. They flew 72 F-4D Phantoms from Germany to Holloman non-stop, re-fueling 7 times while airborne.
Bob Frank, the next Scribe for '65, reports that Bob Clover is on the Ft. Dix IG team, that Bruce Clarke is attending UCLA, Hal Jenkins is going to Purdue, and Mike Hudson is getting out and will study law at the U. of Tex.
I am going to Korea around the 1st of Sept., hopefully, to the Eighth Army Flight Detach near Seoul. My wife Gerry, along with my 3-year-old son Greg, will remain here at Stewart AFB, since govt housing is now available for waiting wives. Bob Frank is taking over this column effective 1July, so address all future correspondence to him at 326 Piermont Road, Closter, N. J. 07624. I am pleased that Bob is taking over, as I know he will do a great job. I would like to say that it was fun being Scribe for a while and thank all those who contributed. BEAT NAVY!