Art Hester is not AWOL, as I implied in the last column. He is at Stanford getting an M.S. in Industrial Engineering. He expects to come to WP in June with his wife Mae and 2 girls. Bob Wolff and Ron Bailey are also at Stanford. Bob writes that they will be at Stanford until about Oct. 70 where he is taking CE. Bob and Phyllis have a baby girl, Dina, born last Mar.
Unknown to me until recently, Bill Fields is here at WP as a propulsion instructor in the Engr Dept. He arrived last July and is leaving about 1 Mar. to study French at Monterey, thence to the French Test Flight School near Marseille. He and Rita have 2 daughters, Jeneanne 4 and Laura 2.
I have a new job now that the AF has closed Stewart AFB. I am now Airfield Ops Officer for Stewart Field Army Flt Activity. Bob Frank is still in the hospital at Ft. Dix, but he was allowed to go home for Christmas. He hopes to remain in the Army after his recovery and has been offered a Soc Sci Dept quota for grad school. George Seaworth visited Bob from Ft. Devens. George expects to be a civilian about Mar. 70.
I saw quite a few classmates at the ARMY-Air Force and the ARMY-Tex A&M games. Some of them were: Scotty Nelson, Lee Hewitt, the Mike Hudsons, the Larry Strassner, the Bill Reisners, the Larry Bennetts, and the Ed Knaufs. Ed Knauf got his M.A. in aeronautical engineering at M.I.T. last Aug. and he is now at Norton AFB. John Longhouser came up from Stevens Institute of Tech. Steve Harman and Terry Carlson handed me notes at the game, and it's a good thing because some of the fans didn't appreciate my conversations with fellow classmates. Steve and Anne completed the Sig Adv Crs and will be living in Albany while Steve studies math at Rensselaer. The Harmons have a new addition, their 3d, James Thomas born in Aug. Steve reports that Rick Kuzman is going to Taiwan as a MAAG advisor and that Mark Walsh is going to Northwestern to study sociology after completing the AIS' Adv Cn, also that Bernie Ziegler will attend the Naval Postgraduate School at Monterey beginning Feb. 70. Terry Carlson is already at Rensselaer. Terry and Sharon have 2 boys, Christopher and Stephen. Terry is getting his degree in math. Also at RPI are T.J. Kelly, studying management, and Tommy White, studying math.
Gil and Ginny Curl visited Ginny's parents (who live about a block from me) at Thanksgiving and Christmas. Gil is due to get out 28 Feb. and hopes to settle in the Hudson Valley. He reports that John and Karen Pickler are at the U. of Va., where John has been studying nuclear physics since Sept. Bruce and Judy Raybeck are at Indiantown Gap, Pa., and Judy is expecting a 2d baby in Feb. Frank Hennessee finished the Inf Adv Crs in Nov. and entered Georgia Tech to study industrial engineering. Gil ran into Tony Clay in NYC, where Tony works for the 1st National City Bank. Tony was married last Oct.
Steve Darrah wrote from Ft. Rucker where he is an academic instructor in the Aviation W.O. Career Devel. Branch. Phyllis and Steve have a 2d son Gregory, born 16 July. Steve reports that Julie and Bob Radcliffe are in Iran, where Bob is an advisor to the Iranian Army and aide to BC Mataxis.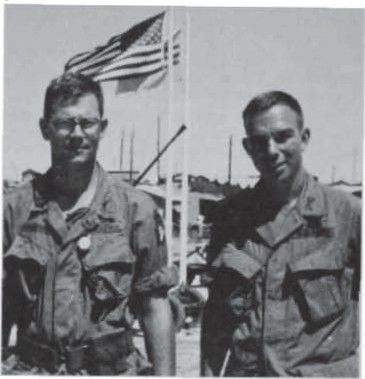 Betsy and Howard Reed are in Raleigh, where Howard is working toward his M.S. in Mech Engineering at N.C. Stall'. They are expecting their 2d child In Mar. Betsy reports that Sherry and Kent Brown had their 1st, Jeffrey, last Aug. Kent was scheduled to return from RVN in Dec.
George Bell is presently attending the law school part time while on ROTC duty in Akron, but will be a civilian by the time you read this. He plans to remain there and get his law degree. Don and Sue Erbes visited the Bells in Akron. Don is getting out in June.
I stayed overnight with the Poweres at Ft. Knox and visited with the Fliggs and the Coopers. Mike Fligg has since departed for Purdue, where he is studying computer science. The following people graduated from the Armor Adv Crs in Feb. '70: John Funk to Ft. Hood, John Roseberg to RVN, Thom Powers to Ft. Lewis, Ray Pollard to Georgia Tech, Phil Cooper to Ariz. State for industrial engineering, and Jim Woodard to grad school at the U. of Mich.
Here's the news from Ft. Bliss as reported by Linda Roebuck. Zig Roebuck, Herb Smith, Ladd Metzner, and Tom Wiley finished the Air Def Adv Crs late last summer and all became btry cmdrs in the 7th Bn, 6lst Arty, a Chapparal/Vulcan unit slated for Germany. The Roebucks, the Metzners, and the Smiths all have girls about 2 years old. The Smiths have another baby due in late Jan. Sylvia Molepske is staying in El Paso while Bob is in VN. They also have 1 daughter with another child on the way. Elsewhere Bob Timbrook, now at Ft. Knox, is due to get out of the Army in Feb. '70. Jim Berry and Fred Belanger finished the Adv Crs with Zig. Jim has an ARADCOM assignment around D.C. Fred got married and is a Nike Btry Cmdr in Mass.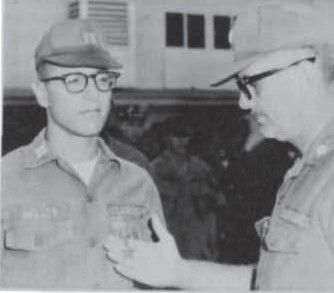 I am going to depart from my usual practice in reporting only fairly recent news in the case of Ed Armstrong since apparently his previous letters to the ASSEMBLY were lost. He spent his first 2 years at Columbus AFB as a construction engineer. He met his wife Karen there and spent quite some time deployed to Guam and RVN.. Then Ed went to Ariz. State where he received an M.A. in aeronautical engineering. While at Ariz. State, Ed was in Pi Tau Sigma and received a $10,000. research project from the National Science Foundation. While at ASU the Armstrongs partied with the L.B. Lawsons. Ed is now the Fl00/F86/T39/T28 Weapons System Engr at McClellan AFB at Sacramento, where he designs and fixes airplanes. The Armstrongs have an 18 mo. old son, Andy. They extend an Invitation for classmates to drop in.
Jerry Merges sent me the latest from Ft. Holabird. There are now 5 classmates in the MI Adv Crs: Bob Selkis, Mark Walsh, Manny Maimone, Rich Boerckel, and Les Hagie. Jack Concannon and Rich Hennig graduated in Dec. Rich is headed for grad school at Georgetown in Jan. Steve and Molly Philo are expecting their 1st child in Feb. Steve plans on going to law school next fall. Dave Hurley will leave the Service in Mar. Tom Abraham, at Bliss, is planning to get out in Feb. Jerry mentioned seeing Rocco McGurk, Bill Fields, Scotty Nelson, Joe Sanchez, Steve Harmon, Tom Fergusson, and lots of others at the ARMY-Navy Game. He saw Mr. Bart Barry in D.C. in Nov. The Mergeses are expecting a 3d child in late Feb., just before Jerry leaves the Army.
I received only 2 letters with "free" instead of a stamp. John Wells was an Engr Co Cmdr and Bn S1 in I Corps. He returned to the States 28 Dec. and is assigned to the Sacramento Engr District in the Monterey Office. He expects to get quarters at Ft. Ord. John and Rose Ann have 2 boys, 30 and 16 months old. John reports that Fred Smith is S3 of the 19th Engr Bn and Dave Brown has an engr co attached to the 14th Engr Bn. John and Rose Ann ran into the Smiths and the Connors in Hi. last June. Mike Connor was an aide in RVN. Bob Thompson wrote from Phu Loi where he was finishing up his 2d VN tour as Plans and Tng Officer, 3 Bde 82d Abn Div. Bob will be a civilian by the time you read this. Bob, Jeanne, and Tawdra will be living in Tunkhannock, Pa., where Bob will work for Charmin Paper Co. Bob reports that Dave DeMoulpied was also in the 3/82 and was due to leave the Army in Dec. Lance Stewart is working in MACV Hq at Tan Son Nhut. Jamie Bryan arrived in Sept. and is in USARV G4. Fred Shapiro is S1 of the 2/12 Arty at Phu Loi. Fred is scheduled to get out in Feb. '70. Tom Kovach has an Inf Co in the 82d, but is being reassigned to the 1st Cav Div.
Some of you are no doubt aware that the deadlines for the ASSEMBLY appear in each issue in the "Bulletin Board." Since it came as a revelation to me, I pass it along. Thanks for all the letters.