Along with his other decorations, Bob Frank should have an award for being a faithful contributor to the ASSEMBLY. He called from the hospital to pass on news of classmates he recently left in VN. I want to express my appreciation to everyone who sent letters or telephoned with information for the column. I wish we could hear from a lot more before the next issue.
Starting with WP, Ray Paske left for the 1st Armd Div at Ft. Hood where he commands a btry. Bud and Carolyn Bucha arrived in Aug. He is the Soc Sci Dept teaching history this semester and economics next semester. Bud is also an officer rep and unofficial asst coach of the swimming team. Bud spent 2 years at Stanford after graduation where be studied portfolio management (stocks and bonds). He went to VN with the 101st and attended the Armor Adv Course before coming to WP. Carolyn is expecting a baby in Jan.
I had heard that Art Hester was headed this way, but I haven't been able to locate him if he is here. Where are you, Art?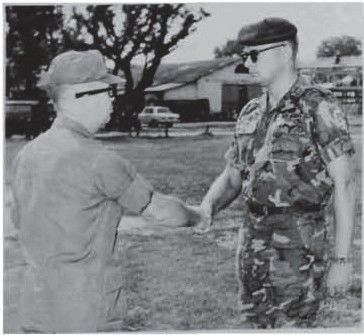 Bob Frank is in the Walson Army Hospital, Ft. Dix, recovering from wounds received on the 19th of July in VN. He was hit in the chest, right hand, and left hip by small arms fire, but the most serious area is his hip. He expects that his hip will be operated on in Oct. and hopes to be able to attend the ARMY-Navy game. Bob was commanding a rifle company in the 11th Inf Bde, Americal Div, vicinity Due Pho when he was hit. He mentioned seeing 7 classmates in the 173d Abn Bde. Ron Walter works in the Bde S3 shop; Johnny Johnson is the Bde S3 Air; Jim Hardin is the Asst S2; Chris Dorney is 2d Bn 503d Inf S3; Jimmy Mirando, Steve Spoerry, and Wes Taylor are all in the 4th Bn 503d Inf as CommO, Hq Com, and a Co CO, respectively. Bob also reports that Don Appler is in the 3d Sqdr, 4th Cav, 25th Div, and that Fred Smith is in the 19th Engrs working on Hwy #1. I know I speak for everyone in wishing you a speedy and complete recovery, Bob.
I ran into Bill Reisner at Lakehurst NAS. Bill is an Anny pilot working for the Manager, Air Traffic Management System. Val Sammarco and Mike Watson have completed the Sig Car Course and have departed for D.C. and Hi., respectively. Jim Olivio and Bob Berdan are also at Monmouth. Larry Bennett was scheduled to be released from active duty 8 Aug. He was married in July. Bill will be married by the time this is printed. His fiancee is an RN from NYC, but he didn't tell me her name. Congratulations to Larry and Bill. I can't think of very many of our classmates who are still bachelors.
Dave Kuhn wrote to me to say that he is flying the AC119k at Lockbourne AFB, Ohio. The AC119k is a gunship which will replace or augment the AC47's. Dave expects to deploy to SEA soon. Rosemarie and Dave are proud to announce the arrival of David Edward, born 11 June. Dave also sent news of other classmates, included elsewhere.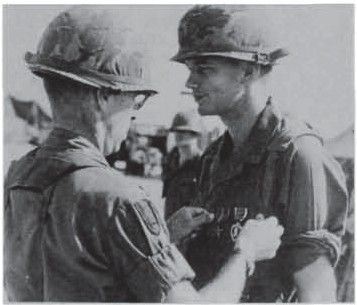 Jerry Merges wrote a very informative letter from the MI Center, Ft. Holabird. Jerry is Admin Officer, Adv Course Dept. Jerry and Janie have 2 boys, Jerry 2-1/2 and Douglas 1. Scotty Nelson graduated from the MI Adv Course in June and went to Drexel Institute of Tech in Philadelphia for ROTC duty. Scotty and Pat have 1 boy. The following classmates are now in the adv course and are due to graduate in the month indicated: Jay Vaughn, Sept., going to grad school; Jim Coughlin, Sept., going to Hawaii; John Concannon, Dec.; Rich Hennig, Dec.; Bob Selkis, Mar. 70; and Mark Walsh, Mar. 70. Marshall Schwartz and Tom Fergusson graduated last Dec. Marsh remained at Holabird and is due to attend grad school in Jan. Tom went to OPO. Dave Hurley is on the adv course staff and faculty. Dave and Kathy have 2 children Regan and David. Dave will be getting out in Mar. 70. Steve and Molly Philo are recent arrivals at Holabird where Steve is an instructor. Molly is expecting in Feb. Rich Boerckel is slated to start the Adv Crs in Oct. Tom Abraham finished VN lang school at Bliss and will stay there until he gets out in Feb. Jerry saw Steve Bliss at the ARMY-Navy lacrosse game last spring. Steve and Andrea are at Ft. Lee.
Several people wrote about the big '65get-together at the Genega's on 7 June. Apparently it was quite a blast with about 30 classmates, their wives, sweethearts (either-or not both), and kids attending. I quote from Stan Genega's letter. "Highlights of the picnic: Ken Yoshitani's wife went into the hospital shortly before the picnic started and while we were partying, gave birth to a 6 lb 9 oz boy. Randy Guenther found a soft spot on the grass at about 7:30 p.m. He was next heard from at 11:30 PM when he said, 'Anymore beer left?' Fortunately we were able to accommodate him, and he was happy once more. Jerry Merges and I started counting kids, but then decided it would take too long-there were so many-prolific '65!" This is an appropriate place to mention that Barb Genega had a baby boy in Nov. 68, Stan Jr. He was born with the inimitable Genega crew-cut. Here is a list of those who attended. From Ft. Belvoir: Fred Laughlin, Pete Cahill, John Knowles, Bob Wolff, John McCullough, Ken Yoshitani, Roy Garms, Omar Rood, Randy Guenther, Bud Fish, Ed Simpson, Jim Harvey, Ed Sharkness, and Emery Chase. From Ft. Holabird: Jerry Merges, Dave Hurley, Jay Vaughn, Bob Selkis, Scotty Nelson, and Jack Concannon. Dave Bangert came from CCNY, N.Y.; Mike Hudson from Ft. Dix; Tom Fergusson, Intelligence OPO, D.C., Tom Johnson (USAF) D.C.; Hank Sterbenz from Ft. Meade. Stan is headed for VN in Oct. along with John McCullough. Ed Klink arrived there in July and Bob Selkis will be going over in Mar. '70. Bob Wolff has been at Stanford since June; Ken Yoshitani reported to M.I.T. in Sept.; Loco Locurcio is on ROTC duty at Notre Dame; Steve Ammon reported to Red Stone Arsenal in Apr. Hank Sterbenz began the Inf Car Crs in July. Don Parcells reported to Ft. Bragg in June. Nick Principe, John Seymour, Chris Spire, and Denny Brewer are at Aberdeen Proving Ground. Ron Riley was due to be discharged 9 June and move to N.J. John Wattendorf, Slats Letterie, and Tom Borkowski are at Ft. Lee; all three are QMC. One last thing from Stan: Wayne Scholl accepted the Itschner Award at Belvoir last May at the annual Engr dinner for the best engr co. We are right proud, Wayne.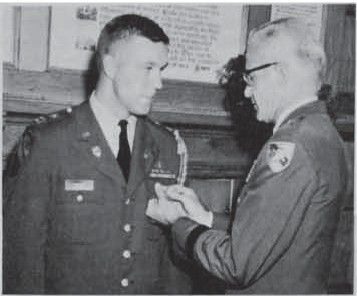 src="Graphics/PaskeACM.jpg">
1965: Roy Paske, former aide to BG Bernard W. Rogers, receives the ACM.
I heard from Joe Sanchez at Ft. Meade. He is Maint Officer for the 1st Army Avn Det. He and Nancy have a baby girl Lisa born in Aug. '68. Bob Johnson is also at Meade as Hq Co Cmdr in the First Army Spt Element.
CPT Jerry Hoffman, USAF, who left WP at the end of Yearling Year, is doing his medical internship at Wilford Hall Medical Center in San Antonio and plans to stay there for his residency. Jerry and Wanda have l daughter Heather, aged 2. Jerry extends an invitation for anyone in the area to drop in and passes on this information. Gerry O'Leary is a Co Cmdr in the 11th Inf Bde, RVN. Gerry married a girl from Santo Domingo, Cannen, and they have a 2-year-old son. John Salomone is headed to Ft. Sill for the Arty Car Crs. Ron Floto and Fred Crates are MSC at Ft. Sam Houston. Ron is going to Harvard Bus School in Jan., and Fred is slated to go to grad school in early '70. Fred and Carol are expecting a baby in late Dec.
We received a baby announcement from Don and Sue Erbes. Karen Jane was born 6 Aug. Don is on ROTC duty at Ohio State. He expects to complete his MA in aero engineering in June '70. Sue says Reggie Connor gave birth to their 1st son 27 Aug. Mike Connor is on his 2d tour in VN.
The following information is from home-town news releases. Fred Scruggs got the BSM and PH in Feb. in Di An. He was a Co Comdr in the Big Red One at the time. Thomas Mushovic got the BSM 30 Mar. near Saigon for his work in the Command Advisory Team 100, advising the 6th Ranger Cp. T.J. Kelly graduated from the Sqdn Officers School at Maxwell AFB and is now at Rensselaer at Troy, N.Y.
Joe Kosciusko graduated from the Sqdn Officers School and is now a TAC F-4 Phantom pilot at Holloman AFB, N.M. Ed Zabka recently got his M.S. in aerospace engineering at the AF Institute of Technology at Wright­ Pat.
Thanks again to those who contributed. Happy Holidays!