Our faithful scribe, Grant Fredricks, left for Vietnam in January and asked me to take over the column since I am assigned to West Point. Of course, I am happy to have the job. Grant left Stanford University with an MA and is now CO of B Co, 589th Engr Bn APO SF 96321, (Phan Rang, RVN). Anita is remaining in East Palo Alto, Calif. I am a pilot in the 2d Avn Det, USMA, flying out of Stewart AFB. My wife Gerry and I are anxious to see any classmates passing through the area.
Ray and Ginny Paske and Jim and Cathy Scheiner are also stationed at West Point. Ray is aide to the Commandant. He has been here since April 67, and expects to leave this summer. Ray and Ginny were married last August. Jim is CO of the 50th Engr Co. Cathy is doing graduate work at Manhattan College. I learned from Jim about Bob Huffhines and Dan and Sue Christman. Bob is an AF lawyer stationed at Hanscomb AFB, Mass., and he recently passed the California Bar exam. Dan will be finishing his graduate work at Princeton in both public affairs and civil engineering in June. Barrie Zais is an advisor to the 1st ARVN Div after having completed a tour as CO of the Honor Guard Co., 3d Inf, "Old Guard," at Ft Myer. I learned this from his brother Mickey, who is in the Class of '69.
We have seen George and Carol Bell and Mark and Linda Sheridan recently. George completed AG school last fall and is an ROTC instructor at Akron, Ohio. Carol had a second baby boy, Brian, in January. Mark was medically retired in November as a result of wounds and is now an executive with a large banking concern in New York City. He was awarded the Silver Star for the action in which he was wounded. They recently bought a lovely house in Garden City, New York.
Mike and Lynn Hudson are at Ft. Dix where Mike is CO of the Avn Sec. He gave me this info: Joe Anderson is also at Ft. Dix as an aide: Bob Axley is taking the advanced course at Ft. Monmouth; Tom Sheckells is at Andrews AFB and plans to attend law school at George. Washington University after he gets out in June, and Chuck Shaw, at Wright-Patterson AFB, will also be getting out in June. I saw Denny and Diane Hawker at the ARMY-Navy game. Denny has a Co. at Ft. Knox.
Iran into Ernie Westpheling at the Supper Club at Ft. Benning. Being one of the nation's most eligible bachelors, I suppose 1t is only natural that he was surrounded by beautiful young women. Ernie was really helpful in Benning. This is as of 26 Feb. In the Advanced Course are; Ernie Westpheling, Tommy Shaw, Leo Konermann, Tom Kovach, Frank Henessee, Tom Genetti, John Anderson Ken Moorefield, John Longhouser, Toby Halvorson, Norm Boyter, Ron Bailey, Bob Zonne Bruce Clarke, Ken Cherry, Bob Bradley and Art Mark. Mike Matteson, Pete Linn and Tom Van Dyk will also be in the Advanced Course by the time you read this. Billy Mitchell, Bob Guy, and Bill Connolly are with the Ranger Dept, Bill in the mountain phase. These people are on their way from Benning to Vietnam, or are already over there: Chris Needels (CO in l0lst). Jim Long (advisor), Denny Chudoba (196th), Nat Kniker, Hugh Kelley, Kim Olmstead, Wes Taylor, Ron Walter (173d), Dean Loftin, Sonny Arkangel, and Joe Hindsley. Harry Jenkins, George Ruggles, John Connor, Ralph Hallenbeck, James Helberg, and Bob Stowell are assigned to various units at Benning. John Ritch has departed Benning to play Army basketball in California; Jim Peters is teaching Signal subjects to infantrymen; Dan Spean is attending the U. of Texas. Congratulations to Mike and May Belle Teeters on the birth of Susan Michell on 7 Feb. That's all from Ernie at Ft. Benning. One infantryman who isn't at the Advanced Course there is Bob Frank, who is at the Armor Career Course at Knox.
We heard from Dot Powers. Thom is presently in Vietnam as an advisor south of Bae Lieu, but should be back in the States by the time you read this. Mike Abbott is opns officer in the 184 Recon Airplane Co. (O-1), APO SF 96289. Anita Fredricks passed on letters from Rick Wetherill and John Swensson who were both in Vietnam when they wrote the letters. Rick was due back in April. John gave a lot of information about classmates in VN, but at least some are already back, since the letter was written in January, and are mentioned elsewhere. He did say that Billy Mitchell, Lou Csoka, and Nick Principe had been awarded the SS. I was extremely sorry to learn from John that another one of our classmates, John Hays, was killed in November. I do not know the circumstances other than that he died of a wound received during hostile ground action in VN. It's always sad to learn of such news, and I'm sure I speak for the Class in sending our sympathies to Leslie and John's family.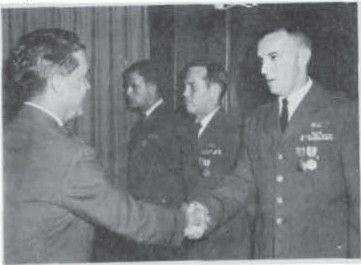 This news from sources via the AOG. Glade Bishop received his second SS in Nov, and Joe Kosciusko got the DFC for action over the A Shau Valley in an F-4. Joe is presently at Holloman AFB, N.M. I got a last-minute-before-the-deadline-letter from Todd Higley. She reports that John left Hawaii for VN at the end of November and is assigned to the Army Concept Team at USARV Hqs. John expects to go to Ft. Holobird next, if his transfer from Arty to MI is approved. Todd and 22-month-old Brent are remaining at 1312-D Goode St., Schofield Barracks, APO SF 96557. Todd would like to meet any classmates in Hawaii and says she will be glad to give assistance or answer questions for any classmates going to Hawaii for R and R. At Hqs USARV. John saw Terry Ryan, Jim Golden, and Ed Foehl. Ed is now at Ft. Bliss.
My next deadline is 15 June so write or call before then if possible; otherwise it would be a good idea to hold off until around l Sept. That way the news will be as current as possible. Feel free to send pictures, preferably B and W prints.