We begin our column this issue noting the passing of Joan Menninger, Ed's wife, on 25 Mar. 1968 from congestive heart failure contracted a month after the birth of their son, Jeffrey Scott on 21 June 1967. Ed left his son with his brother and sister-in-law in California and is now an advisor with the 1st ARVN Ahn Bn in Tay Ninh. Ed reports seeing John Swensson with MACAG, Terry Ryan, who's CO of special troops at USARV Hqs at Long Binh, Jerry Lcdzinski with 5th SFG in RVN on an extension, Jim Scheiner outprocessing on the way to an engineer assignment at West Point, and Terry Throckmorton in Cu Chi where he's an asst adv. Ed also mentions that he replaced Ray Pollard who was medevaced because of hepatitis and a kidney illness with last word being that he might have to have a kidney removed.
Jim Long, Sl at the ARVN Abn Div Adv Det in Saigon, writes of seeing Ed, Ray, Harley Moore who is sporting a pretty wild mustache in the Engr Sec of 1st Log Cmd, Tom Barron who has a company in the 4th Inf Div, and Marty Johnson, an ARVN Bn Adv in IV CTZ.
Joe Barkley writes from Saigon where he's with MACV, Combat Opn Cntr, Joint Opn Cntr. He's run into Dick Williams, a RF/PF Training Center advisor in Bae Leiu in IV Corps. Dick has seen Bernie Ziegler, who is with STRACOM in Can Tho; Tom Powers, a MATS Senior Advisor in Bae Leiu; Dave Gabel, with the 21st ARVN Div Tng Cntr, and Nick Principe, a Ranger Ba Adv in IV Corp. Joe's also seen Dave Jones, a Subsector Adv in Quang Nam; Don Rowe in I Corp Hq; Jim Hume with the 2d ARVN Div in Quang Ngai; Rick Wetherill, a Bn Adv with the 25th ARVN Div; Bill Sherrell, Adv to 5lst Ranger Bn; Jon Thompson, flying an OTTER out of Tan Son Nhut for the Embassy; Curt Churchwell, flying BIRD DOGS out of Phu Loi; Bob Johnson, with the 25th Inf Div; Denny Coll, S3 with the 3d Sqd, 11th ACR; Fred Timmerman, with G3 of 4th Inf Div; and Ray Pollard. Joe leaves wife Diane, and Chris, in Morrisville, Pa.
John Knowles, aide to Maj. Gen. Parker, CG of Engr Troops, writes of seeing Paul Barber, Ken Slutzky, and Nick.Merriam, all with the 18th Engr Bde at Cam Ranh Bay; Ralph Locurcio, John Wattcndorf. and Bill Lyons, all with the 20th Engr Bde at Bien Hoa; Rick Charles, Barry Levine, Tad Ono and Chuck Nichols, all with the 65th Engr Bn, 25th Inf Div; Rick Sullivan, Terry Ryan, and Jim Harvey, all with Hq, USARV; Bob Timbrook and Gil Curl, both with G3, IFFV; Harry Joyner (G3) and Rocco McGurk (Maint Bn) with the 25th Inf Div; Ed Simpson and Can McConnell, both with Hq. 34th Engr Gp at Yung Tau. John's also seen Frank Reller and Emery Chase, both Engr Co. CO's in the Delta; Steve Ellenbogen, who has an Engr Co at Qui Nhon; Roy Garms, in Engr Hqs at Long Binh; Pete Cahill, with the 199th Inf Bde; Paul Singelyn, who's Sl at the 8th Engr Bn, lst Air Cav, and Wayne Scholl, recently in the 45th Engr Gp, but now in civil school.
Chuck Moseley sends word from Blackhorse, home of the 11th ACR where he shares space with several other classmates. They include Rick Horst and John Funk, both in the Regt Hq; Paul Renschen in A Trp; John Hays in B Trp; John Longhouser, recently of K Trp, but now at Benning; Jim McEliece and Jerry Kelly, both recently evacuated with wounds to Walter Reed and Japan, respectively. Chuck has also seen Tom Powers with a nearby RF/PF unit; Tom Mushovic, an ARVN adv; Pete Becker, Adjutant in the 2d Sqd, 11th ACR; and Tom Borkowski in Vung Tau.
Marty Andresen recently left the 25th Inf Div for the altar (23 Nov. 1968 to Della) and the Jan. Car Crse at Sill. He writes of seeing Joyner, Chase, McGurk, Ono, Levine, Throckmorton, plus Ed Maness with S3 of 5/2 Arty, Tom Cindric who has C Btry, 1/8 Arty, and Pat O'Connor who is with GS, 101st Abn Div.
Steve Morrissey, writing in Nov. (his 20th straight month in country) has a SF "A" Det near the Cambodian border. Steve has seen Jim Ferguson who Steve says was rather seriously wounded in Sept., and Lee Atchley and Steve Kempf, both in Bien Hoa. Steve is now at the Adv Crse at Sill.
Sherry Ray (Sonny's wife as of 12 Aug. 1967) writes from North Carolina about Sonny who is a RF/PF Adv in IV Corp. Sonny and Sherry enjoyed a Nov. R&R where he met his new son, Patrick Lloyd (3 Sept. 1968) and both are looking forward to a 29 Mar. rotation. Sonny has seen Jim Hume, Glade Bishop, and Joe Kosciusko at Tan Son Nhut. Sherry saw Rick and Marianne Chapman (Feb. 1968) at Benning from where Rick is being reassigned to the 137th Engr Co, 25th Engr Gp. She also heard from Tom Barron, attended Mike Teeters wedding to Mary Belle Ball on 18 June 1968, and visited with Sandy and Rosemary Hallenbeck (Dec. 1967). She also mentions Ric and Patty Shinseki at Knox, Tom Johnson who's continuing work on his Ph.D. at UC, Livermore, and Kala Kukea, on his 2d RVN tour as CO of a LRP Co. and due home in April.
Skip O'Donnell wrote from the Oasis, Vietnam, where he was waiting out the monsoons with his 175/8" Btry. He has seen Pat Donovan who has a 105 Btry, Gil Curl, Larry Strassner who has C Btry, 7/15th Arty, Bill Lehman with the 52d Arty Gp at Pleiku, Frank Meier who has a 105 Btry, Jim Talbot and Jim Tomaswick, both with the 4lst Arty Gp at Phu Cat, Mike Drinkwater with a missile unit near Tan Son Nhut, and Terry Carlson who has a 105 Btry west of An Khe. Skip also saw John Pickler and Joe DeFrancisco on their way out of the country headed for Sill.
Frank and Donna Prokop (21 Apr. 1967) write from Bitburg AFB, Germany, where they're enjoying their 3-YEAR TOUR (?!). No classmates over there that they've seen. Frank is playing soccer and as of last August should be a father.
From CONUS Frank and Cam Hennessee send greetings from Benning where Frank is at the Adv Crse. Bob Cato says hello from Sill where he's at the Car Crse along with Preston Hughes, Barre Bernier, Steve Clement, Larry Clewley, and Dick Tragemann who will all finish in late April. Steve will be married in April in Chicago. Denny and Dottie Shantz write from Edwards AFB in Calif. to announce they will become parents in late June. Others at Edwards are T.J. and Cas Kelly, Rick and Susan Leary and their little girl (8 Nov. 1968) recently left Edwards for Denver where Rick is studying for his Masters.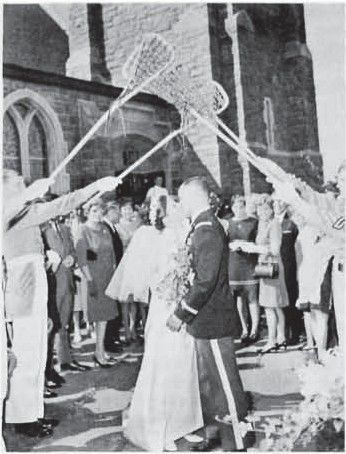 Lynn and Ed Zabka with 15-month-old daughter Lori write from Wright-Patterson AFB where he has been since graduation. Ed is attending AFIT studying for his Master's in Aerospace Engineering. Also at AFIT are bachelors Tom deJonekheere and Jerry Stockton, both studying Nuclear Engineering, and Tony and MaryAnn Pyrz (with son Paul) studying Civil Engineering. All four expect to graduate in June 1969. Others at Wright-Pat are Jerry Dufour, still single, Dick Osgood, married and working in the Avionics Lab, and Chuck and Lucy Shaw who expect their first child in Feb. Chuck works in Procurement.
Jerry Merges writes from the MI Adv Crse of Mark Schwartz and Tom Fergusson who graduated on 13 Dec. Mark stays on as Special Security Officer, and Tom heads for OPO MI. Both are still single. Jay Vaughn and Jim Coughlin just started the Adv Crse on 6 Jan. Jay's still single. Tom Abraham and Jim Hardin are also at Holabird. Jerry returned from RVN in August with Chris Spire and John Seymour, both branch transfers to Ord from Arty. Chris is married and has a girl Kimberly (almost three). Jerry and wife Janie have two boys.
Bob and Jeanne Thompson write from Knox where he's an instructor in the Armor School. Jay and Carol Stewart are also at Knox where Jay is the CO of a Stu Off Co. They are the proud parents of a son James V. Stewart IV. Jack and Joanne Lyons recently left Knox for the 6th Cav at Meade. Other classmates at Knox include Lance Stewart, John Alger, Bob Frank (all Infantry), Don Appler, Gil Gilchrist, Ken Lemley, and Tony Gamboa. All will finish in June.
Bob and Jodie Guy write from Benning to announce the pending birth of their first child in January. Bob heads back to RVN in March from his Ranger Tng Cmd job. Bob has seen Chris Needels and Hugh Kelley, both now in RVN, and Tommy Shaw, Wes Taylor and Bob Zonne, all in the Car Crse, and Billy Mitchell with the Ranger committee.
Becky and John Bell write from Tyndall AFB near Panama City where John is Chief of Data Processing, and Becky teaches HS history with an open invitation to classmates in the area to stop by for sun and fun.
And last, but not least, Mark and Linda Walsh announce the birth of a son Todd Eric on 11 Oct. 1968. Linda is spending her time in Wayne, N.J., while Mark completes his RVN tour.
My thanks to all those of you who wrote, and as a famous American once said-"Keep those cards and letters coming in, folks."