The event started on Sunday night. Those classmates and family who were donating rings attended a dinner at the Pease and Curren foundry in Warwick, RI. The others attending from "Strength and Drive" had a fabulous dinner hosted by John and Mary K. Salomone at their home in North Kingstown, RI.
Attending the ring melt ceremony on Monday from USMA '65 were:

Leslie Alger and Joann Plotkin – Both donating rings of their husbands. Other classmates and spouses attending were: Russ and Maryann Campbell, Bob and Mary Frank, Rick and Dagmar Kuzman, John and Mary K. Salomone, Joe Sanchez, Bob and Jeanette Scully, Mark and Linda Sheridan, Fred Smith, and Jim and Carol Tomaswick. Read the AOG writeup of the ring melt and watch a video
here
.
We had 5 rings and a piece of ring from the Class of 1965 in the melt. The five rings came from John Alger, Jerry Buckosky, Ladd Metzner, Karl Plotkin, and George Ruggles. The piece of ring was donated by Joe Sanchez. As you know, John, Ladd and Karl are deceased. The first photo shared by Fred Smith. First are the biographies of the five Classmates whose rings were included in the melt. Click on the biography of a classmate to see an enlarged readable version.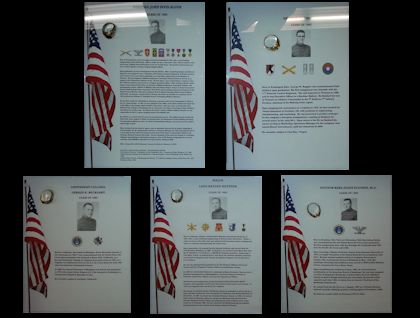 Each of the 29 rings being donated was placed in the crucible by a family member or a West Point graduate. Because some of the ring donor's representatives could not be present, those rings were placed by former graduates. Note: The Class of 1965 was honored by having each of us in attendance place such a ring into the crucible.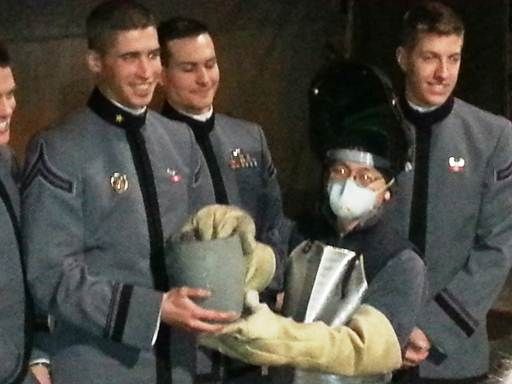 After the ring placement ceremony, the crucible was taken to the furnace room and we all watched as they melted the rings.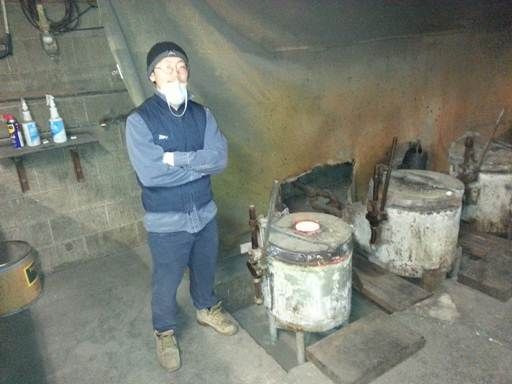 The "technician" is Hmong. His grandfather fought with Special Forces during the Vietnam War.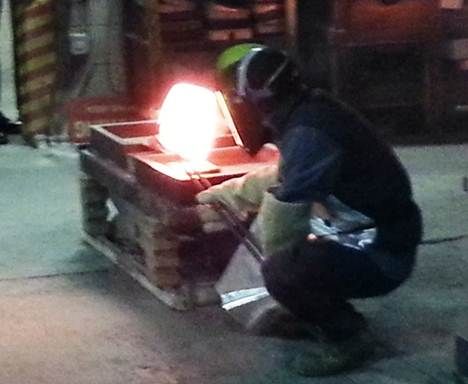 After the melt, they presented the Class of 2015 with the ingot of gold that would eventually go into their rings.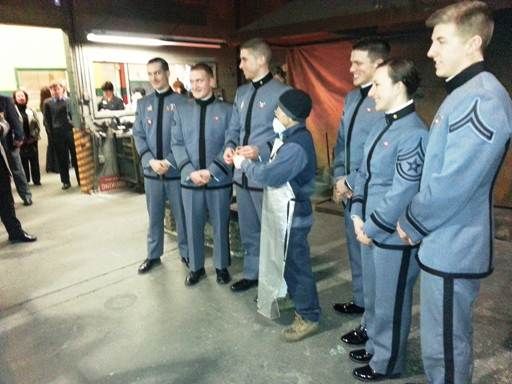 As noted in a booklet provided by the foundry, they extract "The Sample" from the ingot of melted rings. This sample is added to the melt the following year to insure that part of our classmate's rings will be included in the rings of future generations of West Point graduates.
The Class of 2015 leadership was visibly moved and very pleased that they would carry in their rings the gold of the Class of 1965. They did an outstanding job of representing their class and the Academy.
Particular kudos go to Marie Lewis '04 and Jo Ann Shipley of AOG who organized the event and insured a flawless ceremony.
Following the melt, John and Mary K had us all back to their house for lunch. We cannot thank them enough for the terrific food and their devotion to the Class of '65.