The Distinguished Class of 1965 was honored to host the First Class Officers Dinner in the West Ballroom of Eisenhower Hall at West Point on Tuesday, 3 March 2015. This was one of the last affiliation events with the Class of 2015, "For Those We Lead," before graduation. Representing '65 were Pat Kenny, Chuck McCloskey, Russ Campbell, Bob Frank, Chuck Nichols, Bob Harter, Clair Gill and Joe DeFrancisco (missing from this picture. All managed to arrive at the Academy before the snow storm scheduled for that evening made an appearance.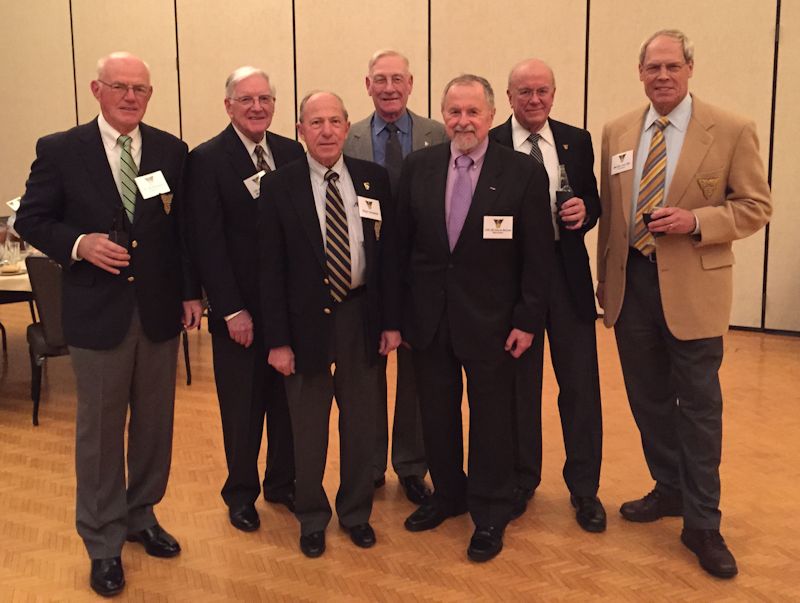 The dinner was organized by Marie Lewis, Class Services of the AOG. It provided an opportunity for the two classes to get to know each other in the informal atmosphere of Benny Havens Hour that preceded dinner. Below left shows Bob Harter and Pat Kenny imparting the wisdom of the ages to Hope Landsem, Class Secretary, and Kyle Warren, Class Vice President. Clair Gill had the opportunity to share his wealth of experience as our Class President for the past 10 years with the 2015 Class President, William Goodwin (below right). '65 and '15 class leaders with similar roles were seated together at dinner so they could continue to discus topics of mutual interest.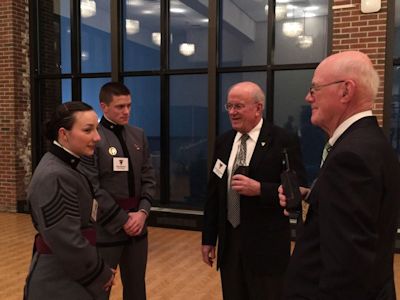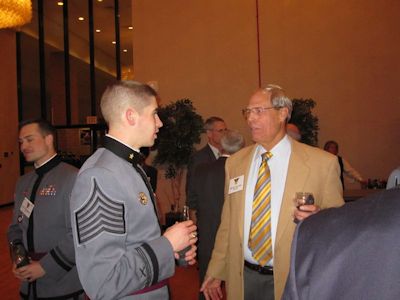 At the conclusion of dinner Clair gave a presentation on the things our class learned over the 50 years since graduation. The thrust of the presentation was to provide 2015 a view of how their roles will change after graduation and the information and tools available to ease the transition. Clair enhanced the presentation with anecdotes he gathered during his preparation. A copy of Clair's slide deck is attached. The AOG fully supported this event with the presence of, among others, Todd Browne, Chief Operating Officer; Kristin Sorenson, VP Development; and Vince McDermott, Chief of Alumni Affiair on the Supe's staff. A dual purpose of the meeting was to reinforce the value of AOG to the graduating Class. Clair helped do this by referencing examples of important AOG support to our Class in his presentation.
The final group shot shows, from left to right, (front row) Joe DeFrancisco, Chuck Nichols, Russ Campbell, Ashley Phillips, Hope Landsem, Bob Harter and Chuck McCloskey; (back row) Clair Gill, Kevin Carringer, Gene Fogh, Cort Thompson, Kyle Warren, Pat Kenny, William Goodwin and Bob Frank (Image1).