Memorial Articles
linked from www.USMA1969.org

Note: Memorial Articles already published by AOG can be found at
https://www.westpointaog.org/memorials?s-Education%20(Primary)%5COnline%20Class%20Year%20Attribute%5CValue=1969&s-search=1
If the link above doesn't work, go to https://westpointaog.org/memorials in the Deceased Grad Search section.
Enter 1969 in Class Year, click Search, and names of fallen classmates will appear below.
Those with asterisks (*) by their names have published articles. Then click on names of interest to go to their memorial articles and comment sections. Or see "Class Wall" further below.
Note: The classmate names listed below are part of the effort led by Bob St. Onge to complete articles for AOG before the 50th Reunion (and beyond).
They do not include names of classmates memorialized earlier (see above). Deadline for 2023 AOG's TAPS articles: 28 Feb 2023.
See explanatory letters and ideas/links for "selfies" further below.
Visit our fallen at http://defender.west-point.org/service/taps.mhtml?s=d&g=usma1969 If not an AOG Memorial Article, can you share just a quick memory?
It may greatly help those of us volunteering to write Memorial Articles!
Click on most names of fallen for links to pages.
Leads interested in help have links.
80 of 87 Complete/Submitted to AOG (92%; previous 70/74 high of 95%)
Those in light blue are yet to do!
Total of 143 deaths of 800 Class grads (657 remain); 1969 graduates deceased: 18%
(From the count at http://defender.west-point.org/service/taps.mhtml?s=d&g=usma1969 minus (see below) 5 classmate non-grads: )
Updated 1/9/2023

Name
R
CO
Cullum
DOD
Lead
TAPS
Adams, Lonnie B
Aggas, William J.
1
5
C1
C2
28579
633530
12/22/2018
8/13/1967

Brundage


Blackburn
2019
2018
Allardice, Robert Duncan
2
C2
28731
11/7/2014
St. Onge
2018
Archer, Laurence Leon
Barszcz, Michael
3
4
A3
H4
28739
28213
3/6/2018
4/25/2015
Ashley
McGovern
2019
2018
Bassett, Robert A.
Beard, William G.


Bible, Michael Calvin


Bird, Daniel Chambers
Blackburn, Linwood Earl
Bostwick, George M.
4
2
4
1
2
1
B4
C2
C4
F1
D2
C1
28226
28365
28364
28004
28463
633561
1/4/2019
9/1/2018
9/22/2022
9/27/2020
12/17/2020
1/5/1969
Shean
Corica
Family/Selecman
Burke
St. Onge/Lobdell
Holden
2019
2019
TBD
2021
2021
2018
Brown, Norman Alan
2
C2
28541
7/12/2016
Brown L
2017
Buechner, Daniel Anton
2
D2
28646
11/16/2005
Harper
2018
Byars, David Owen
Capel, Robert Lee
2
5
G2
C1
28220
600751
12/13/2018
10/28/1999
Ward
Calandro
2019
2018
Carlson, Adolf
4
G4
28027
5/6/2013

St. Onge

2019
Colbert, David Keith
Cole, Christopher Charles
1
1
G1
F1
28272
28531
9/25/2018
7/30/2000

Foster


Kessenich
2020
2018
Crenshaw, Kent Rex
Damon, William Earl
1
1
A1
D1
28311
28092
4/3/2011
5/1/2019
Killian
Guerrerio; R Book
2018
2020
Davis, Jon Steven


Davis, Stephen Frederick

3
2
H3
C2
28032
28381
6/19/2009
7/6/2021
Johnson D
Donaldson/Corica
2018
2022
Fahl, Gary Martin


Fall, Stephen Mark

2
1
F2
F1
28598
28041
4/12/2015
10/3/2020
McDonough


Nardotti/St. Onge

2018
2022
Fitzgerald, Douglas Cagney
Fleeger, Howard William
2
3
C2
E3
28066
28125
8/6/2018
9/6/2015
Bacevich
McCloy
2019
2018
Fly, Hugh Garrette
1
G1
28728
12/8/2007
Madigan
2019
Fogle, George Cicero
1
F1
28440
7/20/2016
Allen
2018
Fowler, Richard Thomas


Friese, William Francis

3
1
G3
H1
28671
28155
7/14/2011
12/17/2022
Pettitt
Coyle
2018
TBD
Garay, Richard
Garrett, Craig
Giacomini, James Leonard
1
1
2
D1
B1
D2
28123
27987
27955
6/10/2017
10/25/2017
11/6/1990
Dillon
Dillon
Sharphorn
2018
2018
2018
Greenlee, James Darrell
Guest, Robert Shelley
Hatch, Andrew Marshall


Hawley, Leonard Roy

1
1
1
1
A1
A1
A1
D1
6335569
28061
28719
28225
4/19/1969
3/9/2018
3/11/2017
7/12/2020
St. Onge
Rogers
Noreen
KC Brown
2020
2019
2019
2022
Hellerstedt, Howard LeRoy
Henderson, Thomas Arthur
Helmich, Bruce Lester
4
4
2
B4
D4
B2
28178
28095
28578
6/17/2014
11/21/19
10/9/2016
Hunkel
St. Onge
Griffin
2017
2020
2018
Hoffman, Robert Joseph


Hoffman, Robert Steven

4


3

B4


E3

28615


28419

7/30/2016


1/13/2022

St. Onge


Mike Landrum

2017


TBD

Hughes, Kenneth Wayne
3
B3
28471
1/1/2011
Berenato
2018
Ireland, Arthur Paul
4
G4
28630
5/2/2014
Ramos
2018
Jamison, David Kincaid II
Jarvis, Charles Joseph
Johnson, William Joseph
Karstens, Thomas Edward
1
4
4
4
G1
G4
F4
H4
28371
28732
28132
28145
3/3/2021
1/29/2018
8/30/2017
2/22/1973
Madigan
O'Toole
St. Onge
Lindsey/Luchak
2022
2019
2019
2018
Karwan, Charles William
4
D4
28586
9/8/2008
Karwan K
2018

Kibert, Charles J


Kirby, David Dale
4
4
A4
B4
28100
28081

1/25/2021
8/28/1970
Porter
Gavitt
2023
2017
Kopczynski, Francis Joseph, Jr.
Lemaster, Larry Alan


Leitzke, Charles William

1
2
3
E1
F2
E3
28069
28560
28055
3/15/2020
10/27/2016
12/29/22
Lasche
Merhar, Staples
TBD
2021
2018
TBD
Lowry, Thomas Guynne
Lucas, Ronald Laurance
3
2
H3
B2
28702
28401
10/25/2001
9/26/2021
Stirts


Griffin

2018
2022
Maxon, Harold Lee
McAdoo, Ronald Dale
3
2
B3
G2
28688
28299
7/17/2017
5/3/2015
Mike Jones
Whatton
2019
2017
McCarty, Richard Keith
McCord, Thomas Hart


McGue, Stephen Craig


McKelvey, Dennis Charles
Moeller, Ralph James
2
2
1
4
3
B2
B2
B1
B4
G3
28249
28394
28489
28301
28624
1/20/2019
7/26/2017
2/14/2022
6/7/1979
7/14/2017
Griffin
Griffin
Duffy
Brower


Balog

2020
2018
TBD
2018
2019

Morrill, Brian Eugene
Mosbacker, Rodney Eugene
1
4
H1
C4
28613
28647
11/8/2008
3/18/2019
Haines


Tatro

2018
2020
Mullen, Jack Fonce
Newman, James Bryan
1
1
A1
B1
633531
28411
4/19/1969
5/1/1999
St. Onge
St. Onge/Helsel
2020
2020

Noreen, Robert Sterling


O'Neill, Brian Boru
Oristian, John Edward
1
3
2
A1
C3
G2
28616
28293
28088
6/12/2021
5/6/2020
5/5/2009
Noreen
Ruth O'Neill
KCBrown/Hoopengardner
2022
2021
2017
Payne, John
3
F3
28167
10/24/2016
Haney
2018
Pedersen, Charles John
1
B1
28202
5/9/2007
Garrett
2018
Peters, Randall Robert


Pratt, Robert Phillip

2
1
E2
E1
28461
28382
5/14/1991
10/9/2022
Gregor/Bachta
Johnsmeyer
2018
2023

Rice, Terry Lee


Rice, William Joseph
Richmond, Henry Besemer


Russell, James Albert

3
3
2
4
F3
G3
G2
C4
28062
28109
28696
28506
9/30/2020
6/16/2008
12/6/2019
11/24/2022

Hendrickson


DaleSmith

/JRussell
PattyRichmond/Kessenich


TBD

2021
2019
2022
TBD
Schafer, Thomas Carlton
1
A1
28672
9/6/2016
Munson
2019
Schoville, Robert Theodore
Snell, Michael Gene
1
1
B1
G1
28611
28165
5/19/2018
5/11/2010
Helsel
Wallace
2019
2017
Stankus, Arnold Robert
2
E2
28505
9/22/2012
Ward, Taricska
2019

Terrien, Max Verl


Tinker, Melvin Alton


Whitaker, Thomas Edward


Williams, Stephen James
Yeisley, John Clarke
2
2
2
4
3
E2
D2
E2
G4
B3
28248
28390
28374
28486
28310
7/20/2021
11/20/1971
12/15/2022
3/13/2019
8/1/2017

Straw


Hulten


TBD




Bornhoft


Tunstall
2023
2018
TBD
2019
2018

Non-grads not on active list (Have info? Please contact St. Onge or Bahr.). As a result AOG has one less death count than West-Point.org.
Crump, Walter D. 5 964983 8/4/1999 TBD
Ross, Stephen James 5 964984 5/30/1970 TBD
Saska, Larry B. 5 F3 600754 5/6/2007 Pohlmann
http://defender.west-point.org/service/taps.mhtml includes 5 non-grads Aggas, Bostwick, Capel, Greenlee, Mullen, and Saska.

R = Regiment; 5 = didn't graduate
TAPS = time of expected publishing of AOG Memorial Article.
(2018) = expected completion for 2018 TAPS
Green Italics Bold = Complete and submitted to AOG.
Class Memorial Article Reps:
A-1 Tony Guerrerio
B-1 Roger Loder
C-1 Dennis Pogany, Greg Smith
D-1 Doc Dillon, Tom Watson
E-1 John Hamiton, KC Scull
F-1 Mike Allen
G-1 Doug Madigan, Bill Foster
H-1 Bob Haines, Bill Bahr
A-2 Barney Wintermute, Eric Robyn
B-2 Bob Griffin, Ron Hudnell
C-2 Jeff Donaldson, Vince Corica
D-2 Bob Harper
E-2 Mike Spletz, Terry Bacon
F-2 Jim McDonough, Rob Wilson
G-2 KC Brown, Bill Ward
H-2 Jeff Kimball, Arnie Haake
A-3 Jim Hillebrand, Rich Ashley
B-3 Mike Colacicco, Joe Berenato
C-3 Bob Ivany, Geoff Prosch
D-3 Pete Heesch
E-3 Bob DeClercq
F-3 John Peters, Joe McCarville
G-3 Roger Balog, Ken Johnson
H-3 Bob Jannarone, Ray Dupere, Hugh Stirts
A-4 Red Taylor, Glenn Porter
B-4 Casey Brower
C-4 Bill Selecman, Tom Smith
D-4 Bill Vanaskie, Brad Sparks
E-4 Hope Bailey, Bernie Tatro
F-4 Dave Metzler, Pete Bazzel
G-4 Stewart Bornholft, Gregg Jones
H-4 Steve Hammond, Ed Kelly

Please do your part while you and your company rep(s) still can: Get something in to AOG today! "Leave no Classmate behind!" See below!
Have info to be shared with lead/author but no lead/author contact info listed? Check out https://www.westpointaog.org/findagrad

Preliminary check list & status code for leads (can be shared in TAPS column)
1. Determine Next Of Kin (NOK)
2. Contact NOK
3. Gather information & share on webpage as appropriate
4. Draft article.
5. Share draft with Class and NOK to polish article.
6. Ensure AOG checklist is complete.
7. Obtain NOK approval

69696969696969696969696969696969696969696969696969696969696969696969696969696969696969696969
WPAOG Memorial Articles information https://www.westpointaog.org/TAPS

or http://www.westpointaog.org/page.aspx?pid=757
Editable pdf: https://www.westpointaog.org/file/MemorialInventorySheet.pdf
Click here for download of editable Memorial Inventory Sheet (.doc)
Information from Bob St. Onge (Memorial Article Guidelines, Autobiographical Memorial Data Packet, Note 1 for Company Reps, Note 2 for Company Reps)
Consider naming several individuals to complete your article requirements in the event of your passing.
Notice word count of sample Memorial Article is around 700 words; max is 925 words.
69696969696969696969696969696969696969696969696969696969696969696969696969696969696969696969
Class Wall
Lonnie B. Adams III 1969 * William J. Aggas 1969 * Claude D. Alexander 1969 * Robert D. Allardice 1969 * Robert W. Anderson 1969 * Jon H. Anderson 1969 * Laurence L. Archer DVM 1969 * Gerry H. Armstrong 1969 * Michael Barszcz Jr. 1969 *
George C. Bass 1969 * Robert A. Bassett 1969 * William G. Beard Jr. 1969 * Michael C. Bible 1969 Daniel C. Bird Jr. 1969 * Linwood E. Blackburn Jr. 1969 * George M. Bostwick 1969 * Frame J. Bowers III 1969 * Thomas J. Brennan Jr. 1969 *
Norman A. Brown 1969 * Randall H. Bryant II 1969 * Daniel A. Buechner IV 1969 * David O. Byars III 1969 * Robert L. Capel II 1969 * Adolf Carlson 1969 * David K. Colbert 1969 * Christopher C. Cole 1969 * Terence G. Craig 1969 *
Kent R. Crenshaw 1969 * Walter D. Crump 1969 William E. Damon Jr. 1969 * Jon S. Davis 1969 * Stephen F. Davis 1969 * Thomas A. Dellwo 1969 * Willis B. DeYoung 1969 * David W. Dunaway 1969 * Gary M. Fahl 1969 *
Stephen M. Fall 1969 * Douglas C. Fitzgerald 1969 * John C. Fitz-Henry 1969 * Howard W. Fleeger 1969 * Hugh G. Fly III 1969 * George C. Fogle Jr. 1969 * Jimmy M. Ford 1969 * Richard T. Fowler 1969 * William F. Friese Jr. 1969
Richard R. Garay DDS 1969 * Craig R. Garrett MD 1969 * James L. Giacomini 1969 * James D. Greenlee 1969 * Robert S. Guest 1969 * Jerome R. Hackett 1969 * Joseph E. Halloran III 1969 * Andrew M. Hatch 1969 * Leonard R. Hawley 1969 *
Thomas M. Hayes 1969 * John W. Heath 1969 * Howard L. Hellerstedt 1969 * Bruce L. Helmich 1969 * Thomas A. Henderson 1969 * Guy W. Hester Jr. 1969 * Robert J. Hoffman 1969 * Robert S. Hoffman 1969 Kenneth W. Hughes 1969 *
William A. Illingworth III 1969 * Arthur P. Ireland Jr. 1969 * James P. Isenhower Jr. 1969 * Glen S. Ivey 1969 * David K. Jamison II 1969 * Charles J. Jarvis Jr. 1969 * William J. Johnson 1969 * Robert P. Jordan 1969 * Thomas E. Karstens 1969 *
Charles W. Karwan Jr. 1969 * James S. Kenady 1969 * William B. Kerr 1969 * Charles J. Kibert Jr. 1969 * Thomas P. King 1969 * David D. Kirby 1969 * Rickey A. Kolb 1969 * Francis J. Kopczynski Jr. 1969 * Frank A. LaPenta 1969 *
Albert F. Leister Jr. 1969 * Charles W. Leitzke 1969 Larry A. Lemaster M.D. 1969 * William H. Leppig 1969 * Thomas G. Lowry 1969 * Ronald L. Lucas 1969 * Richard W. Luecke 1969 * Harold L. Maxson 1969 * Ronald D. McAdoo 1969 *
Richard K. McCarty 1969 * Thomas H. McCord 1969 * Carl B. McGee 1969 * Stephen C. McGue 1969 Dennis C. McKelvey 1969 * Ralph J. Moeller 1969 * Brian E. Morrill 1969 * Rodney E. Mosbacker 1969 * Jack F. Mullen 1969 *
Arthur S. Nabben 1969 * James B. Newman IV 1969 * Robert S. Noreen 1969 * Edwin G. Northup 1969 * Terrence P. O'Boyle 1969 * Frank G. Oliver 1969 * Brian B. O'Neill Jr. 1969 * John E. Oristian 1969 * William A. Pahissa 1969 *
John B. Payne 1969 * Charles J. Pedersen 1969 * Randall R. Peters 1969 * Michael W. Pettit 1969 * Robert P. Pratt 1969 Terry L. Rice 1969 * William J. Rice 1969 * Henry B. Richmond III 1969 * Robert C. Riddell II 1969 *
Luigi B. Rose 1969 * Robert E. Roseta 1969 * Stephen J. Ross 1969 John E. Rountree 1969 * James A. Russell 1969 Larry B. Saska Esq. 1969 Paul C. Sawtelle 1969 * Albert H. Schaaf 1969 * Thomas C. Schafer 1969 *
Robert T. Schoville 1969 * Henry J. Schroeder III 1969 * Jonathan C. Shine 1969 * Joseph A. Silva 1969 * James L. Smith 1969 * Michael G. Snell 1969 * Joseph P. Sowa 1969 * Nicholas T. Stafford III 1969 * Arnold R. Stankus Jr. 1969 *
Michael W. Taylor 1969 * Max V. Terrien 1969 * Harry L. Thain 1969 * Melvin A. Tinker 1969 * James E. Walkenbach 1969 * Edwin A. Watson Jr. 1969 * Johnnie L. Welsh II 1969 * Joseph J. Wheeler 1969 * Thomas E. Whitaker 1969
Ralph R. White 1969 * Stephen J. Williams 1969 * John J. Woodrum 1969 * John C. Yeisley 1969 * Kenneth J. Yonan 1969 * Alexander M. Zupsich 1969 *

69696969696969696969696969696969696969696969696969696969696969696969696969696969696969696969
Link to Class Matrix of Memorial Article Preparation (A-M)
Link to Class Matrix of Memorial Article Preparation (N-Z)
Lists all classmates and their preparation stage of an AOG Memorial Article.

See "Tips on Writing Selfies" below.
69696969696969696969696969696969696969696969696969696969696969696969696969696969696969696969
Reservations for internment/inurnment at West Point Cemetery: Cemetery/ Memorial Affairs 845-938-2504
Will need copy of DD214 with SSN blacked out. To put in your Cullum file, email to Marilee Meyer, Memorials & Archives Manager: marilee.meyer@wpaog.org
www.westpointaog.org/westpointcemeteryeligibility

69696969696969696969696969696969696969696969696969696969696969696969696969696969696969696969
Mon, Sep 11, 2017
Greetings! This message is being sent to memorial article lead authors, those who graciously volunteered (or were volunteered!) to pull together a TAPS memorial for a fallen classmate. Thanks. Here is an update:
The goal of the No Soldier Left Behind...No Classmate Forgotten Campaign is to complete all outstanding memorial articles possible by our 50th Reunion and to set the conditions for success in completing memorials over the next two decades. When we started we had about 36 articles that needed to be completed, but have lost 13 classmate in the last 18 months. We have made progress with 7 articles published in TAPS in 2017 and 12 already submitted for the 2018 addition. We are nearly half way to 2018 target of 25! Well done!

We are also half way to the Feb 2018 suspense for submitted articles for 2018 TAPS. I have communicated with most of you this year and have a sense of your progress. I think we will reach our 2018 goal.

I have learned much during this campaign.
-Gaining trust and cooperation of the NOK is key.
-Widows and families mourn differently.
-Initial enthusiasm can evolve into periods of non-responsiveness.
-Gentle requests and reminders work best.
-Having another classmate, spouse, widow or friend engage can help.
-Some personal information is better left out of articles...NOK decides.
-Patience and perseverance will win in the end.
On the second part of our goal I guess I would say that no knows better the value of a draft memorial (selfie) that you who are trying to pull an article together. We all need to get to that chore which as I can attest is easy to put off. Surprising that my tendency to procrastinate did not fully disappear when I graduated!
Please let me know what help you may need and your assessment as to the likelihood of completion by February, 2018.

Thanks again.

Prayers for the Nation on this 16th anniversary of 9/11.
Bob St.Onge
69696969696969696969696969696969696969696

(Tips on Writing Selfies)

PS note from classmate Bill Rice's family: "When they are thinking about their eulogy, they might think of a story that they could offer for http://thedaysforward.com

2 September 2017 [added later]
Gentle Grads [4um]:
4YI, here's something to consider if you find yourself with time on your hands over the next couple days [Labor Day weekend]. Why not work on your own TAPS Memorial Article?
Here're some ideas about "selfies":
1. Purchase a binder/large-envelope/file-folder and mark it "Memorial Article AOG."
2. Print a copy of Inventory Sheet and Sample Memorial Article https://www.westpointaog.org/file/MemorialInventorySheet.pdf and start backwards-planning at how you'll get there.
3. Devote 2 hours to improving your file (adding your resume, vitae, all items written about you in West Point publications and other media (Howitzer, Legacy Book, etc), as well as a collection of articles, awards, newspaper clippings, appropriate photograph(s), list of next of kin, friends, and contacts, etc., and eventually drafting your article) on each
Veterans Day

New Year's Day (Renew resolution to complete file)

Memorial Day

4 June (Graduation Day)
4. Memorial Article word count is a minimum of 850 words; maximum 925 words (see other guidelines in references below. If you're using Microsoft Word, look at Tools to get a word count on your various drafts and work-to-date.
If you're not great at writing, try this:
Write down your thoughts on small cards or slips of paper as you think about the important things in your life and maybe even ask your friends for their ideas. One exercise would be
to describe yourself with 10 adjectives, putting them in descending order of importance. Ask your friends to do the same about you and compare (and discuss, if possible) the lists.
After you have your list(s) of adjectives, attach an action-example (a trait-demonstrating event or two) to each.

Arrange the cards in a logical order.

Using the cards as cues, give a talk or tell a story into a tape recorder.

Transcribe the audio into written form. Maybe you can find a friendly typist to help.

Polish up the written text. Above all, use a spell-checker tool on your computer. Maybe you can find a friendly editor who can mark-up your text with recommendations for improvement.

Put your work in a file to be worked on both when new ideas come to the fore or upon the four special dates mentioned above, whichever comes sooner.

Let your family and another classmate know where your Memorial Article file is. Also contact Bob St. Onge or Bill Bahr to update your status on the selfie pages (links above).

Consider using a "buddy" system; working with a classmate by trading results to date on each other's Memorial Articles. Share ideas on content, style, grammar, spelling, etc. Maybe a company, battalion, regiment, and/or brigade system can be set up with helpers designated at each level?
Please realize that your legacy may be at risk, unless the last man standing in the Class has the energy and desire to write Memorial Articles for the likely growing number of those passing without having any other remembrance. At risk, not just for your remaining classmates, but maybe for your own children and grandchildren. Make sure what you believe is most important about your life is remembered. You can do something about this by starting on your selfie this weekend. Don't put this off for a better day you may not be blessed to get. Remember: "God helps those who help themselves!" : )
And just like our "March Back," you/we can do it! You've/we've also done other great things. So fall in, look out for your classmates, and, with just one, easy, left-foot forward, begin the march...now!
Some other tips: http://www.artofmanliness.com/2009/06/20/30-days-to-a-better-man-day-21-write-your-eulogy/
http://www.wikihow.com/Write-Your-Own-Eulogy
REF: https://www.westpointaog.org/sslpage.aspx?pid=757
https://www.westpointaog.org/file/MemorialInventorySheet.pdf Inventory Sheet and Sample Memorial Article
http://www.west-point.org/class/usma1969/MemorialArticles.htm
http://www.west-point.org/class/usma1969/class%20memorial%20article%20matrix.htm
http://www.west-point.org/class/usma1969/class%20memorial%20article%20matrix%202.htm
I'll be posting this on the Memorial Articles matrix page, so you can refer to it at any time.
Other ideas/comments/recommendations, please let me know. Stay healthy and start writing!
Best regards & BOTL
Bill Bahr
P.S. I'll be happy to quickly review your emailed Draft Memorial Article before you send it to AOG; just let me know. I'll mainly be checking for word-count (925 max), grammar, and punctuation. Use my comments or not; no offense given/meant or taken.
P.P.S. For a West Point funeral, you will need to send a copy of your DD214 (with SSN redacted) to AOG for your Cullum file.
69696969696969696969696969696969696969696


2 June 2017
Dear BOTL Classmates,
I hope that your Memorial Day was a good one, that you had the chance to do something special, and that you thought about those '69 brothers no longer with us. Joan and I attended services at Fort Logan National Cemetery and visited the grave sites of Adolf Carlson (G4) and Dan Buechner (D2). Fort Logan is a typically beautiful and well maintained VA cemetery in Denver. The ceremony was solemn and the weather superb.
Our campaign to memorialize our fallen classmates is going well thanks to you. We started this latest effort in late 2016 with two goals: 1) to complete all the outstanding memorial articles by our 50th reunion, and 2) to prepare for success in completing future memorial articles over the rest of our lifetimes.
You have responded magnificently to our first goal. Of the 43 classmates who had not yet been memorialized in late 2016 you have volunteered to author every one of them. Seven articles will be published in the 2017 edition of TAPS magazine. Seven articles are already accepted by AOG for 2018 edition of TAPS. Many more are nearing completion well before the February 2018 deadline for that edition. To see who is working on which memorial article, where you can post eulogies, and the latest overall status please go to our website at www.west-point.org/class/usma1969/MemorialArticles.htm.
On behalf of the Best of the Line, I offer my sincere thanks to all those who authored and contributed to these articles and those still in preparation. I am particularly moved by the extraordinary efforts by two C1 guys for researching and completing articles long overdue: Phil Holden for Mike Bostwick and Jim Calandro for Robert Capel. As you will recall, Mike was killed and Bob severely injured in a car accident returning from Christmas leave firstie year, 48 plus years ago. Bob was medically retired and ultimately died in 1999 of complication from his life-changing injuries. To see them memorialized side-by-side in the 2018 TAPS will be poignant indeed. Thanks, guys.
Three former classmates who are recognized as associate members of AOG are also eligible for articles if we choose to do them. The F3 team has stepped up to memorialize Larry Saska. Walter Crump and Stephen Ross are the other two. I did not know them or their cadet companies. Information about them or volunteers to write a memorial for them are welcome.
Our second goal is important for the long haul when there will be more memorial articles to write and fewer classmates to research and write the articles. We have learned the hard way that finding the next-of-kin (NOK) and discovering the biographical information needed to prepare a proper memorial is often very difficult. The Privacy Act prevents anyone but the NOK from getting cadet and service records. Here is how you can help:
• Organize your own biographical data, including NOK and possible classmates and relatives who you trust to write your memorial.
• Fill in the attached outline provided by AOG and file it in your Cullum file at AOG, in your personal papers, and/or with a classmate.
• Write a starter memorial article, a "selfie," and file it with the other important documents that support this effort.
• Tell us that you have prepared these documents so we know where to turn when necessary. Latest information about your status is listed on our
website at the selfies links.
Your personal Cullum file is maintained by AOG for the primary purpose of assisting in the preparation of your memorial article. You should file your service record (DD214) there, especially if burial or inurnment at WP is contemplated. It is also appropriate to include copies of military orders, resume, biography, diplomas and other important papers.
I encourage all classmates to share their fond memories and anecdotes of our fallen classmates with those writing the memorials. You enter them on our website or call or email the author directly.
Lastly, TAPS is the official and unique annual memorial magazine of the Long Gray Line. The 2017 edition will be the largest ever, with over 250 Memorial Articles! Unlike the West Point magazine which AOG sends to all graduates for free, you must order your copy of TAPS for a nominal subscription fee. Please do so today by calling 845.446.1545.
Please contact me if you have questions or concerns. Thanks for the tremendous effort so far. I am confident that we can accomplish our two goals because we are the Best of the Line!

Bob St.Onge
rjstonge47@gmail.com
(c) 571-344-3739
2 Attachments: AutobiographicalMemorialDataPacketJan2011 Cullum File Contents
69696969696969696969696969696969696969696969696969696969696969696969696969696969696969696969

31 January 2017
Subject: No Soldier Left Behind...No Classmate Forgotten
Dear BOTL Classmates,
As you have read, our class is re-doubling our efforts to memorialize each of our deceased classmates. These articles used to be a part of Assembly magazine. They are now published in AOG's TAPS magazine, which is totally dedicated to that purpose. The memorials are also archived in one's Cullum file and on the AOG website for all to read.
While every class eventually finds itself playing catch-up, the good news for our class is the Legacy of the West Point Class of 1969 and the massive amount of effort the team and you collectively contributed to produce it. This labor of love includes the story of every '69 graduate. Your stories and the research done on fallen classmates are priceless.
While the intended audience for this proud legacy is broad, so is the audience for TAPS memorial articles. I devoured these memorials as a kid reading my dad's Assembly magazine. The stories of graduates who fell in battle, or of heroes on the beaches, or of those who changed our Army, or ran successful corporations or were just solid citizens, husbands and fathers inspired me. I wanted to follow in their footsteps, to be a part of something lasting and important, and to enjoy the obvious love and camaraderie I read about and sensed from these testimonials written by classmates and families.
Our time to organize this effort is now. As the attached chart shows, 43 of our deceased brothers have not yet been so honored. Many classmates have volunteered and several memorial articles (three to date) will be included in the 2017 edition of TAPS. But we need your help in a couple of ways.
-First, we need battle buddies or other volunteers to take the lead on classmates not yet covered. While this task may seem daunting, the process is straightforward and frankly very rewarding. AOG dedicates a single page in TAPS for each article which accommodates up to 950 words and one photo (personal/Howitzer). The steps are what you might expect:
1) Identify and contact the next of kin (NOK),
2) Collect information and fond memories on the entire life of the classmate with the help of the NOK, family, friends
and classmates,
3) Write a draft and share it broadly for adds and edits,
4) Go final and gain NOK approval, and
5) Submit article and inventory sheet to AOG.
We know that some situations are more complex than others, especially for classmates long deceased. We (and AOG)
will help you work through such issues as finding the next of kin as they arise.
-Second, we need roommates, company mates, teammates, and all who knew these fellows well to share with the leads your fond memories of them. The leads can either write the articles themselves or find others to help. Call or email the designated leads directly. Leads can share information they collect on an interim basis (which may stimulate further input) at:
www.west-point.org/class/usma1969/MemorialArticles.htm .
-Third, our reality is that the next two decades will witness the final roll call for many of us. We can each help ourselves and those who will write about us by assembling our key information including a short draft of our story. AOG is ready to assist, has a form you can complete, and will secure these items for future use in your personal Cullum file.
Our goal is to be caught up and organized for the future by the 50th Reunion. Will you volunteer to memorialize a classmate and help us fill the pages of the 2018 and 2019 editions? Will you update your Cullum file and do a brief autobiography (a "selfie") that can be the basis for a memorial article someday? Those interested in sharing their own personal article status on the Memorial Article page can view the matrix there and email their status to wbahr@west-point.org .
Please visit our website at www.USMA1969.org and click on "Memorial Articles," where we will post additional information. Feel free to contact me if you need help in any way. Attached are the list I mentioned of our deceased classmates not yet memorialized and the AOG instructions for preparation of articles.
Bob St.Onge
rjstonge47@gmail.com
(c) 571.344.3739
69696969696969696969696969696969696969696969696969696969696969696969696969696969696969696969
Suggested Documents to Submit for Your Cullum File
First Orders
Announcements
Wedding
Children
Degrees Obtained
Job Promotion, Hire, or Achievement
Change of Station
Change in Rank Professional Photos
Newspaper or Magazine Clippings
Self-Written Biography
Press Releases
Awards Received
Covers of Published Books
Resume
Vital Stats Sheet
Genealogical information about you and other family members who attended the Academy



from "Memorializing the Long Gray Line

Cullum files, Memorial articles & Taps"

https://spark.adobe.com/page/bWs88rxVhD5d1/

69696969696969696969696969696969696969696969696969696969696969696969696969696969696969696969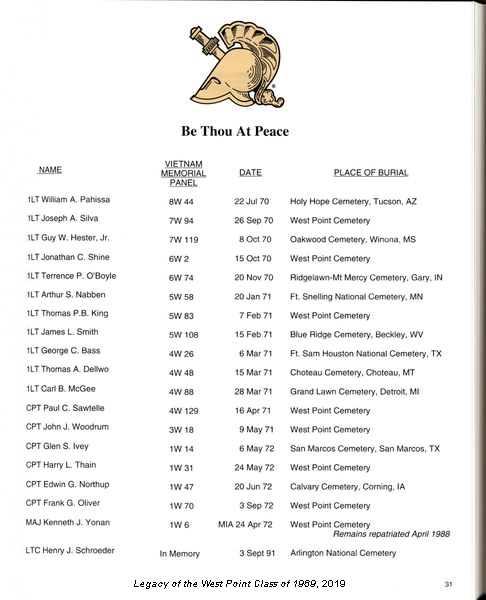 69696969696969696969696969696969696969696969696969696969696969696969696969696969696969696969

Disclaimer: Any views expressed on this website are unofficial and not to be considered as the official views of the the Class of 1969,
the West Point Association of Graduates, or the U.S. Military Academy. The information provided on this webpage and related site
pages is to be used for informational purposes only. While the website's authors have tried to provide accurate information, there
may be inadvertent technical inaccuracies and typographical errors for which we apologize. The site's authors and the Class of 1969
expressly disclaim all liability for the use or interpretation by others of information contained in this site or hyperlinked sites that are
not maintained by the Class of 1969, the content for which this site's authors, the Class of 1969, the West Point Association of
Graduates, and West Point cannot be responsible. The appearance of hyperlinks to and/or from external sites does not constitute
our endorsement.

Click here for terms of use when visiting linked West Point Association of Graduates (AOG) webpages.

Any legal issues or propriety concerns you might have with this website or linked sites,
please click here and bring them to the immediate attention of the Webmaster. Thank you!