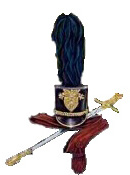 Firstie Year
Their final year at the Academy Cadets now have the distinction of being "Firsties." They have progressed through an incredible amount of learning and changing during the past three years. In this year they will find out what their first assignment will be when they graduate in May as Second Lieutenants in the United States Army. By the fall after their graduation, most of these new Second Lieutenants will have reached their first duty stations and begun their careers as military officers.
This year is what all cadets have looked forward to since they arrived at West Point on R-Day 3 short years ago. When graduation arrives in May of this school year the cadets will be able to reflect back on a year that help a lot a wonderful memories and good times as well as that final push to graduate. Small things like unlimited OPP's and the Firstie Club are welcome additions to the year. Expanded leadership opportunities as members of the First Class offer yet another opportunity to "step up" and the additional academic opportunities in electives make the academic schedule the most customized of all the years.
Highlights of the Firstie Year
Ring Weekend: This is the weekend when Firsties receive their class rings. It is held in August and is one of the most time-honored traditions at West Point. It dates back to 1835. The weekend will start on Friday afternoon with the Ring Ceremony. Members of the Firstie Class march out by company onto the Apron in their India White Uniforms. After the First Captain "receives the report" that all Firsties are present from each Regimental Commander, the order is given to proceed to the amphitheater below Trophy Point's Battle Monument.
In this private ceremony the rings are given to each Firstie by their companies TAC Officers and NCOs, a few remarks are made and then the rings are simultaneously placed on their ring finger. Thus happens one of the most special times your cadet will experience at West Point.
Following this the Firsties are immediately the center of attention and many must endure quite an "ordeal" as they try to get back to their rooms. Plebes from each company lie in wait for their Firsties to return from the ceremony so that they can serenade the new ring-bearers with the "Ring Poop."
Branch Night & Post Night : Information on these nights may be found on our Branch page.
100th Night: This formal banquet and hop is held in late February and celebrates that there are only 100 days until graduation is known as 100th Night. It is a night for reflection about their time at the Academy as they relive the previous 3 1/2 years of their life spent at USMA. In a tradition dating back to the late 19th century a show is held on this night that is written, directed, acted, and produced by the Firsties and, as you can imagine, it is full of inside jokes that will require some explanation to be fully appreciated. Anything from short skits to a full-length musical comedy may be done to remember their time at the Academy. The premier is held at Ike Hall exclusively for Firsties and their guests Saturday night the show is open to all.
Spring Break: This spring break is slightly different from the previous three as many of the Firsties choose to vacation together. This may be the last time in a long while that they will have the opportunity of having leave at the same time and be in the same location to spend time with buddies. Graduation will occur in two month and after that they know that they will head out to the four corners of the world to begin their military careers.
Graduation: Information on graduation may be found on our graduation page.