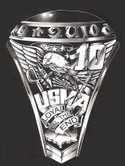 The Ring
The West Point rings tradition began with the Class of 1835 and was the first school in the country to use rings as a class symbol. Interestingly, all classes since that time have chosen to have a ring as their class symbol except for the classes of 1836 and 1879 which chose cuff links.
Until 1969 the style of the rings was selected informally. By in 1969 the first Ring and Crest Committees were formed and the members of these committees decide on both the crest and the ring designs from proposals submitted by the class members of each particular year.
Each ring must have an eagle, an American flag, an officer's saber, a cadet saber, the class motto and year and USMA as part of its design.
Since the Class of 1917, rings have carries the class crest on one side and the Academy crest on the other side. Custom dictates that until graduation that the ring be worn so that the class crest is nearest the heart of the wearer but after graduation the ring is reversed so that the Academy crest is nearest the heart of the newly commissioned officer.
Class mottos often rhyme with the latest class of 2010 having Loyal 'til the End" as its motto. The rings are expensive and even though the design is the same for the entire class, the type of "metal" and the kind of stone in each ring are individual choices that each cadet may make. Recently rings have been running between $1,000 - $4,000. Miniature rings are available that can be exactly like your Cadet's ring or they may be slightly different. Firsties will sometimes give miniature rings or pendants to mother, girlfriends, fiancees, etc.
Further information on Ring Weekend may be found here.