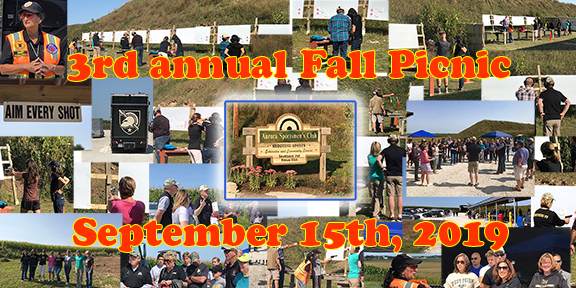 Aurora Sportsmen's Club 7749 Rueff Rd, Waterman, IL 60556 (25 min west of Aurora)
1:30-5:00 p.m. (safety briefing at 2:00pm
Once again, we will be hosting our 3rd annual Fall Picnic and Shoot-a-Round at one of the premier shooting ranges in northern Illinois. The Aurora Sportsman's Club has top-notch facilities and offers something for everyone in shooting sports. Everyone who attended last year had a great time and came away with a smile on their face. Please follow the Registration link below and download the Information flyer. This is a free event but anyone wanting to shoot firearms will be asked for a small $20 donation to cover range fees and ammunition expenses.
Everyone on ASC property must complete and sign a Waiver Form. Please fill the waiver forms out and bring them with you. See you all soon!
Registration link here –> 2019 FALL PICNIC TICKETS (FREE)
Event Information flyer here –> 2019 FALL PICNIC FLYER
ASC WAIVER FORM (EVERYONE MUST SIGN ONE) –> ASC WAIVER FORM
ASC General Information –> ASC INFO FLYER
Please call/email Jeff or Bill with any questions or concerns.
Jeff Carello                           Bill Ratzer
618-204-4445                       847-383-6574
jeffwp2021@gmail.com wbr333@att.net