Brewing Stand Overview
I've been home brewing for about 3 years or so, of which the last year and a half have been exclusively all grain. I'd heard about RIMS and HERMS systems, and after a bunch of online research, found Keith's Old Station Brewing Company online. Keith's system was right in the ballpark of what I wanted to build for myself. I contacted him through email. He was very helpful in sharing his thoughts on both his own design as well as reviewing my approach. I based mine largely on his example, but modified the overall design to be a single tier and made it so it's weldable by a novice (that's me). I cannot express my gratitude enough. Thanks, Keith!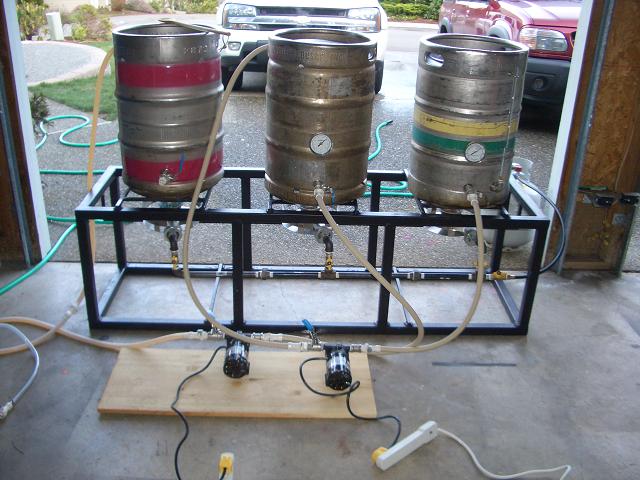 ---
The requirements were:
It must be big and strong enough to hold 3 converted kegs full of water, grains, and/or wort.
I wanted it to be a single tier setup so that I didn't have to stand on a ladder to do anything.
I wanted the design to be simple enough that I could weld it myself. (I had never even touched a welder before I bought the one I used to build this stand).
I wanted to I wanted to be able to independently control temperatures on the HLT, mash tun, and the boil pot.
---
Plans
---
---
Front View
---
End View
---
Burners
---
Gas Plumbing
---
Hot Liquor Tank
---
Mash Tun
---
Boil Kettle
---
Pumps & Chiller
---
Future Projects
I intend to turn this into a full blown HERMS system by adding a heat exchanger to my HLT, or by building a smaller, electrically heated vessel like the TexanBrew Mini-exchanger so that I can separately monitor and heat the mash while heating my sparge water.
---
Thanks
I want to thank Keith H. for putting his brewing site up on the web. It was a great source for reference and ideas. I owe him some beer for all of his help. I also want to thank my good friend and RealBeer.com buddy Greg G. (handle - Grog) for helping me to acquire the kegs, kettle hardware and other fittings, as well as lending his plumbing expertise.
---
Links
My Kegerator
---