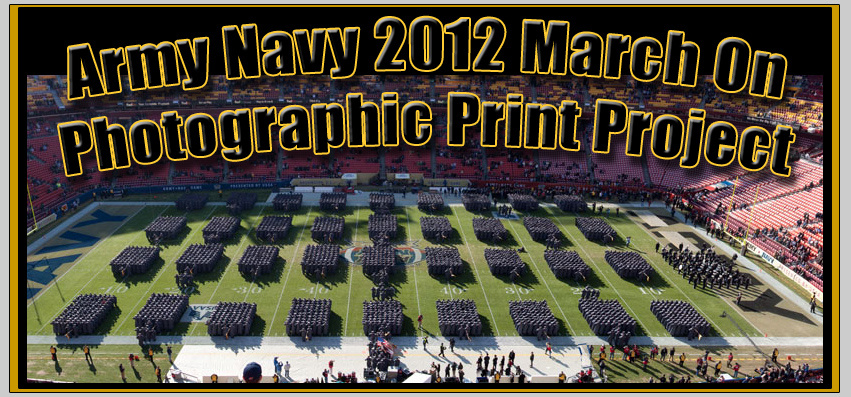 ORDERING INFORMATION – PLEASE READ CAREFULLY
Read the informational page (and links) before asking a question. If I did not anticipate your question, I will be delighted to answer it.
Watch for regular updates on the West Point and Navy parent forums for the latest status with the email subject line: Army Navy Panorama Update # n


Take your time to fill out the order information correctly with the right spelling, capitalization, and punctuation – double check your name, address, city, state, and zip code. I will import your information into a label printer so what you enter is how your order will be shipped (or in some cases, delayed or returned because people enter their information wrong.


When you receive your confirmation, you may notice that the shipping information is BLANK on the confirmation copy. Don't worry – it's safely recorded in our files exactly as you entered it.
BASIC ordering:
If you want this year's Army and/or Navy, Large and / or Small poster, carefully select the quantity of each item and the program will automatically calculate the total amount due including the quantity discounts. You can include any additional donation that you may wish to make.

Custom Orders:
For a personalized version of the March On poster, please click on this link: Custom Orders

Previous Years Order:
If you want to order a print (while quantities last) from the game in previous years, go to this section and enter the desired number of prints and the program will calculate the total amount due, which includes the cost of the shipping and handling. If you want an older print, please send me an email for instructions: ArmyNavyProject@gmail.com

Electronic Company Images
With any order, you can add on up to 4 diffferent "Army company pictures" and 4 different "Navy Company Pictures" for $5 each that will be shipped electronically so that you can print them. Electronic images will be e-mailed when the order window closes, so that we can "batch" ship them. We will alert you before shipping so that you can clear out your inbox as we get "bounces" due to full mailboxes.

How to find the right company image to view? These images can be found on the following links are in alphabetical order with caveats:
Army: A1, A2, A3…. I1, I4 – with the following possible additions if the image is good:
CG1 - Color Guard
BGD and CG1 - the Brigade and Color Guard (landscape)
BGD and CG1-2 - the Brigade and Color Guard (portrait)
Army Pep Band - Use the pulldown description Army Special One to order
Rn – Regiments 1-4
RnBn – Regiments 1-4, Battalion 1-3

You should review your Army cadet's company thumbnail by clicking here.

Navy: 1,2,3,… 30 with the CG (Color Guard) and BGD (Brigade) images

You should review your Navy midshipman's company thumbnail by clicking here.

These are high resolution photographs as shot when the company assembled on the field with minimal edits – there are camera men on the field, the overhead camera cables, etc. that were unavoidable. You can remove the extraneous "stuff" using an editor such as Photoshop if you choose. YES – the electronic watermark will be removed from each image before it is shipped.

The terms and conditions are simple -
1) You can edit and print as many copies as you wish for your family and cadet/midshipman, but we ask that each family orders their own JPG image. (Remember that the proceeds are going to the troops!)

2) You only need to order ONE copy of each image (see above) even if you plan to print one of you, one for the grandparents, etc. Do not order multiples of the same image.

3) You can print these images easily and very economically at your local printer.

Special Requests not covered above?
Send an email to ArmyNavyProject@gmail.com and describe what you want… I can handle most requests.


Now...you are ready to order: click here!