Welcome!
Welcome to the web home of the West Point Parent Club of Southern Arizona.
The young men and women who are selected and choose to attend West Point undergo an experience unlike those of young adults going to a public or private college or University. The years include a very rugged and stressful training program, academically, physically, and emotionally as they are trained to be leaders of our armed forces. As parents of these future leaders, we face unique challenges.
WPPC-SoAZ offers a valuable opportunity for mutual support, fellowship and access to useful information about the Academy and the cadet life, as well as some fun times and many new friends.
Web site update coming soon! (updated 10/31/2007)
We have new volunteers ready and willing to start updating our web site so watch for new information here.
Cadet Glee Club Chamber Choir Coming (updated 3/1/07)
A Concert featuring the Cadet Glee Club Chamber Choir and the Arts Express Choir and Orchestra will take place on Sunday March 11 at Sahuaro High School, 545 N Camino Seco. The performance is free of charge and will begin at 3 PM in the school's Egbert Auditorium. Donations will be accepted to defray the concert expenses. Click here or on Upcoming on the left for more information.
Picture of Cadets at Kolbe's (updated 01/24/05)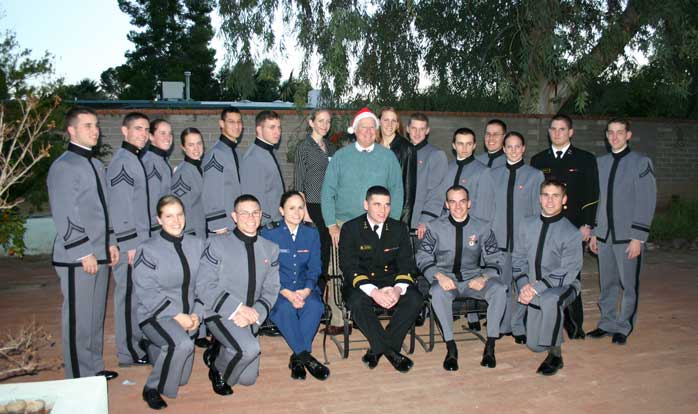 CDT CPL Tim Ashcraft with GEN Richard Myers,
Chairman of the Joint Chiefs of Staff (updated 04/10/05)

Pictures of the New Candidate Pot Luck Picnic (updated 08/04/04)
The Gardners were kind enough to take pictures at the Pot Luck. See below and then click here to see some more.
Our Officers (Updated 05/04/06)
Click here to go to Officers and who our new officers are.
Minutes of our last meeting (Updated 6/2/2004)
Click here to see the minutes of our last meeting.
Recent Pictures (Updated 08/04/2004)
Pictures from the New Candidate Picnic
for more click here



Last year's PPW Pictures (Updated 01/30/04)
To see some pictures from Plebe Parent Weekend 2003 click here.
Acceptance Day 2003 (Updated 01/30/04)
To see some pictures from Acceptance Day 2003 click here.
2001 Arizona Cadets Summer Activities (7/1/2001)
This information is from the Summer of 2001. Check out what our Arizona cadets did that summer. Links to the some of the schools are included. Click here. If you have information about your cadet you would like added, please send the information to our webmaster Marian Allaire <mallaire@mbaconsulting.net>