AOG Activities
Actively involved in AOG activities beginning in 1997, when I contacted Paul DeCoursey '68 seeking to make contributions on the Strategic Planning Committee.

Since that time I have contributed to the following committees:

AOG Committees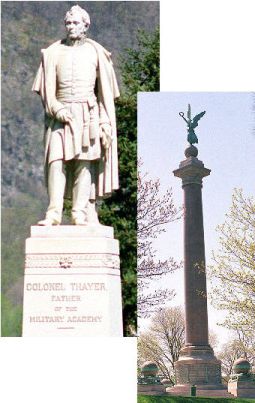 · Strategic Planning Committee (1997-present)
· Alumni Support Committee (1999-Fall 2002. Left position on this committee because of nomination to communications committee and conflicting meeting times.)
· Organizational Support Committee (1999-2003)
· Thayer Award Committee (2000-2002)
· Young Grad Initiative (2000-2002; resigned from the committee because there were too many members to be effective)
· Class Support Sub Committee (1999-2003)
· Ad Hoc Reunion Support Committee (2001-2003)
· Communications Committee (2002-present)
· Publications Committee (2003-present)
· Distinguished Graduate Award Committee (2002-present)
Since graduating in 1987, Ted and I have contributed to various AOG programs and class gift campaigns, which include the viewing terrace of the Caufield Crew and Sailing Center and the scoreboard at Clinton Field.

This included a leadership donation during the bicentennial campaign.
Developed, organized and executed the Limited Edition Army Aloha shirt program to support the Class of 1987 Gift Fund and the Long Gray Line Endowment.

Researched and authored "A Modest Proposal to Redress the Imbalance in Young Graduate Representation on the AOG Board of Trustees," June 2003.

Presented proposal at 2003 Class Leaders Conference. After action notes are available at the preceding link. Proposal published in the Sep 2003 issue of Assembly magazine and widely circulated on various USMA class and society list servers. This link provides historical composition data for AOG Board of Trustees.
Class Activities
Class President, 1987.

Elected for a 15 year term in 2004.
Class Scribe and Historian, 1994-2004.

I have been an active leader of our class since this time when Ted, my husband, and I

assumed responsibility for this position after multiple attempts to contact the elected scribe whom failed to contribute the Assembly class notes for 2 years.

Served as a member of our 10th Reunion Committee providing all communications support in the form of print and email information packets.

Chaired 15th Reunion Committee.

Our 15th reunion saw the highest level of graduate participate for a 15-year reunion in the last decade.

The average graduate attendance has been 16%.

Class of 1987 achieved a 30% return rate for the reunion.

Class of 1987 donated the largest class gift to USMA for a 15-year reunion class.

This reunion was also the first USMA reunion planned, coordinated and executed exclusively on the internet.

Represented Class of 1987 at 7 Class Leaders Conferences.
West Point Society
I have been an active member of three different West Point Societies

West Point Society of the Intermountain Region (1993-1996 and 2000-present)
· Organized USMA/USNA Fall Golf Tournament
· Provided assistance on 2002 Founder's Day Banquet in April
· Organized and executed 2003 Founder's Day Celebration in March
· Responsible for organizing and executing 2004 and 2005 Founder's Day Celebration.
West Point Society of New England (1998-2000)

Washington

DC

West Point Society (1995-1998)
USMA Admissions Support
Military Academy Liaison officer in the states of Utah, Maryland and Massachusetts.

Began service in 1994-2000.
Admissions Participant in Utah 2000-present.
USMA Activities
2006 West Point Women's Conference Committee—Developed web-site to provide all information about the conference to include an initial interest survey, conference registration site, and graduate survey.