50th Reunion
5/8/18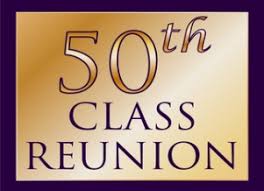 Contact Ed Quinn, Chair, at 703-403-9091 or edmathdude@aol.com
On May 7, 2018, at 12:43 AM, Ed Quinn <edmathdude@aol.com> wrote:

Dear Classmates -

I have a few edits due to grandkids-induced lack of sleep.

The leader of our outreach is Bruce Wheeler.

The email address of Ray Dupere was mistyped on the attachment. His correct email address is dupere@juno.com. His cell number is 860-992-4111.
When you reply please include Denny Helsel. He is cc'd on this email. I will pass to Denny the replies of those who have responded.

Thanks for being classmates and I look forward to seeing you at the reunion. My next update will include insight gained on my G-2 mission at the 1968 reunion. As a heads up this year registration and payment for events will be done on line. Those of you who prefer to deal via snail mail will have that option.

Ed Quinn

703-403-9091


====================================

Dear Classmates –

I've recently finished reaching out with individual emails to about 650 of our classmates. I'm following up with letters and phone calls to those for whom we lack email addresses.
In my emails I asked each of you to reply with your intentions regarding the reunion; do you plan to attend and what is your likely day of arrival. I've heard from about 45%. I would appreciate a reply from those who have not yet responded. Please keep in mind this is not a commitment, merely a statement of intentions at this point in time. It will assist us in our planning.

Before I let you know what is going on regarding reunion planning I want to discuss something one of our classmates is doing that I think will inspire each of you. Ray Dupere, one of our pastors who along with Geoff Moran will lead our Memorial Service at the Cadet Chapel, has felt a call to go on a spiritual journey this July. Ray has planned an itinerary, which you can see in the attachment to this email, which will take him to each of the grave sites of those of our classmates who died in Vietnam, or as a result of wounds received in Vietnam. His journey will take him to MI, IN, IA, MN, MT, AZ, TX, MS, WV, and VA. He will not visit the graves of those interred at West Point – we will all visit those graves at the reunion. He will conduct a service at each grave site and is contacting classmates in the vicinity of the graves to join him in the service. There may be some of you who were particularly close to one of our deceased classmates who would like to attend the graveside service even if travel is involved. I suggest that anyone with an interest in being there with Ray contact him directly to let him know. That way he can alert you should deviations to his planned itinerary be necessary. His contact info is included in the attachment. His last stop will be Arlington National Cemetery at 1000 on 30 July, where he will conduct a service in honor of Hank Schroeder. I would hope that many of our classmates living in the greater DC area will attend that service, and then join us in a reception at Ft. Myer as we celebrate the lives of those great classmates and where Ray can describe his journey.

I'd like to bring you up to date on our reunion planning. Here are some of the members of the reunion team:

Denny Helsel is vice-chair and all-around plugger of holes. He is currently rounding up company reps to assist with coordination. He is also arranging golf and will be visiting a local golf course that is our likely venue. He is striving to have golf within 20 minutes of the hotel. Golfers feel free to contact Denny.

Fritz Lash will be providing local coordination with West Point and will be visiting likely side trip venues to make sure they are worthy of your time.

Mike Colacicco will be planning a tour of West Point for spouses and family members on either Monday or Tuesday, or both, while we are doing West Point things.

Bob Yaap is leading the effort in arranging memorabilia.

Bruce Wheelock, with help from Dottie Rountree and Suzanne Rice, is coordinating our outreach to widows and friends of the class.

K.C. Brown is heading into his last year of dedicated leadership of our 50-year Affiliation effort with the Class of 2019.

Ray Dupere and Geoff Moran will lead us in the Memorial Service in the Cadet Chapel.

Bob St. Onge is leading the effort to compile all of the AOG Taps Memorial Articles into a volume that we will publish and have available at the reunion.

Doug Aykroyd is arranging our visit to the West Point Cemetery where many of our classmates are buried.

Mike Brennan will handle coordination of meals at the hotel, to include the class banquet.

Bill Slenker is looking into the possibility of reserving time for a tennis mixer at the state-of-the-art indoor tennis facility at West Point. Depending on availability this could be over the opening weekend where all could take advantage, or it could be during one of our West Point days where most likely spouses and guests could take advantage of the opportunity. This is probably a longshot but Bill will give it a try.

Don Randolph will be leading B. Arnold and the Traitors once again at our banquet. The band's performance at the 45th was absolutely fabulous and I know they will be great. Providing support will be Mike Nardotti and Tom Mahany.

The Big G, Denis Gulakowski, will once again be our DJ at several events.

Bob Harper will be providing his professional photography services as he did at the 45th Reunion. Those of you who have the Legacy Book, look inside the cover and observe Bob's work. Enough said.

Bill Johnsmeyer is providing financial review, contract review, and institutional memory.

Bill Bahr is our communications lead. He'll be loading reunion information on our class web page. We are currently compiling a list of FAQs that will aid you in planning for the reunion that will be posted on the class page. My next group email will provide details about linking to this page through our AOG Class of 69 page.

I will be conducting reconnaissance in about two weeks by spending two days as a casual observer at the Class of 1968 50th reunion that is at the same hotel as ours. This will give me an opportunity to look at how the hotel handles a large group, and will give me a chance to again meet with our reunion coordinator.

I'm including below the information you received with my earlier email in case it has been misplaced. Please take a look and please respond at your earliest convenience if you haven't already. I look forward to seeing you at what will be a great reunion.

Ed Quinn
703-403-9091





We're getting closer to our 50th Reunion – we recently passed 500th night. As the Reunion Chair I thought this would be a good time to send a reminder and try to get a feel for our likely attendance. My goal is 400 or more classmates, and I sincerely feel we will exceed that number.

In March I sent a "Save the Date" email to our class mailing list. Hopefully you received that note and put it into a 50th Reunion File where you can also file future updates (like this email).

Note: At the end of this email are two questions important to our planning.

Here's a brief summary of how the reunion will likely shake out:

Friday through Sunday (May 17-19) will be centered at the hotel. Some of the side trips/excursions that will be considered include:
• NYC trip (drop-off, later pickup)
• NYC trip (event driven, such as Museum of Modern Art, visit to the 9/11 Museum)
• Golf (multiple days)
• Culinary Institute of America tour and lunch
• Kykuit Estate (Rockefeller Mansion)
• Lyndhurst Mansion and Performing Arts Center (may include a performance if one is scheduled)

Monday and Tuesday (May 20-21) will be West Point days. We will have a Memorial Service as we always do, and we will visit the West Point Cemetery that is the final resting place of many of our classmates, a visit we had to scrub at our 45th when the Supe's briefing went overtime. There will be an obligatory AOG update and a Class Meeting. Weather permitting, the Alumni Review honoring our class and that year's Distinguished Grads will be on Tuesday. Our banquet, with entertainment provided by our very own B. Arnold and the Traitors, will be Sunday or Monday evening.

Wednesday (May 22) will be a farewell brunch.

Our reunion hotel is the Westchester Marriott. You can take a look by visiting:
http://www.marriott.com/hotels/travel/nycwe-westchester-marriott

We've locked in a rate of $169, and we will have plenty of meeting space for company gatherings. We've reserved blocks of rooms for the reunion but I'd like to make sure we have adequately planned for the size of our group while we have time to adjust the room reservation numbers. I expect the block of rooms to become available for reservations in the October 2018 time frame. We have a liaison with our class widows and we will strive to have many of them at the reunion.

It will be extremely helpful to me if you briefly respond to this email with your current plans. A response to two questions is what I need at this time:
1. Do you plan to attend the reunion?
2. What is your likely day of arrival?

When you reply please include Dennis Helsel as he will be helping me keep track of responses. His email address is helsed@chowan.edu

I welcome any thoughts and suggestions. You can include those thoughts in your reply to this email or in a later email or phone call. In closing I want to say how very proud I am to be your reunion chair and I pledge to do everything I can to make this event worthy of our great class.

Ed Quinn

703-403-9091 (C)
703-490-4920 (H)


===============================================
"From: distro1969@lyrisappmail.wpaog.org [mailto:distro1969@lyrisappmail.wpaog.org]
Sent: Friday, March 17, 2017 5:16 PM
To: Distribution List for USMA 1969
Subject: [distro1969] Save the Date - 50th Reunion (May 17-22 2019)
***You have received this West Point Class email because your information on file with the WPAOG indicates that you are affiliated with this Class year. To update your address, email address, or other contact information, please forward this message with your name, Class year, and new information to address@wpaog.org.***
Dear classmates -

As the reunion chair for our 50th I wanted to get this Save the Date note to the class more than two years before the reunion so you can arrange everything else in your life in order to be there.

So as not to rehash all the info in the attached letter, please read it, print it out, and start your Class of 1969 50th Reunion folder right now.

I hope many aspects of our initial plans will resonate with you and I look forward to seeing all of you at the reunion.

You can reach me at any time with suggestions or offers to volunteer.

Thanks for your support.

Ed Quinn
50th Reunion Chair

703-403-9091
Dear Classmates –
As the chair of our 50th West Point Reunion I want to get the ball rolling with this "Save the Date" note that includes a brief rundown of my preliminary thoughts on this grand opportunity to celebrate our history. So mark your calendars now for the period May 17-22 2019. I have read every biographical entry in our Legacy Book that in itself demonstrates the enormous capabilities of our classmates. I am humbled to represent such an honorable and accomplished group of men. Assisted by many classmates I will do everything I can to deliver the reunion you deserve.
We will begin our festivities on Friday, May 17. We have a contract with the Westchester Marriott, in Tarrytown, NY a beautiful conference hotel just over the Tappan Zee Bridge. We have reserved blocks of rooms on each of the nights May 17-21 with a guaranteed rate of $169. They will start taking advance registrations about six months prior to the reunion and updates from the reunion committee will keep you informed about the release date for the rooms. You can visit the hotel website at
http://www.marriott.com/hotels/travel/nycwe-westchester-marriott
Sherri and I toured the hotel, stayed overnight, had two meals in the hotel restaurant, and we were impressed. The ballroom can seat 800 people and my goal is to fill it. There are numerous conference rooms reserved for us. The hotel has everything we need to have a memorable reunion, including a beautiful outdoor terrace where we can exaggerate our exploits over appropriate libations. I am visiting the hotel once again in conjunction with our March 30 Leader Challenge that is ably coordinated by Mike Colacicco.
I have talked to many classmates and spouses, and to several class widows to gain a broad perspective of what our reunion should look like and I have reviewed the itineraries of five recent 50th reunion classes. I will be seeking more suggestions as we move forward. Our reunion will be a combination of traditional reunion activities plus tailored excursions and side trips with the goal of providing a reunion to remember. The Big G is back as our DJ, and B Arnold will again provide an amazing musical experience, as those at our 45th can attest. Bob Harper is on board to provide his professional photographic expertise. Please take another look at the inside cover of the Legacy Book – enough said about Bob's incredible talents.
Monday and Tuesday (May 20-21) will be West Point days. We will have a Memorial Service as we always do, and we will definitely visit the West Point Cemetery that is the final resting place of many of our classmates, which we had to scrub at our 45th when the Supe's briefing went overtime. There will be an obligatory AOG update and a Class Meeting. Weather permitting, the Alumni Review honoring our class and that year's Distinguished Grads will be on Tuesday.
Friday through Sunday (May 17-19) will be centered at the hotel. Some of the side trips/excursions that will be considered include:
· NYC trip (drop-off, later pickup)
· NYC trip (event driven, such as Museum of Modern Art, visit to the 9/11 Museum)
· Golf (multiple days)
· Culinary Institute of America tour
· Kykuit Estate (Rockefeller Mansion)
· Lyndhurst Mansion and Performing Arts Center (may include a performance if one is scheduled)
We will avoid o-dark-thirty starts as best we can.
Of course there will be catered meals and evening gatherings: an Ice Breaker reception over the weekend and a banquet on Tuesday night. The hotel has the space to separate the band/dancing from the banquet area which worked very well at the 45th. Our plan is to offer full breakfasts each day, with variety from day to day, that will encourage classmates to attend breakfast and use this time as an opportunity to leisurely visit and reminisce. The reunion committee will work with the hotel to provide the best meal experiences possible. Some meals will be provided at West Point due to our Monday-Tuesday schedule. I know many of us were disappointed with the meal in the Cadet Mess at our 45th Reunion. It is still a tradition at 50th reunions and we will have conversations with the AOG about this issue.
Finally, I would like, at what is likely the last big reunion, to recognize many of our classmates for their dedicated service to the class and to the Academy. I will be soliciting suggestions from our class through a small coordinating group. In essence this will be taking a walk down memory lane. We have many classmates whose leadership and example have inspired us all. A partial list might include:
· Class Officers
· Class Scribe
· Reunion Chairs
· Financial Team
· Gift Committee
· Mini-Reunion Sponsors
· Legacy Book Team
· 50th Affiliation Program Team
· AOG Officers
· Class Photographer
· Musicians and DJ
· TAPS Memorial Article Team
· Communications Mainstays (forums, class net)
And there are others. The risk is that we will miss a few, but I think it is a risk worth taking.
I hope all of you will plan to attend our 50th Reunion. In the coming months we will be reaching out for your thoughts. For now, mark our 50th on your calendars as a "must do" and if you would like to discuss any aspect of the reunion, or would like to help with the reunion, please get in touch:
edmathdude@aol.com Yes, I was a Math P
703-403-9091
I look forward to hearing from you, seeing you at class gatherings, and hoisting one with you at our
May 2019 celebration.
Ed Quinn
P.S. In case you have a short memory, the reunion dates are May 17-22 2019.
---
Return to