Class of 2019 March Back
Class of 2019 March Back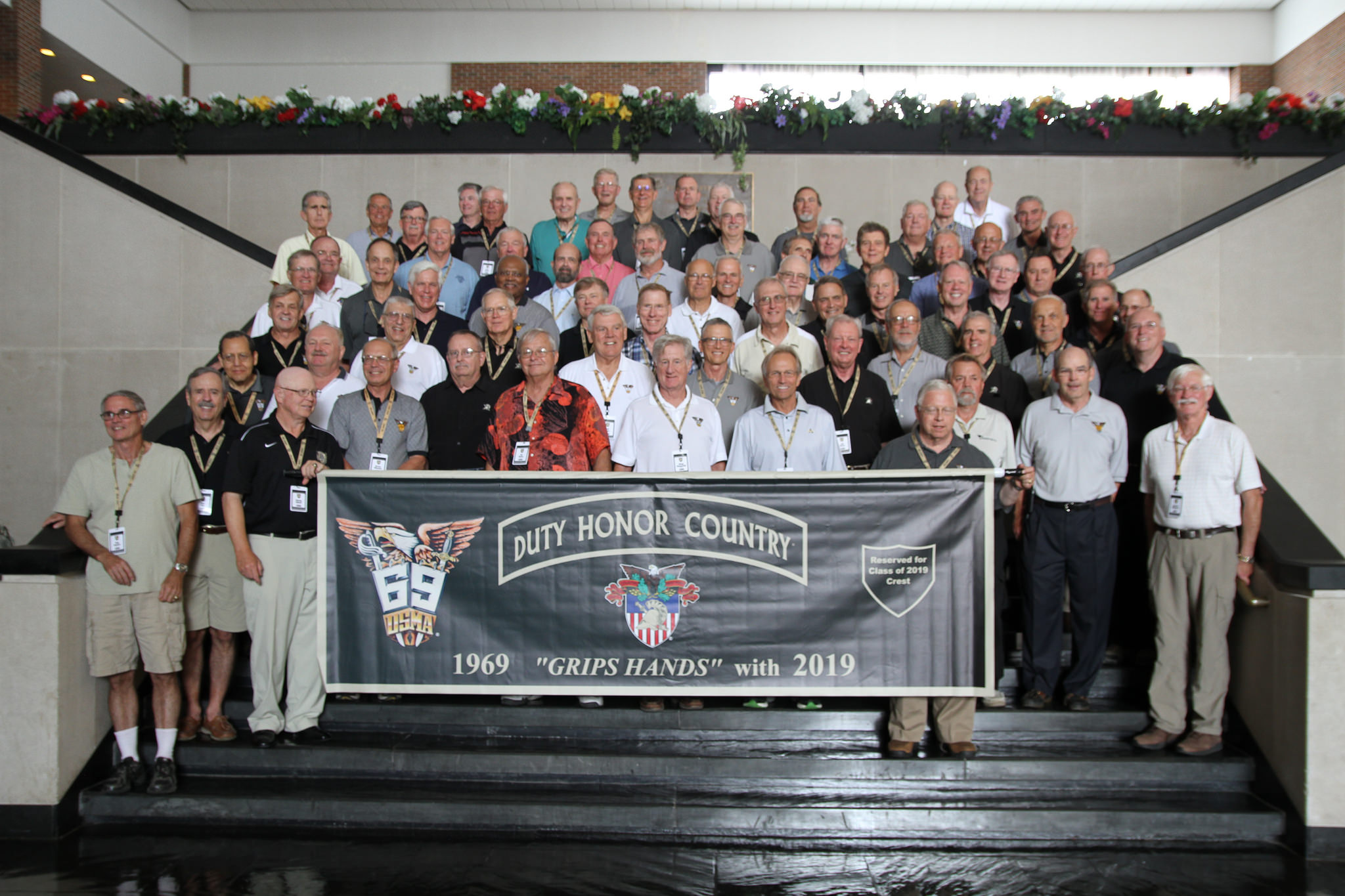 August 18, 2016
Dear Classmates and Class Family,
For both those who were there and those unable participate in our highly enjoyable and uplifting Marchback activities, this is a report of their outcome and the extremely positive impressions we gained from our initial encounter with the young men and women who make up our Affiliation Class. I can report that we were all uniformly impressed by what we experienced and saw, in our discussions with them and watching them swing proudly and confidently through Washington Gate as they completed a tough 12-mile road march at the conclusion of Beast. That was on Monday morning, August 10th.
This past Saturday morning, August 15th, thousands thronged the Plain on a picture perfect morning to observe the 2015 Acceptance Parade during which our Affiliation Class marched into the ranks of their regular lettered companies and, new cadets no longer, were formally accepted as full fledged members of the United States Corps of Cadets. As one of our more prescient spouses described it, ". . . the Corps grew today."
As shown in the attached photo, Mike Colacicco did us all proud by representing the BOTL in the reviewing party, remembering to flex his knees often during the long 45 minute ceremony. Classmates Jim Johnson, Norm Brown and Denny Helsel also attended to witness this formal start of our Affiliation Class' plebe year. Saturday and Sunday the plebe class was able to enjoy privileges with parents and visitors for the first time since reporting to West Point. Classes began on Monday when our Affiliates had their first introduction to the Thayer System.
From 8-11 August, some 84 classmates, accompanied by spouses and guests gathered at West Point for our first interaction with our members of our affiliation class, celebrating the Class of 2019's successful completion of Beast by accompanying them on the Marchback to West Point. Unlike in our day, when the Marchback was known as the Plebe Hike, which started at Lake Frederick followed by a long walk with LBE and buttpacks down Hwy 293, today's exercise is a 12 mile field march with full field gear and 35 lbs rucks up and over the rugged terrain between OP Charlie and Round Pound, before winding down to the Golf Course and culminating at the ski slope to form up for the march down Washington Road to the Plain.
The class festivities actually began on 5 August in New York City at the tremendous NYC mini-reunion put on by Doug Fitzgerald, Ed Quinn, Doug Freeley and Geoff Prosch featuring a visit to the 9-11 Memorial, a Yankees Game, Jersey Boys and a wonderful dinner cruise on the Hudson, replete with a swing around the Statue of Liberty. Brought back memories from both our cadet days and our two earlier Hudson River cruises from West Point and Weehauken. The paneled bar of the Algonquin Hotel resounded with West Point songs well into the wee hours of Saturday morning, with all those hooting with the owls up bright and early screaming with the eagles. Many re-discovered the delights of the Red Devil Diner.
On Saturday night after making our way to West Point to commence the Marchback Activities, superbly organized by Denny Helsel, we reconvened at the open air Zulu Time Lounge of the Thayer Hotel for an informal ice-breaker where from 5:30-midnight the camaraderie was rekindled under starry skies and balmy temperatures. The next morning found many former P's and Tac's from the class making their way to old Highland Falls breakfast haunts such as the Park Restaurant or Andy's before reporting at noon to Herbert Hall for Marchback Registration. Several arrived in anticipation of getting one of the last remaining full trek slots. Although we had three in the top eight on the waiting list, only Mark Kannenberg was pulled forward to complete our class contingent.
Out at Buckner that afternoon we were greeted in the old theater by the Comm, BG J.T. Thomson, USMA '85, and his tremendously impressive leader team for this academic year led by the newly appointed First Captain, E.J. Coleman of Alexandria, VA , USMA '16 Class President, who had served as the 2nd detail King of Beasts. Only two other West Pointers -- GEN John Pershing and Pete Dawkins -- have also held the dual role of First Captain and Class President. The thoroughly professional briefings his team provided on all aspects of cadet summer training not only impressed us with their leadership acumen but also how much more difficult and complex summer training has become. These new cadet officers led the cadet cadre for Beast, Buckner, USMAPS Candidate Basic Training, Recondo, and Youth Improvement Programs for inner city teens. Buckner itself can hardly be described as the best summer of one's life any longer. The only weekend the yearlings had to relax was their last, Camp Illumination before their 7.5 mi Run Back to West Point on 27 July.
Following a hearty bar-b-que picnic in Doris Barth Hall, we made our way to the Bucker Parade Field where we had our first glimpse of our affiliates, arrayed by company around the stage for the Plebe Talent Show. And high spirited they were, chanting company slogans and songs, enthusiastically cheering their company mates and good naturedly horsing around under the watchful eye of the squad and platoon leaders. Following the awards for Best New Cadet, Best Squad, Best Platoon and Best Company in a number of areas, the Best Overall Company was announced which won the honor of leading the Marchback from the Ski Slope to the Supe's Qtrs (see attached you tube videos). Turns out the new cadet with the highest standing on the APFT had been recruited by our own Joe Brillante, who has delivered to West Point from the Pacific Northwest two First Captains a Deputy Brigade commander and several Rhodes Scholars over the past 6 years.
The plebe talent show literally knocked our socks off. Its twelve performances a featured key board playing solo vocalist singing Oceans; a rock singer, a concert pianist, an accomplished ballet set, a yo-yo master, a Highland dancer accompanied by a terrific piper, two separate operatic solos (from Le Mis and Phantom of the Opera) a fabulous solo guitar artist, a male hip-hop dancer, a red hot drummer and was topped off by a quartet who sang a rap spoof about their six weeks of Beast. Each of these could be considered semi-professional and the fact they were culled only three days prior, attests to their abilities. Each performer or group was announced to the accompaniment of wild cheering by their company mates and the show was expertly emceed by two confident young men.
As the talent show ended, the First Captain unveiled the banner bearing our Affiliation Class' motto: SO FREEDOM WILL REIGN -- 2019, which brought everyone to their feet.
While the majority of us then bussed back to West Point for a few hours of sleep in a warm bed, a few intrepid classmates elected to reprise our Buckner experience by spending the night in Doris Barth Hall on those self-assembled Army cots of old. Although reputedly cold and noisy, Rob Wilson, described it as being "not at all bad" and undeserving of the bad rap.
This year's Marchback represents the 16th time graduates have been invited to participate. In addition to the 100 graduates making the full trek, another 186 joined in for the final two miles through post. The forty-three USMA classes represented in he 2015 Marchback spanned from COL (ret) Roger Conover, '48, age 89, making his 14th full 12mi march to 2LT Sidney Tan, '14. Our class had by far the largest representation.
BY 0300 on Monday the 10th, the full trek marchers assembled at Buffalo Soldier Field to join their comrades at Buckner. After a quick breakfast they joined their assigned Beast Platoons, many electing to march with new cadets from their home areas, along with 50 grads from other classes including some with sons or daughters in the plebe class. Unlike in our day, those also marching the full length were the Supe, the Comm, the Dean, all the Heads of the Academic Departments and their deputies, the Regimental and Company Tacs and many of the Corps Squad coaches. Although the lead companies set off from Camp Buckner in darkness, making for an interesting ascent from Camp Natural Bridge into the hills towering above Lake Popolopen, BMNT set in within the first 30 minutes. It was broad daylight before the last company stepped off at 6AM accompanied by Baldwin, Bailey, Nix, Tatro, Yaap, Gaylord and Wheeler. With one rest break at the 6.5 mile mark near Round Pond where squad leaders were busy checking the feet of their new cadet charges, the columns set off for the Ski Slope, making the final 1.5 miles along the Golf Course. At the Ski Lodge, classmates bade farewell to their new cadet platoons, replenished fluids and got ready for the final March thru post.
After a group, photo, we formed up and moved to just inside Washington Gate where we cheered each new cadet company as it swung by, before taking up our position as the last march unit behind a detachment of Hell Cats, ensuring we kept in step. Mike McGovern ably led the class formation with Bob Baldwin as the right guide as we marched down Washington Road past throngs of cheering post personnel, families and relatives of New Cadets waving handmade signs of encouragement and congratulations. As we came abreast of the cemetery we doffed our caps in respect, each of us silently remembering our classmates who rest there.
The marchback itself was a tremendously uplifting experience. Many engaged members of our Affiliation Class in discussion as well as discuss current West Point issues and changes with cadre, staff and faculty. The new cadets were uniformly upbeat and impressive. Many were curious about the experience we underwent, how it differed from theirs and what West Point had meant to us. In return we asked them about Beast and what had brought them to West Point. A common response was to make a difference in people's lives. The response Dick Wallace received from one young recruited athlete, who could have chosen to play lacrosse at any of the nation's top colleges, succinctly captures their attitude, which was that she knew she could have gone anywhere to play lacrosse, but recognized by coming to West Point she would have a more challenging experience and could make a difference.
Following the pass in review at the Supe's Quarters, we quickly changed and joined our spouses and guests at Ike Hall where we were the guests of honor at the Superintendent's luncheon and took time for the attached group photo.
That evening we gathered in the Haig Room on the 6th floor of the new Library for a celebratory cocktail buffet extremely well organized by Denny Helsel at which we were joined by the Comm, the Dean, the USMAPS Cmdt, Jeff Peterson ( holder of our class chair), and LTC Tim Viles from Admissions whom many class reps came to know in the course of presenting affiliation certificates at the send off picnic. This was a sumptuous affair allowing us to reminisce while enjoying the terrace and the spectacular overlook of the Plain, Storm King and the unparalleled view up the Hudson, which Charles Dickens aptly called the "most beautiful view in America." Mike Nardotti took scores of candid photographs which will soon be on our class web site.
The next morning, Tuesday, August 11th, some 45 of us gathered in the Old Cadet Chapel to attend a beautiful memorial service for Paul Ireland who was laid to rest in the Columbarium following a simple but moving final military ceremony. Lisa Tugwell has formally pledged Paul's class ring to the Ring Melt for the Class of 2019, insuring that the gold from his ring will be intermixed with theirs. At the reception which followed, before we all dispersed, Phil Clarke presented Lisa with a copy of our Legacy Book.
For all of us who were privileged to participate in the Marchback activities with the Class of 2019 it was a tremendously uplifting and emotional experience. We could not help but feel both energized by and exceptionally proud of these incredible young men and women who form our Affiliation Class. While clearly fatigued, one could read the pride in their faces as they completed the Marchback and finished Beast, fully prepared to tackle the challenges of plebe year. Of the 1270 who reported to West Point on 29 June, 1252 members of USMA 2019 successfully completed the long six weeks of training and formally joined the Corps this past Saturday.
In congratulatory letters to every member of the Class of 2019, presented on the eve of the Marchback, our class leadership expressed the wish that each of them would gain from their West Point experience the same sense of purpose, sets of values and strong bonds of friendship that have bound us to one another and our Alma Mater for the past 50 years. Our Affiliation Class is well on the way to embracing those goals. One member of the Class of 2019 quoted in this week's Pointer View, stated he was already seeing the bonds of those lifelong friendships that members of the Long Gray Line talk about starting to bloom, saying "To know that I have four more years of this at West Point and then a lifetime with these people afterwards, perhaps marching with them again 50 years from now, it is all pretty amazing."
Shown below are links to Marchback and Acceptance parade videos.
This weekend truly symbolized for us the meaning of ". . ere may that Line of Gray, Increase from Day to Day. . ." We look forward to accompanying this magnificent group of young men and women on their four year journey through the Academy.
4. WPAOG March Back Photos:https://www.flickr.com/photos/wpaog/albums/72157657025293768 (many of our class in this batch) 5. USMA 2019 Acceptance parade: https://www.youtube.com/watch?v=b2PAD7y8arY
Mike Nardotti: www.usma69nycreunionandmarchback.shutterfly.com
696969696969696969696969696969696969696969696969696969696969
Affiliation Class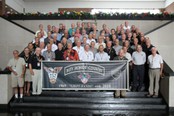 Photo: Marchback Attendees
K.C. Brown and his team have continued their outstanding Affiliation Class efforts, with an exceptional R-Day program focused on parents of New Cadets. In attendance at West Point on 29 June were: Betty & Chuck Anderson, Janet & Steve Bosshard, Lynn & Norm (Al) Brown, Gayle & Mike Colacicco, Kris & Doug Freeley, and Ann & Jeff Kimball. Please see the following links for more on that memorable day:
Link to R-Day Video: https://www.youtube.com/watch?v=o0OOLKEzZEM
Link to Swearing-In Ceremony Video: https://www.youtube.com/watch?v=fjSVsm6XSYg
R-Day Photo files: https://www.flickr.com/photos/wpaog/sets/72157655220102842
Marchback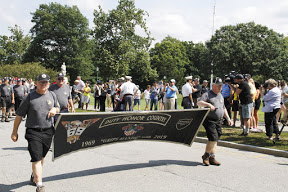 Photo: Dennis Helsel and K.C. Brown, followed by Mike McGovern and Class ranks
A large group of classmates joined the Class of '19 on 10 August for their Marchback to end summer training: Chuck Anderson, Artigliere, Bailey, Baldwin, Balog, Bettencourt, K.C. Brown, Norm Brown, Gerry Burgess, Cappiello, Dan Cox, Jim Cox, Dalum, Dillon, Donohue, Drower, Fall, Fitzgerald, Freeley, Gafford, Gaylord, Gelineau, Glore, Goff, Gonser, Guerrerio, Hanna, Harms, Jay Harper, Harre, Hastings, Hayes, Heesch, Helsel, Jim Johnson, Bill Jones, Mike Jones, Kannenberg, Kiehne, Kimball, Lee, Leslie, Mahany (ex '69), McBeth, McDonough, McGovern, Metzler, Mikelik, Wayne Murphy, Nardotti, Nix, Noll, Oliver, Owens, Piazze, Pohlmann, Poucher, Psaki, Quinn, Ramos, Renner, Reynolds, Rhyne, Robella, Robyn, Jim Russell (E-3), Setzer, Dale Smith, Tom Smith, St. Onge, Michael Steele, Swesey, Tabela, Tatro, Vanaskie, Vitucci, Dick Wallace, Wanless, Watson, Bob Wells, Larry Wells, Whatton, Wheeler, Rob Wilson, and Yaap. K.C. reports that it was a "tremendously emotional and uplifting experience for all who participated." And five days later, on 15 August, Mike Colacicco ably represented the Class at the Acceptance Day Parade.

From Bob Kimmitt, Class Notes, 14 Sept 2015