Archive Search

Archives By Date


NO LOGIN NECESSARY
Just join list, and let the
discussions begin!




Mail AOG-GOV-owner

Mail Members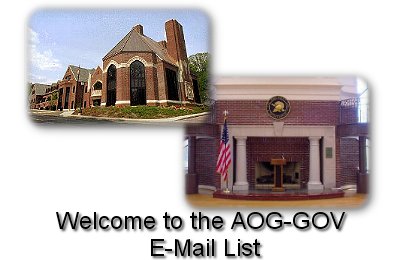 All USMA grads are an important part of the feedback process for the work proposed by the AOG Governance Committee. The Board of Trustees (BOT) reviewed the Committee's proposal to revise the AOG's governance at a Special Board Meeting on January 19th, 2005. The Board suggested a number of improvements in the memberships' interests, and directed that the revised proposal should be submitted to the membership for your consideration. The Committee now seeks your comments and suggestions.
This AOG-GOV list is an informal discussion email listserver hosted by West-Point.Org and moderated by West-Point.Org CEO, Dick Breakiron '51. All graduates can view and participate in this informal discussion email listserver. The Governance Committee will not utilize this area for formal data collection. However, West-Point.Org plans to provide a summary of various discussion threads to the Governance Committee for consideration.
This informal discussion listserver will close on Friday, 4 March 2005, to allow final compilation of feedback and suggestions by the Governance Committee for consideration by the Board of Trustees.