Ways to Teach Kids Disc Golf
---
Most kids love frisbees and are up for any new frisbee game. On this page I want to collect ways to teach groups of kids about Disc Golf and some basic skills. PE teachers are always looking for new and fun ways to improve hand-eye coordination, balance, throwing skills etc. A Disc Golf class is one way to do this. Below are some things that I have picked up while teaching elementary school kids Disc Golf. The picture shows how I set up two CHING Skill-Shot targets for some classes. These are great portable targets for teaching kids. The mats keep you from scratching up the gymn floor.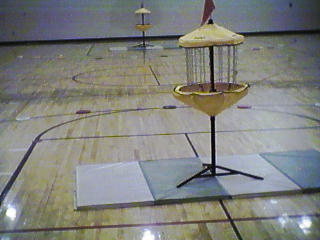 1) Safety - Start by warning the kids about the nature of golf discs. Even a 150 class Aviar hurts because it is heavier and harder than a regular frisbee. Just let them know they have to watch out for their classmates when they throw. Don't make the lecture too long or they'll tune out. Try not to put them in a position to hit other kids accidently with a throw during the class.
2) Ring of Fire - Bring enough discs for everyone in the class and use games where the kids stay active. We used a modified ring of fire to start with. You mark out about 120 degrees of a circle 15 feet from the basket. You can get 10-15 kids along this arc. Count down three... two... one... fire! and have them all throw at the basket at once. They can all run and get their discs and go back to their places for another round. With two baskets, you can keep an entire class going nonstop. The limited arc keeps them from throwing clear past the basket and wacking one of their buddies. A variation is to start at 15' then move back to 20' then 25' to give them a feel for different distances.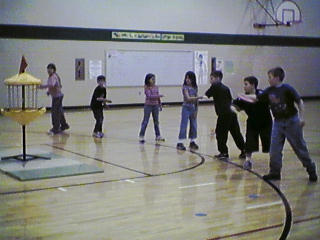 3) Team Challenge - Split the ring of fire group into two teams and have them line up at two different marks the same distance from the basket (not directly across from one another, remember safety). The first player in each line throws then retrieves their discs and goes to the back of the line. Once they are clear, the next player for each team throws and so on until all the players have thrown once. Count the number of putts made by each team and the highest score wins. This game requires close supervision the first few times and then becomes self perpetuating. You can vary the distance of the marks as in Ring of Fire. I started the group throwing in one line to give them the idea of the game first as shown in the lefthand picture.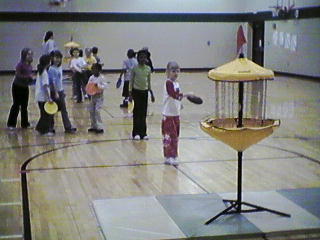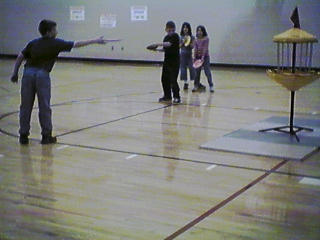 4) Quick Golf - To give the kids a feel for actually playing golf take a group of 4 out of the Team Challenge game and have them play a few holes of golf. Just give them the very basic rules and help them keep score. You can use one basket and different tees or make up a little three hole course if you have the baskets to do it. Make the holes short to suit the age group and try to include some natural or man made obstacles to throw around. It is important to stress taking turns and farthest away throws next for safety's sake. Rotate groups through golf until everyone has had a chance. For younger groups I've also found that you can do this as a relay race so they can still compete a little but don't have to worry about etiquette and scoring.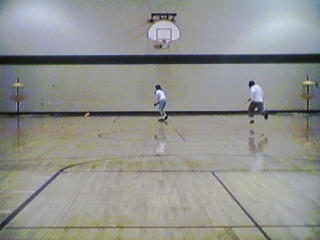 5) Long Distance Contest - Time permitting, it is fun to have a long distance contest. Let each kid throw three tosses and record the longest. Prizes for top throwers are always cool.
6) Closest to the Pin (Contributed by Seewhere on the PDGA message board) - The way I got disc golf baskets in my kids school was to let the kids borrow my basket every year for field day. Then I would set the basket about 15-20 ft away and then they would throw 4 kids at a time and we would mark them down from 1st-4th depending on who got closest.
7) Putting Relay (Contributed by Nick Kight) "Play a putting game. Using the same teams, set up 3 or 4 disc targets at one end of the gym. Arrange the teams in lines facing the targets. I usually started them out about 8 to 10 feet from the targets. In this game the goal is for the team to make 10 putts with each player putting one at a time and recovering their putt and passing it to the next player. The game ends similarly to the relay race with teams that have made 10 putts sitting down. You can increase the difficulty of the game by moving them back 2 or 3 feet and playing the game again. This game only takes 3 to6 minutes, so again you can run it several times."
Closest to the Pin and Distance Contests are good for field days, scout jamborees etc. you can rotate kids through quickly and just give them a taste of Disc Golf. PE classes are not the only venue to teach Disc Golf. Be creative.
If you are interested in a professional coming to your school to teach frisbee freestyle and really wow the kids check out Spinning Bees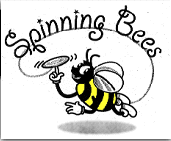 . I've heard great things about Gary Auerbach's programs.
If you have other ideas you would like to contribute please email me and I will include them and acknowedge the source.