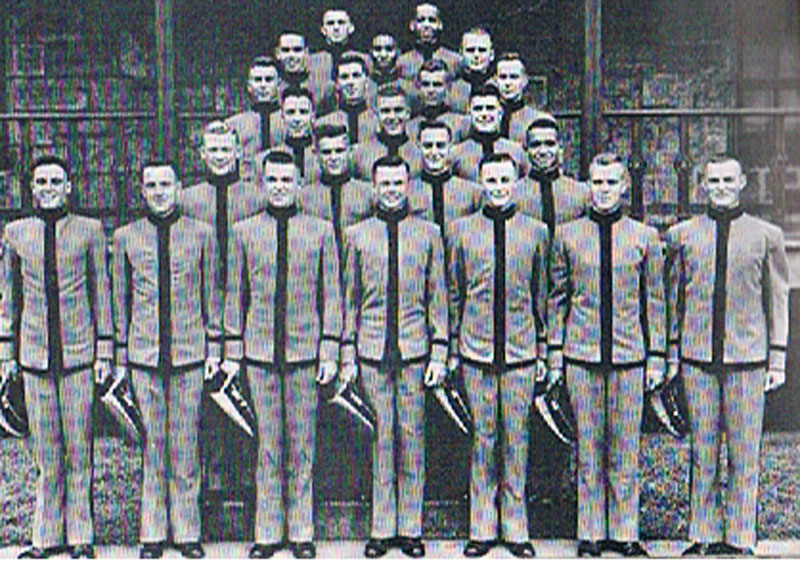 The Men of G-1


1st Row: Walker (nd) ... Redding* ... Norton (nd) ... Henny ... Guyer ... Check ... and ... Rhodes*.
2nd Row: Aldrin ... Brantley ... McChristian ... and Wainer (nd).
3rd Row: Umstead . .. Spores* ... and Waldman (nd).
4th Row: Harris (nd)... Auer (nd) ... Wells ... and Rounding*.
5th Row: Ryan (nd)... Robinson (nd) ... and Faught*.
6th Row: Hackleman* (nd) and Brown (nd). (* ex '51, Gildart and Schooley Missing ?)
---
CIRCA 1951 - There are only 18 survivors of the 27 that joined the ranks of "G-1" in '47. Perhaps the most spectacular of those departed was our gift to the Regimental Board, "Hack". Those of us remaining may not be a crack drill team or receive many awards at graduation, but there is one our number in practically every Corps organization or team, and we can proudly point to a Brigade Adjutant, Battalion Commander and four star men. We've never monopolized Flirtation Walk, but Al and Dick uphold our name. Hidden in company seclusion or exile are Doug and his angles, Charlie and his uke, and Ralph and his sheets. Whether it's bridge games, picnics, athletics, or music there is still that spirit of "Have fun in G-1" and that's the spirit we wish to pass along. We'll long remember, as we leave the Corps and Company G-1, the good times and the troubles we've had in the last four years.
---
THE REST OF THE STORY - As the lads from G-1 departed they went as follows; five in the Air Force, one in Armor, two in Artillery, four in the Corps of Engineers, five in the Infantry, and one in the Signal Corps. The stars certainly fell on G-1, four of the eighteen G-Co grads obtained general rank, one four stars, one three stars and two with two stars. Hmmm, something went right! Also the most famous or our classmates, Buzz Aldrin was a G1 file! In rank they averaged at Lieutenant Colonel and served an average of 20.3 years, however, when you average only those who stayed in for the long hall, the average rank is BG and the average number of years served is 25.8.
Decorations - In their journey Roscoe Robinson, Stan Umstead and Dick Wells were decorated with the Defense Distinguished Service Medal for exceptionally meritorious service in a position of unique and great responsibility while serving on a joint staff or with other joint activities of the Department of Defense. Buzz Aldrin, Roscoe Robinson, Stan Umstead, and Dick Wells were decorated with two Distinguished Service Medals for exceptionally meritorious service in a duty of great responsibility each, while Bucky Harris was decorated with one. Roscoe was decorated with two Silver Stars for distinguished gallantry in action. Ralph Auer, Charlie Gildart and Bucky Harris were decorated with the Purple Heart for wounds received in action against an enemy. There were 20 Legions of Merit for exceptionally meritorious conduct in the performance of outstanding services; 5 Distinguished Flying Crosses for distinguished heroism and extraordinary achievement while participating in aerial flight; 13 Bronze Star Medals for distinguished heroism against an enemy; one Meritorious Service Medal for conspicuously meritorious performance of duty in a non-combat situation; 48 Air Medals for meritorious achievement beyond that normally expected, while participating in aerial flight; 2 Joint Service Commendation Medals; 7 Commendation Medals for distinguished service and 5 Combat Infantryman Badges. Roscoe Robinson was named a Distinguished Graduate of USMA in May of 1993. How do you measure success? Obviously, one star at a time.
Advanced Degrees - And the lads from G‑1 went to school too. They earned seventeen advanced degrees. Three MBA's; six Master of Science degrees in Engineering; three Master of Arts degrees, one in English and two in International Relations; one LLB and four PhD's.
National Defense University ‑ And they pursued advance professional education as well; four attended the National War College, Fort Lesley McNair, Washington, D.C.; one attended the Industrial College of the Armed Forces, Fort Lesley McNair; one the Army War College, Carlisle Barracks, Pennsylvania; one the Navy War College and one the Armed Forces Staff College, Norfolk, Virginia.
Extraordinary Performance Our own Jim Guyer is flying-off tall man-made or natural objects. He started on this nth career at the young age of 70 some.

---
Buzz Having a Ball on the Moon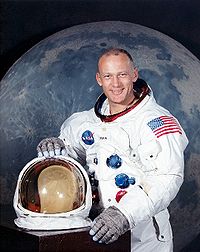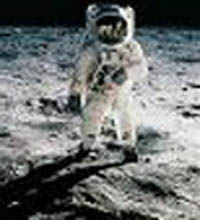 Back When On the Moon Now

July 20, 1969

(Where Were You On That Day?)


Communion on the moon! "In the radio blackout, I opened the little plastic packages which contained the bread and the wine. I poured the wine into the chalice our church had given me. In the one-sixth gravity of the moon, the wine slowly curled and gracefully came up the side of the cup. Then I read the Scripture, 'I am the vine, you are the branches. Whosoever abides in me will bring forth much fruit.. Apart from me you can do nothing.' I had intended to read my communion passage back to earth, but at the last minute [they] had requested that I not do this. NASA was already embroiled in a legal battle with Madelyn Murray O'Hare, the celebrated opponent of religion, over the Apollo 8 crew reading from Genesis while orbiting the moon at Christmas. I agreed reluctantly. I ate the tiny Host and swallowed the wine. I gave thanks for the intelligence and spirit that had brought two young pilots to the Sea of Tranquility . It was interesting for me to think: the very first liquid ever poured on the moon, and the very first food eaten there, were the communion elements." And of course, it's interesting to think that some of the first words spoken on the moon were the words of Jesus Christ, who made the Earth and the moon - and Who, in the immortal words of Dante, is Himself the "Love that moves the Sun and other stars." -- Buzz


WOW!!!! In God We Trust."

Go to: for why we should go to Mars according to Buss.
BR>

And On 4-15-10 Buzz writes: "What we can achieve at the President's Space Conference By Buzz Aldrin Since the release of President Obama's FY2011 NASA budget, the debate over America's future course in space has become unusually heated, resulting in a polarization of views that has divided Congress and many members of the space community. All want what is best for our nation, but few see a chance at a consensus that can bring us all together. Soon, President Obama will visit the Kennedy Space Center to air these views in what the White House is calling a space conference. This meeting offers the Administration, Congress, and the American people our best – and possibly our only – chance to reach such a consensus to move forward in a reasonable way that builds on the President's budget proposal while extending our reach ever deeper into space. As I have said before, I agree broadly with the President's plan, for it contains many elements that I have advocated for years. These include a flexible path for exploration with a robust technology development program that enables the extension of the human presence to Mars, avoids rerunning the moon race America won 40 years ago, and opens a new era for commercial space transportation, after years of government dominance of access to low Earth orbit. These are good principles to be sure. But like many, I feel that the budget lacks key details. I encourage the President to clarify these details if he wants to gain the support of the Congress and indeed the American people. First, I think that he needs to be clear that Mars is the ultimate goal of this program. There will be key stops along the way in the region of the Moon, fly-by of comets, approaches to near Earth objects, asteroids, and finally crew landings on the Martian moon Phobos before the first humans set foot on Mars. This flexible path will create the infrastructure and transportation systems which will enable the commercial and international development of the Moon and perhaps exploitation of other Near Earth Objects. I also believe that the NASA should be clearer about the purpose behind technology investments. For example, we can utilize the investments made in the Orion spacecraft to jump-start the development of a human deep space exploration capability. Using the spare hardware left over from the assembly of the International Space Station, I propose we commit to the cost-effective development of a prototype deep space exploration vehicle that can be docked to and tested at the station. Over time, astronauts at the station can outfit the ship, making it capable of forays beyond low Earth orbit, around the moon, then deeper into space – to near Earth orbit crossing asteroids, and on to Mars. I also encourage the President to set a clear goal to develop the heavy lift capability needed for our journey to Mars. There are, in effect, placeholders for these programs in the more than $20 billion devoted to technology development in President's budget, but I think we deserve a greater level of clarity. While transitioning the operation of crew delivery to private industry, it is important that the system we develop is truly capable of enabling broader commercial markets. To do this, the future plan should include the development of a reusable, space plane-like runway lander as the next generation of crew-carrying space transport. Once operational, I believe it should be flown and maintained by commercial industry. I also differ with the President's plan in a few important ways. First and most immediately, we must extend the Space Shuttle to continue flying. Second, we should build off of the Shuttle infrastructure and workforce to initiate development of a heavy lift launch vehicle adapted from the well-proven Shuttle technology. We should make the development of that heavy lift launcher a national priority. A heavy lift vehicle with Mars as our destination – reachable through a series of interim steps each taking us deeper into space – and a space taxi that is optimized for the commercial users of the space station it is to service – can be, along with the other elements of the President's budget, a solid basis for the civil space program for decades to come. These additions to the President's plan offer us the chance at a middle ground that preserves our highly specialized workforce, maintains critical access to space, assures us the ability to maintain and service the International Space Station, preserves the shuttle system's production capabilities needed for a shuttle derived heavy lift launch system, and re-establishes American space leadership by the challenging goal of humans to Mars. America's future in space is worth the modest, additional investment that will be required by this flexible path. I hope that, as passions cool, we can all come together at the conference to bring our nation fully into a 21st Century space program, one that is, as my friend Norm Augustine put it in his committee report, "worthy of a great nation". ******* It seems he has 80 -90% won the argument already!"

Click on: Buzz By-Passes The Moon?

---
BE THOU AT PEACE
Grip hands with us now, though we see thee not, Grip hands with us, ... Norm... Al ... Roscoe ... Doug ... Stan ... Charlie ... Bill ... Frank ... Charles .... and Dick R Strengthen our hearts!
1. Norm Brown died on September 16, 1954.
2. Al Norton died on July 6, 1978.
3. Roscoe "Robbie" Robinson died on July 22, 1993. Robbie was named a Distinguished Graduate in 1993 and
his papers are at the Library of Congress.
4. Doug W. Wainer died on March 25, 2003.
5. Stanley M. Umstead died on February 21, 2005.
6. Charles R. Gildart died on August 11, 2006.
7. Bill Schooley died on November 12, 2007.
8. Frank Waldman died on July 19, 2009.
9. Charles Walker died on October 10, 2010.
10. Dick Ryan died on November 26, 2011.
11. Bucky Harris died on October 26, 2012.
12. Glenn McChristian died on January 22, 2013.
13. Jim Hackleman (x '51)died on September 10, 2013.
14. Ralph Auer died on September 10, 2013.


For a list of all deceased classmates, click on: Casualties



---
Still Kicking are; ... Buzz ... Ralph ... Arnim ... Jim ... Fred ... and Dick Wells.
---
Look for them at the 65th, they look thusly now.





Update on Buzz ..

Buzz - the great octagenariun will be Dancing With The Stars next season! Let's Vote Early and Often!

BUZZ ALDRIN, the second man to walk on the Moon, is planning a chain of "orbiting hotels" cruising perpetually between the Earth and Mars. Within 20 years, three spacecraft carrying up to 50 passengers would operate a continuous liner service between the two planets, ferrying the people and materials that would be needed to start a Martian colony — or offering the ultimate package tour. To reduce the cost of the eight-month voyage, the vessels, known as "cyclers", would be propelled mainly by the gravity of the Sun, the planets and their moons, orbiting the Sun under their own momentum. Their orbits would be calibrated to cross those of the Earth and Mars when the planets were near by, allowing passengers to take "taxi" craft, like the space shuttle, to and from the planets. The ambitious proposals, which would transform the prospects for regular human travel to Mars, have been submitted to Nasa by a team of scientists headed by Dr Aldrin, 72, the Apollo 11 astronaut who followed Neil Armstrong on to the Moon in 1969. The first cycler could fly as early as 2018, he said, with a chain of three eventually operating at regular intervals to ensure a more frequent service. Dr Aldrin said: "We believe these regular planetary flybys would create an entirely new economic and philosophic approach to space exploration. Reliable, re-usable and dependable cycler transportation can be the key to carry humanity into the next great age of exploration, expansion, settlement and multiplanetary commerce." The spacecraft would "become a permanent, man-made inner solar system companion of Earth and Mars, tapping the free and inexhaustible fuel supply of gravitational forces to maintain orbit. Like an ocean liner on a regular trade route, a cycler will glide perpetually along its beautiful, predictable orbit." Scientists have long been intrigued by the prospect of manned missions to the Red Planet, but the cost and logistics of providing fuel for the 285-million mile journey has always been considered a considerable barrier. The Aldrin plan gets around this by using an inexhaustible resource — gravity — to keep the spacecraft going in a permanent cycle. As the craft pass close to the planets, they do not stop, but smaller vessels launched from the surface could move alongside, with passengers boarding them or disembarking from them. Such taxi flights would be many times cheaper than the cost of sending people and materials all the way to Mars. James Longuski, Professor of Aeronautics and Astronautics at Purdue University in Indianapolis, a member of the Aldrin team, said: "The cycler essentially is in orbit around the Sun and makes regular flybys of Earth and Mars. Once you put your vehicle into a cycler orbit, it continues on its own momentum, going back and forth between Earth and Mars. You may need to carry some propellant for an occasional boost, but it's pretty much a free trip after that. "Some day people will be going to Mars on a regular basis. Most people are convinced that we are going to do this — the only question is when. This is sort of like a bus that doesn't stop. When it comes by, you have to run alongside it and grab on. Then, when you get to Mars, you get in the taxi and de-orbit down to the planet. Cyclers would be like space hotels. They would provide the usual creature comforts." The research team, which also includes scientists from the University of Texas and the Massachusetts Institute of Technology, are working on the most appropriate design for the cyclers, and the precise orbit that the craft would need to travel close enough to both planets. This will be a difficult calculation, because Mars's orbit is more elliptical than that of the Earth, meaning that the distance between the two planets changes a great deal over time. It will also be essential to make sure that the cyclers reach the planets at a speed slow enough for taxi spacecraft to dock. Modified versions of the space shuttle's external fuel tank might be used as building units for constructing the cyclers in orbit, Dr Aldrin said. "We are going to put in a proposal for a more detailed study to narrow down some of the choices of the different kinds of cyclers, and decide which ones seem to fit into a very nice operational mission." He walked on the moon. Now let's see what those feet can do on Earth. Astronaut, scientist, inventor, best-selling author, advocate for man's future in space, Buzz Aldrin is considered one of the greatest heroes of space exploration. On July 20, 1969, he and Neil Armstrong made their historic Apollo 11 moonwalk, becoming the first two humans to set foot on another world. An estimated 600 million people witnessed this unprecedented heroic endeavor. Upon his return from the Apollo 11 mission, Buzz was decorated with the Presidential Medal of Freedom, the highest American peacetime award. Born in 1930, Buzz was educated at West Point. He then joined the Air Force where he flew 66 combat missions in Korea and received the Distinguished Flying Cross. Buzz received his Doctorate of Science in Astronautics at MIT before being selected by NASA in 1963. Buzz devised docking and rendezvous techniques for spacecraft in Earth and lunar orbit which became critical to the success of the Gemini and Apollo programs. He has received three U.S. patents for his schematics of a modular space station, founded Starcraft Boosters, Inc., a rocket design company, and the ShareSpace Foundation, a nonprofit devoted to advancing space education. An accomplished writer whose work has appeared on the New York Times best-seller list, Buzz has most recently wrote an autobiography called Magnificent Desolation: The Long Journey Home From the Moon. Named for Buzz are: Asteroid "6470 Aldrin," "Aldrin Crater" on the moon and, of course, Toy Story's infinitely popular spaceman—Buzz Lightyear. But wait, there's more! The MTV Music Video Award, "The Moonman" was originally called "The Buzzy" and is shaped in his image. Sure, it's nice to have your name on a plaque that sits on the surface of the moon, but we're thinking this great American hero would love to have a shiny new disco ball trophy in his home right here on Earth. At least, that's Buzz around the dance floor.


On January 22, 2013 Buzz writes, "Dear All: I'm a couple days late due to travel disruptions but that's what happens when traveling to cold climates in the month of January. I'm readjusting to being on my own and I've filled the short range objectives with a variety of ladies for companionship and middle age incomprehensible behavior. As Stephen Hawking said when asked what he thinks about all day he replied, "Women, they're a complete mystery." Recently I wanted Stephen to endorse my new book, "Mission to Mars: My Vision for Space Exploration" coming out in May. What I really hoped he would do is to verify general widespread public understanding of permanence at Mars. (Not using the phrase: one way trip) however he did give me a great quote in support of my book: "Colonizing space is essential for the long term survival of the human race, and Buzz Aldrin's book shows us how." — Stephen Hawking For your further information here are quotes from Neil Tyson and others: "Any time an Apollo-era astronaut steps forward with ideas for our future in space, it's time to stop whatever we're doing and pay attention. Buzz Aldrin, one of the first moonwalkers, has no shortage of these ideas. And in Mission to Mars he treats us to how, when, and why we should travel there." —Neil deGrasse Tyson "A masterful array of strategies for exploration by a true space expert and patriot." —Michael Collins, astronaut and command module pilot, Apollo 11 "Buzz Aldrin has been as far from Earth as any human being, and now he's leading the charge to go much farther, to our next epic destination: Mars." —James Cameron "Buzz is one of the foremost forward thinkers of our time and this book will be essential reading for those who care about humanity's future in space." —Richard Branson I just partnered with AXE to be the Ambassador of the AXE Apollo Space Academy to support the giveaway of 22 suborbital flights by XCOR who I feel have a great plan to evolve into commercial orbital flights. When it's announced you'll appreciate how down to earth it is. It'll be the ultimate in adventure travel. There will be many other projects announced throughout the year so keep an eye on my website www.buzzaldrin.com. I'm considering moving to the DC area prior to mid 2016 to better hassle NASA, DOD, Execs, Legislature + State, Commercial and Education. Will keep everyone posted if/when this happens." BUZZ ALDRIN

*********************************************

Update on Arnim .. Brant accepted his last military assignment in 1976 to the Air Force Logistics Command at Wright-Patterson AFB, Ohio where he served until 1979 when he retired in rank of Colonel. On retirement Brant was awarded a third Legion of Merit. After retirement Brant accepted a position as Manager of Product Support with the Teledyne Brown Engineering Company where he served until 1989. Brant and his wife Lolo reside in Niceville, Florida.

*********************************************

Update on Jim .. Jim resigned his commission as a First Lieutenant in 1955. In 1975, Jim was appointed Director of Manufacturing for the Miller Brewing Company, i.e. a man after my own heart, and he retired in 1988. In retirement, Jim and Judy sailed the West Indies and Bahamas for five years before selling "Sweet Misery" and retiring to Laurel Park, NC. Jim bikes, plays tennis and skydives, having earned a USPA master license. Both he and Judy are deeply involved in service to the community.

On June 15, 2010 Jim wrote, "I now feel that I am getting more towards the end of my life than at the beginning. It has been a good life with both victories and defeats. I did well,but of course not as well as many contemporaries. However,I did my best. I have that peculiar personality, like many classmates, which inspires me to always want to win. When I won, I admit, luck was often involved. I made it through West Point, earned a battlefield promotion in the Korean War at Sandbag Castle, was aide de camp to the CINCE United Nations Far East, made senior management with Philip Morris Inc., sailed the Caribbean for five years in my Schooner "Sweet Misery", ran seven marathons, played on a couple of tennis circuits, did much SCUBA diving, attained almost 1200 parachute jumps, am in the Guinness Book of World Records for BASE Jumping and have had business articles and poetry published. I did graduate work at Tulane, Syracuse and UNC. I spend much time in volunteer work helping the less fortunate.I walk daily and do weights thrice a week. The greatest and most fulfilling thing of all however is the love and companionship of my children and grandchildren. I still miss some close friends like Howie Williams, Roy Herte , Reb Barber and other fine classmates. My favorite music? The Official West Point March. I never tire of it. When I die I hope to be buried with my father, Class of 1916, at West Point. I was born at West Point and will be buried there. Most of all, I miss the sound of marching boots, orders barked by tough sergeants and the troops counting cadence. Despite a broken body, I am healthy as can be, today. Who knows about tomorrow? God Bless you." Jim

On June 16, 2011 Jim writes, "Luckily, I am in good health and live near three of my children. I have a hearing problem and some balance issues but still work out a few times a week. A birthday party tonight!" Jim

On 6-23-11 Jim writes, "I've almost completed the yearly physical. The only anomaly is a heart murmer. Not serious. However: When a Cadet I was almost 5'11" and 135 pounds. Today I'm only 5'8" and 170 pounds. I've lost three inches and put on almost 40 pounds. Must be the aging process. Anyone else become shorter?" Jim

JOHN SLEEZER of The Kansas City Star wrote on Thu, Jan. 29, 2004 - Accident puts extreme senior on the shelf - Badly injured in a BASE jumping accident last year, Jim Guyer, 75, worked in an upper body exercise class Wednesday at Mid-America Rehabilitation Hospital in Overland Park. CHRIS OBERHOLTZ/ The Kansas City Star Guyer let go of an airplane wing strut and headed for the drop zone 9,000 feet below during a skydiving adventure last year over an area between Lexington and Henrietta, Mo. Last year, Jim Guyer was leaping from airplanes and floating down under a brightly colored canopy. Now the Overland Park skydiver and BASE jumper is unable to walk without assistance. The 75-year-old's most recent BASE jump (building, antenna tower, span and earth) was supposed to be a 350-foot leap onto a dirt road from a canyon wall at Black Dragon Wash, near Green River, Utah. Guyer made it only 300 feet. A dip of a shoulder as he hurled himself from the edge probably caused his canopy to open backward, facing the wall. Twice, his body slammed into the smooth rock of the canyon. He landed in an area filled with car-sized boulders, about 50 feet above the road. Guyer can't recall the accident in November or the days afterward. But witnesses haven't forgotten. Jimmy Pouchert, a fellow jumper, drove as close as he could and then hurried up the slope, praying Guyer was still alive. "When somebody is in this kind of an accident, there is a fine line between living and dying," said Pouchert, 37. "And I've seen both sides." BASE jumpers know the risk, said Johnny Woodie, 55, another witness. "Like I heard one other guy say, 'It's suicide without the commitment,' " Woodie said. "Once you jump off of a bridge, or cliff or building, you've got to save yourself. No one else can do it once you leave that object. It's just you then." Judy Guyer learned about her husband's accident from a voice on her answering machine in Overland Park. "It was horrible," she said. "From the time he started jumping, I was always afraid I was going to get a call like that. And to have it happen, it was just awful." Jim Guyer is a graduate of the U.S. Military Academy at West Point, N.Y., and former paratrooper, a former stockbroker and Miller Brewing Co. executive. He ran marathons in his 40s and 50s, and completed triathlons in his 60s. He took up skydiving in his 70s and later started BASE jumping. He holds a Guinness World Record for oldest BASE jumper and has about 50 jumps and more than 1,100 skydives. He's no stranger to injuries. Last year, he broke his left leg while jumping off a bridge. But he has never endured injuries as severe as these: a fractured skull, multiple fractures in his face, a broken hip, broken bones in his ankle, a broken leg and a brain injury. Guyer lost his long- and short-term memory. "You just have to laugh," his wife said, "because at one point, he didn't remember who he was." Guyer thought he was a colonel in the Army in Fort Worth, Texas, there to train troops. Then he thought he was in France, speaking French to those in the room. I said 'Jim, we're not in France,' " Judy Guyer said. "He said 'Are we in Italy? I don't know how to speak Italian.' '' Guyer spent about six weeks at a hospital in Salt Lake City before returning home to Overland Park this month. He has regained his long-term memory and is working on the short-term. Now he's at Mid-America Rehabilitation Hospital in Overland Park, undergoing physical and occupational rehabilitation and speech therapy. On Wednesday, Guyer performed upper body exercises in a class with about 10 others, also in wheelchairs. Guyer is expected to walk eventually, but his doctors don't think he'll be able to jump again, Judy Guyer said. His hip and brain injuries make it too risky. Still, Jim Guyer holds out hope. It's that hope that seems to help him through the recovery process. "A lot of people play bridge, some play chess and some go on marathon races," Guyer said. "It's just what you seem to enjoy, what you like. What I'm doing is kind of reaching for the limits, and it's fun."

On May 28, 2012 Jim writes, "Dennis Franz spoke of his PTSD at the National Memorial Day Concert. Mine did not appear openly until fifteen years after Korea when one night I awakened screaming " The Chinks are coming".Fortunately I was able to progress in a job and did not become homeless. A good shrink and some close friends helped me to get through it - almost. Flashbacks continue and sometimes the dreams. However, I can now accept them. And I thought that I was SO cool in combat. I must have been a well trained leader because my men didn't kill me. Well, seven years after I hit that cliff in Moab, Utah another strain of PTSD came alive. I had been in a coma for seven or eight days and spent over a month in the hospital getting various operations. Two days before departring for another hospital in the East a cardiac nurse came to my room and said "Mr Guyer, I must tell you something. You died. The monitors alerted us that your heart had stopped. We rushed down with the equipment and got your heart beating again". It's a fact that I still do not recall climbing the 300 foot cliff to jump nor do I remember anything about the jump. shrink and some close friend ehlped me to get through it - almost. Flashbacks continue and sometimes the dreams. However, I can now accept them. And I thought that I was so cool in combat. I must have been a well trained leader because my men didn't kill me. Well, seven years after I hit that cliff in Moab, Utah another strain of PTSD came alive. I had been in a coma for seven or eight days and spent over a month in the Salt Lake City hospital getting various operations. Two days before departing for another hospital in the East a cardiac nurse came to my room and said "Mr Guyer, I must tell you something. You died. The monitors alerted us that your heart had stopped. We rushed down with the equipment and got your heart beating again". It's a fact that I still do not recall climbing the 300 foot cliff to jump nor do I remember anything about the jump. Now, today, I have this nice condo on the water. The first time I walked out on the balcony I was overcome with a nervous tingling in my hands and limbs. I never, ever suffered that when jumping, including BASE jumping. It's D4DR if you want to search it on the net. It was the first time I had been outdoors at a BASE jumping height without a parachute. PTSD again! I have discussed it with friends and the fear feelings are decreasing. I have found that I can live happily with almost any distress if I verbalize it - if I talk about it. "Everyday, in every way, I am getting better and better". Jim

*********************************************

Update on Dick .. His last military assignment was as Division Engineer, North Central Division USACE from 1978 to 1980. Bucky retired in 1980 as a Major General and was awarded the Distinguished Service Medal. Following retirement he was elected Vice President, Radian Corporation in 1981 and served until 1993 when he retired again. Bucky and his wife Pat make their home in Austin, Texas. They have two daughters, Sandy and Jill, twin sons, Bill and Bob, and six grandchildren.

*********************************************

Update on Fred .. On retirement Fred returned to school and earned a Doctorate in Education from William and Mary in 1977. He was then appointed Coordinator of the Evening Program of the Thomas Nelson Community College and later served as Assistant to the President of the College. In 1982 Fred was named Associate Professor and Professor in 1985 where he continues to serve. Fred and his wife Carolee make their home in Yorktown, Virginia. Fred is the son of Fred A. Henney USMA Class of 1924.


On June 8, 2013 Fred writes, "Hi Andy , Just want to let you know that my wife, Carolee's new children's book about the cats "Princess Trinka and Basil" (with more than a dozen illustrations) has just been published as an Amazon Kindle ebook. It will be available as a free download to you and all your family and friends on Saturday, June 22nd, and Sunday, June 23rd, all day each day (from 3 a.m. Saturday until midnight Sunday). I would truly appreciate it if all who download it would take a few moments to leave their evaluation of the book on Amazon. It is very easy to download the book. Go to Amazon.com and in the search box near the top of the page type the words princess trinka and basil and click on GO in the black square at the right of the search box. You will see a picture of the cover and will be able to download it for the price of $0. You do NOT need to have a Kindle in order to download the book. If you have any computer or Ipad or Iphone or Android, go to Amazon and click on Kindle in the box on the left that has a black rectangle heading that reads "Shop by Department." A box to the right will pop up with the words "Free Kindle Reading Apps" underneath a caption in red that reads "Kindle Apps and Resources." That will let you download, for free, the same Kindle reader that people who own Kindles have. Neat, huh? Happy reading!

*********************************************


*********************************************

Update on Dick Ryan .. Dick's last military assignment was to the Office, Army Comptroller and he served until 1971 when he retired as a Lieutenant Colonel. On retirement he was decorated with the Legion of Merit for exceptionally meritorious conduct in the performance of outstanding services. Since retirement Dick has had management positions with Shannon & Luchs beginning in 1971 then with Begg Inc., from 1975 to 1977 when he went with the VMI Finance Corporation. From 1981 to 1984 Dick was associated with the Gullege Corporation. He established a CPA practice in 1984 and from 1987 to 1988 served as Controller HSG Assets Management Group. Dick and his wife Helene made their home in Martinsburg, West Virginia. The September/October 1997 Assembly noted, "Dick & Helene hosted the Class of '51 DC summer party at McCormack and Schmick's restaurant 1662 K Street NW, DC, which is managed by their son-in-law, Pat Gaffney. Thirty-six classmates, wives, and guests attended."

*********************************************

Update on Charlie.. Charlie's last military assignment was to the United States Army Training Center, at Fort Leonard Wood, Missouri. Charlie retired in 1977 in rank of Lieutenant Colonel. Charlie and his wife Phyliss made their home in Goodyear, AZ. The September/October 1997 Assembly notes, " The Las Vegas mini reunion is being planned by Bill & Alice Stockdale, Rocky & Joyce Milburn, Charlie & Phyllis Walker, and Fred Miller to coincide with the Founder's Day Dinner on Friday evening 20 Mar 98."

*********************************************

Update on Dick Wells .. Dick was awarded a second Army Distinguished Service and retired from military service with rank of Major General in August 1984. After retirement he moved to Phoenix, AZ where he was employed first as Chief Deputy Director of the Arizona Department of Water Resources and later by the HNTB engineering firm as Project Manager for the design of the completion of Interstate 10 through Phoenix. In 1993 he retired from civilian employment. He and his wife Lynn make their home in Paradise Valley, Arizona.

*********************************************