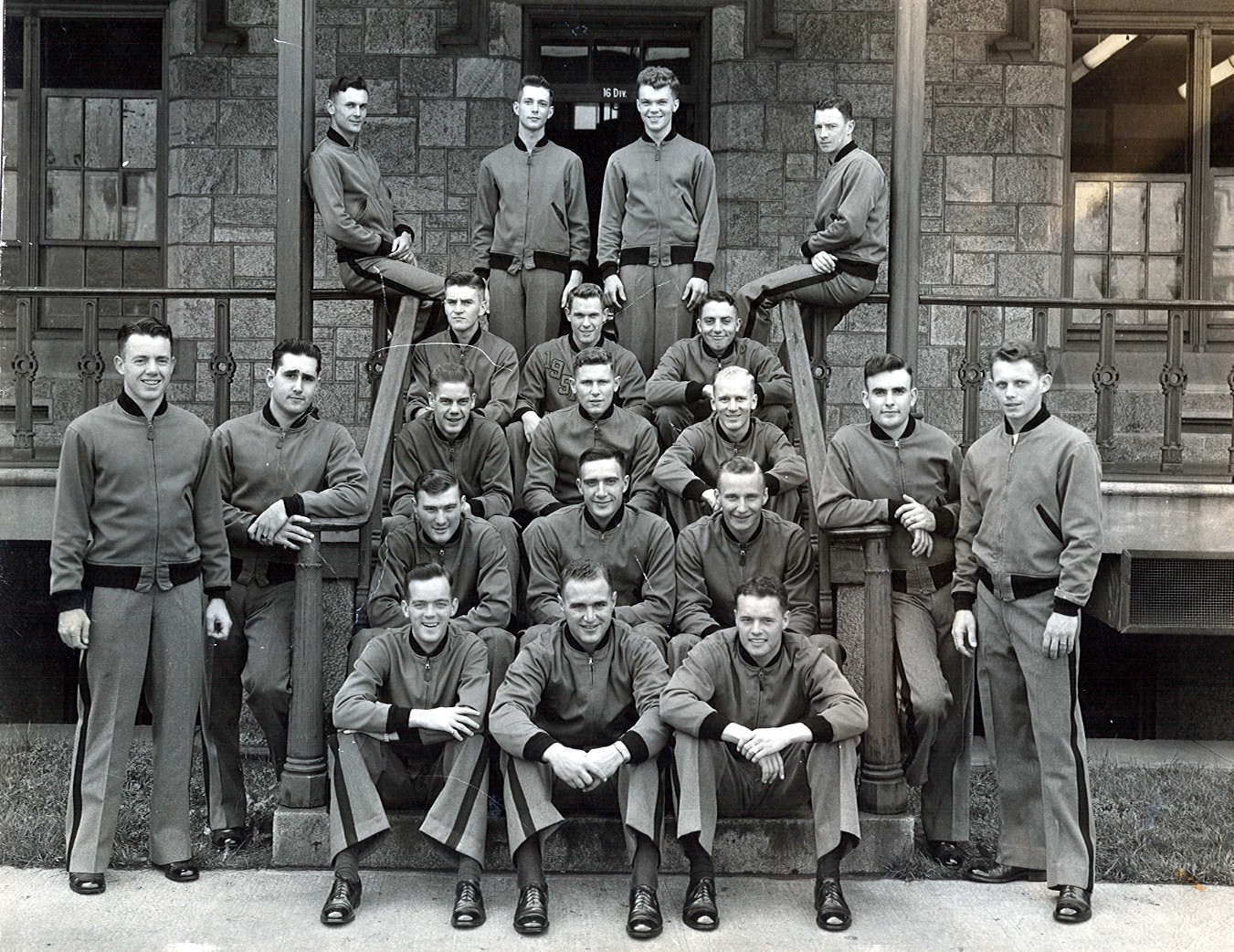 The Men of F-1
Front Row: Al Esser, Bruno Giordano, Harlan Johnson (nd).
Second Row Ted Charney (nd), Bill Lemnitzer, Joe Clarke.
Third Row: Frank Winfield, Frank Vellella, Buck Farrington (nd), Bob Niemann (nd), Barney Landry, Mac McLean (nd), Mike Kovalsky.
Fourth Row: Kie Doty (nd), Jim Pitts (nd), Elmer Pendleton (nd).
Fifth Row: Gene Marsh, Phil Cuny, Ray Toole, Tom Harrold.

---
The words in the Howitzer of June 1951 were: "For those of us who never meet again, the memories of our experiences during the four short years we lived together will live with us forever. F1'ers will hold a spot in our hearts wherever we go or whatever we do." The words were prophetic as many days have passed since '47-'51, but we all remember them fondly and they are perpetually etched in our memories.
F1 was truly an "All American" company in all respects for in June '51, Bruno Giordano was selected to the NCAA All American Lacrosse team and Frank Winfield to the NCAA All East baseball team. On the military side, four of us joined the Air Force while six of us were commissioned Infantry, four Artillery, two Armor, two Corps of Engineers and two Signal Corps.
During our military careers, Elmer Pendleton and Bill Lemnitzer attained well deserved stars, eight of us wore eagles, four wore silver leaves, five chose civilian careers and one was a "Gold Star".
Our decorations were as prolific as our children; Elmer was the second most decorated of the Class of '51 being awarded a Distinguished Service Medal (DSM) along with four Silver Stars and three Distinguished Flying Crosses (DFC). Lem and Mike Kovalsky also earned DSM's and Bruno Giordano was awarded two DFC'S, "Pop"Harrold was awarded two Silver Stars and was a double Purple Heart recipient. Other Purple Hearts were received by Elmer, Ray Toole and "Buck" Farrington. Bob Niemann sadly received his Purple heart as he was killed in action during combat over North Korea in his Sabre F86 on 12 April '53. The "All Americans" of F1 were also awarded 21 Legions of Merit, 5 Distinguished Flying Crosses, 17 Bronze Stars, 10 Meritorious Service Medals, 2 Joint Service Commendation Medals, 2 Joint Service Medals, 54 Air Medals and 5 Combat Infantryman Badges. "Rudy" York, "Ace" Collins and Tracy Harrington, our former tactical officers at the Academy, taught us well and would be proud. We, also, attended higher level military schooling: Elmer attended the Air War College; Lem and Mike Kovalsky the National War College, Ted Charney and Ray Toole the Army War College; Mike, "Pop' Harrold and Elmer the Armed Forces Staff College; with Ted, Mike, Elmer, Lem, Ray, Al Esser, Frank Vellella, Phil Cuny, Jim Pitts, Tom Harrold and Frank Winfield attending the Comd & Gen Staff College.
Thirteen of us attended post graduate schooling. Masters degrees in Science were earned by Lem in Chemistry, "Buck", Charlie, Al and Phil, Harlan (2) in Engineering, Ted in Education, Mike in Geography, Elmer in International Relations . MBA's were earned by Bruno, Frank V., Ray and Frank W.
Our post military careers found us scattered: Ted and D'Arcy Charney returned to the Commonwealth of PA and he became a stock broker. Joe & Sally Clarke live in Houston after his 33 yr career as a senior manager with Honeywell Industrial Div. Phil Cuny joined the EPA and then he and Irene settled to Sarasota in the Sunshine State. Kie Doty and Brigitte settled in Greenbackville, VA after his employ as a DA civilian. Al Esser joined Holmes Narver Corp in management while Jean and he settled in Fullerton, CA. "Buck" Farrington was an engineering consultant while he and Pat settled in CA then finally Paulsbo, WA. Bruno Giordano and Susan posted to Philly area as he made his clients big bucks in the market. "Pop"Harrold & Ginny are in Boca Raton, FL; they work in their family pre cast business (largest in the SE). Harlan Johnson and Darlene live in Sun Lakes, AZ for a retirement in the sun of the West. Mike Kovalsky & Jenny went to Avondale Estates, GA while he taught Geography at Dekalb College. Barney Landry & Muriel went to Hamilton, OH after 33 yrs as an engineer at GE Jet Engines Evendale, OH. Bill Lemnitzer & Lydia remained in Arlington, VA while he consulted in his special and brilliant style. H.G. (Gene) Marsh is in Harvard, MA. where he has founded three highly successful computer software Co's. Charlie McLean and Bonnie lived in Minnetonka, MN. He was a corporate executive for many years. Elmer Pendleton & Anne settled in Falls Church, VA.
They each have successful consulting companies. Jim Pitts settled in Pleasanton, CA in the Bay Area after being District Manager for the Customs Service. Ray Toole and Maureen went to the sun of Orlando after Ray's tour with the Vinnell Corp in Saudi. Frank Vellella and Holly continued living in Annandale as he helped the USN & USMC while with GRCI. Frank Winfield and Anne moved to "America's Finest City", San Diego, and opened their own business.
In summary, our country received a major dividend from its investment in the 1951 F1 graduates who contributed significantly to, not only winning the "Cold War", but in many fields of endeavor after our departure from military service.

This article written, 50 years after graduation, is dedicated to our wives, our children and our grandchildren whom we love so dearly and of whom we are so proud.
---
Be Thou at Peace!
Grip hands with us now, though we see thee not, Grip hands with us, ... Bob ... Ted ... Charlie ... Harlan ... Jim ... Kie ... Bill ... Elmer ... Strengthen our hearts!
1. Bob Niemann was declared dead on April 13, 1953.
2. Ted Charney died on June 28, 1990.
3. Charlie McLean died on October 4, 1997.
4. Harlan W. Johnson died on August 12, 2005.
5. James R. Pitts died on September 26, 2006
6. Kie Doty died on May 14, 2009.
7. Bill Farrington died on January 2, 2008.
8. Elmer Pendleton died on January 11, 2011.
9. Gene Marsh on May 05, 2012.
9. Frank Vellela on December 16, 2013

---
Still Kicking are; ... Joe ... Phil ... Alan ... Gio ... Tom ... Mike ... Barney ... Bill ... Gene ... Anne Pendleton ... Ray ... Frank V. ... and Frank W. .... LET'S ROLL ALL AMERICANS!

Those planning on attending the 65th look thusly now.





Joe's Update . Joe left the Army in 1956, joining Honeywell as a sales representative in Philadelphia . His thirty-three year career was marked by positions of increased management responsibility within the sales, marketing and service organizations of Honeywell's Industrial Automation and Control Division.

Joe and Sally retired in Houston in 1992. They are blessed with three wonderful children and their families. Son John, a bank executive in Houston , is married and has one son. Son Joseph, a safety director with a firm in North Dakota , is married and has two sons, both of whom married last year. Their daughter Alexis is an executive assistant with a firm in Houston. Joe, Sally and Alexis serve in various ministries at Saint Elizabeth Ann Seton Catholic Church.

********************************************

Phil's Update From his retirement until 1993 Phil was a Computer Systems Analyst with the Environmental Protection Agency. Phil and his wife Irene make their home Alexandria, Virginia and maintain the database from which the Directory that helps keep us informed of each other is prepared. Thanks Phil and Irene. (Phil and Irene will be at the 60th)

********************************************

Al's Update Al returned to the states for his last military assignment in 1971 with Field Command, Defense Nuclear Agency, in Albuquerque, New Mexico. He was awarded an Oak Leaf Cluster to his Legion of Merit for his performance as Director of Logistics and retired from the United States Army in 1975 as a Colonel. From 1976 to 1991, Al worked as a Project Manager for Holmes & Narver, Inc., in Orange, California. With this firm, Al was involved in engineering, construction and services projects in Antarctica, Turkey, Saudi Arabia, the Sinai, Germany, Alaska, Virginia, Alabama, Hawaii, and California. For his support of American research in Antarctica, the National Science Foundation awarded Al the Antarctic Service Medal and named a geographical feature in Antarctica in his honor. Since 1991, Al and his wife Jean have remained active in volunteer services while residing in Fullerton, California. All five of their children reside in the local area.

On Wed, 5/19/10, Alan Esser Alandregina@aol.com wrote: I am assuming that My Day was sometime around my 82nd birthday which is past history so here goes my attempt to catch up. My health and Jean's have both been great this past year for which we thank God. We also appreciate all of our five children living within an hour of our home in Fullerton. We are able to get together for most family occasions. Our travels have really slowed down, but we are heading north to Lake Tahoe for the biannual Esser Family Reunion next month, and God willing we hope to see many of you at our 60th next year. It has been sad to see some of our finest leave this world in the last year, but we can be certain that the political climate is much better where they are. Grip hands and pray for our nation. Al & Jean Esser

On 5-3-11 Al writes, "My day was actually the 3rd, but I decided to postpone my report until all the accolades and tributes stemming from the 60th reunion and associated parachute jump had run their deserved course. Jean and I regretted not being present for the 60th reunion, but it came too soon after our settling in at the Morningside Retirement Community here in Fullerton, California. We are fortunate to have a beautiful facility nearby which allowed us to keep our family, friends and favorite haunts within easy reach. We are comfortably settled in a two bedroom villa, and are very happy that we made the move which turned out to be our easiest and best move. Our life here is very rewarding and full. Al's medical history is a catalog of terms such as stent, by-pass, carotids, stroke, etc. However, this year has been trauma free for which we are vary grateful. We even managed a trip to Lake Tahoe for an Esser family reunion. Speaking of family, Our our five children and their spouses all live within an hours drive, which makes for many get-togethers and fun times. In our 51 family, we regret having lost some great guys and gals from our ranks but comfort ourselves with the hope that they are preparing a shelter for us. May God continue to bless all of us with good health and all the freedoms we love and fought for. Our new mailing address is 853 Morningside Drive, Fullerton, CA 92835"

********************************************

Bruno's Update Things are about the same here in Devon, PA. Susan walks about an hour, with a girlfriend, nearly every day and as a result looks and feels as good as can be expected. I take all the usual pills for cholesterol and blood pressure and usually feel pretty good, although I don't exercise as much as I should. On latest visit to oncologist he reported no evidence of prostate cancer. Good news. All four children and five grandchildren are healthy and apparently happy. I still have the two businesses to run, although I'm not working at expanding anymore. Typically working about half the time. I'm still sculpting and Susan and I spend as much time as we can at our vacation homes. We have been blessed.

On June 23, 2010, Bruno wrote, "I'm about six weeks late with this, because I wanted to get annual and bi-annual check-ups completed first. Urologist reports PSA at .87, so it looks like we caught the Prostate cancer early enough to defeat it. Dermatologist found three early squamos skin cancers on my scalp and removed all three with MOHS technique in-office surgery. Nurse said now my head looks like a golf ball. Cardiologist said everything he looked at in blood test was normal with blood pressure of 120 over 78. In short, seems as though I should make it to the 60th. Susan and I don't travel much anymore except to our place in Palm Springs and to the Jersey Shore.(Around here we refer to it as the shore rather than the beach. Don't ask me why.) Susan stays at the Shore house from mid June to early Sept., and I go back and forth as required. Any of you are welcome at any time with sufficient advance notice. It's really pretty nifty. All kids are healthy and gainfully employed. All Grandchildren, like everyone else's, are healthy, beautiful and smart as heck. Grip Hands, Gio" (Bruno and Suasan will be at the 60th)

On 6-6-11 Gio writes, "Hello All, This report was due in mid May. Sorry for the delay. I have some good news an some bad news! The bad news is that on the Friday before Memorial Day weekend I decided to spend part of the afternoon in our hammock. I had recently lower it for a kids party which made it more "swingy", for lack of a better word. When I put myself into it, it flipped over and dumped me out the other side and I landed on my head! I heard a crunching sound! Luckily Susan was nearby in the pool and I called for her and she called 911 and they choppered me to the local hospital. From there I was sent to the Jefferson hospital in town and was choppered there. After quite a few different examinations it was determined that I had some book in the spinal column and minute fractures of bone spurs outside the spinal column. The good news is that all extremities are operating normally, no loss of sense of feel, motion, etc. I have to wear a neck brace and my neck hurts after any prolonged movement, like walking. I am in a physical rehabilitation center and will be here until they think I'm able to go home. From conversations with various staff members they all tell me how lucky I was. Hopefully by the time I see you I'll be back to whatever my normal self was. Grip Hands," GIO

On September 18, 2011 Gio writes, "For the past 29 years, the Catholic and Methodist churches of Avalon, N.J., (a beach community), have invited the West Point Catholic choir to sing at several masses over the weekend. Residents of Avalon are asked to house one or two or three or four of these Cadets from Friday night to Sunday morning and more importantly, FEED them. This year for the first time, the Giordano's were still in Avalon in mid September and volunteered to take in two cadets. We had our choice of male or female and Susan opted for two young men, Josh and Mike, both Cows. We learned a lot about what's going on at WP. My conclusion, all is well. As you would expect, they were both very well mannered, fit and hungry. They were also both Tenors. Susan and I attended one of the masses and surprisingly the pillars did not fall, nor did the walls crumble at my presence. Naturally the Choir was wonderful. When they sang "The Corps", the Priest asked all graduates to stand and sing along with the Choir. Turns out I was the only one standing in the entire congregation. I remembered all the words and sang along with them (sotto voce). I shared with them the lore of our seven mile Barrier Island, the intricacies of and how to win at Blackjack and "Bruno time" (always try to be 10 minutes early). They got a kick out of that. They gave us two gifts, a small Army mule in combat fatigues and a class of 2013 WP beer mug. All in all a very pleasant weekend. Regards," Gio

On May 14, 2012 Gio writes, "Hit the big 83 today. My brother-in-law (age 94) tells me one really starts to slow down at 85. Hopefully, we'll see. Completely recovered from fall and operation of last summer. Lucky, lucky, lucky. My shouders are shot, so can't work out anymore. Reduced to walking when the spirit moves me. Still running the two companies. Futures doing very well, (up 154% in last six years). Send money if you've got it. Susan and I are in good health for our ages, various pills help a lot. Children and grandchildren all doing as well as can be expected. Not traveling much. I expect to visit my Daughter Carrie and see her relatively new YURT in Virginia vacation spot this summer. Susan and I make the trek to Vegas and Palm Desert each March-April for about 4 weeks. Susan spends the summer, June thru Sept. at the shore house, and I commute back and forth. I'm spending more time there as the years go by. Occasional short trips to Atlantic City to take advantage of Comps. What else would you expect from the world's greatest Blackjack player? Love all you guys. Grip hands, Regards," Gio


On May 14, 2013 Gio writes, "In spite of the fact that I have had some serious surgeries in the past two years, I feel surprisingly good for an 84 year old. Like most of you, I walk some, take a lot of pills and exercise lightly.. I'm still running the two businesses, but not actively searching for new clients. Letting things wind down as it were. Maybe some day I'll retire completely. Susan is in great shape and just as beautiful as ever. She took really good care of me during my health problems. Carrie and husband are retired and living in Fla. in winter and Virginia in summer. Tony is living in L.A. area, building homes by contract, (not spec). He will get his real estate license any day now. He should be good at that. Hugh is still working with me in the Commodities busines, and Steve is a local contractor. Grandson Joseph just got married. Granddaughter Caitlyn is living with with Mom and working locally. Kristin is a national merit scholar and just got accepted to Penn. on a scholarship. Heather to follow next year, (I hope). Nicholas is 16, 6 ft five and 220. Tony tells me he's a really good basketball player and good student. That's it. Good luck to all of you. Grip Hands" Gio

********************************************

Tom's Update Tom's last military assignment was to the Office, Deputy Chief of Staff for Research, Development and Acquisition where he served until 1974 when he retired with the rank of Colonel. He was awarded a third Legion of Merit for exceptionally meritorious conduct in the performance of outstanding services on his retirement. Since retirement Tom has served as Vice President of Art Statuary, Inc. Tom and his wife Ginny make their home in Boca Raton, Florida. Tom's father was Clinton J. Harrold, Cullum 7100; Tom's brother was John S. Harrold, Cullum 7999; his uncle Thomas L. Harrold Cullum No. 7639; his nephew is Arthur C. Harrold, Cullum 33420. (Harold and Virginia will be at the 60th)

********************************************

Mike's Update On return to the States Mike accepted his last military assignment as Deputy Commander, Readiness Region II, at Fort Gillem, where he served until 1981 when he retired from the United States Army as a Colonel. On retirement, Mike was decorated with the Distinguished Service Medal for exceptionally meritorious service in a duty of great responsibility and the Joint Service Commendation Medal. Mike and his wife Jenny make their home in Avondale Estates, Georgia. Tough retired, Mike is called upon to help at Dekalb Technical Institute from time to time.

********************************************




Barney's Update Upon graduation, Barney went in the Air Force and after pilot training reported to the 469th Flight Squadron, where he served from 1952 to 1954. Barney was next assigned to the 67th Fighter-Bomber Squadron in Korea from 1954 to 1955. On return to stateside Barney went to the 4926th TESRON at Kirtland ABF, New Mexico and was awarded the Air Medal for meritorious achievement beyond that normally expected, while participating in aerial flight on completion of his tour. This turned out to be Barney's last military assignment as he resigned his commission as at First Lieutenant in 1956. On retirement, Barney accepted a position as an engineer with the General Electric Company and served as such until 1989 when he retired. Barney and his wife Muriel make their home in Hamilton, Ohio. (Barney and Muriel will be at the 60th)

********************************************

Bill's Update . In 1972 Lem accepted his last military assignment, this time with the Office, Deputy Chief of Staff for Operations, Department of the Army where he served until 1973 and was awarded the Distinguished Service Medal for exceptionally meritorious service in a duty of great responsibility. Lem retired in the rank of Brigadier General in 1973 and has continued to serve as a consultant to General Research and the Burroughs Corporations. Lem and his wife Lydia make their home in Arlington, Virginia. Cullum 6625 is Lem's father, General Lyman L Lemnitzer Class of 1920 and Cullum 35753 is Lem's son, William F. Lemnitzer Class of 1978.

********************************************

Gene's Update Upon graduation Gene went in the Air Force and after flying training reported to his first assignment. Gene resigned his Captain's commission in 1957. In civilian life Gene has established two successful computer companies. (Gene and Janice will be at the 60th)

********************************************

Elmer's Update From July 1982 to July 1986, Penny was Chief, Joint United States Military Mission for Aid to Turkey. This was his last military duty and he received the Defense Distinguished Service Medal, and the Distinguished Service Medal on his retirement. Elmer Dean "Penny" Pendleton retired in 1986 from the United States Army after 35 years of service as a Major General. He and his wife Anne made their home in Falls Church, Virginia.

Anne was at the 60th and was one of the Black '51 Jumpers, she writes to Bill Givens on 4-30-11, "You have our sincere appreciation for making the jump happen. This was very special for our family. Elmer (1951) served 42 years and was an Airborne Ranger. Our son John, Class of 1989, soon to be back, with his family, from Germany is an Airborne Ranger and our younger son served three years and was an Airborne Ranger. That left our daughter and me as the "outsiders". You made it possible for us to round out the group and complete the "Airborne" circle in our family. And! We were able to include our son-in-law as well.

Coach Falzone, We are so grateful for the time, thought and effort you put into this project. I have no doubt you are beyond "busy" making your efforts expended for us even more appreciated. With our very sincere thanks," Anne

See Anne Jump Anne and Marie Foss were among the first to jump!!

********************************************

Ray's Update Ray was appointed Commander of the Tobyhanna Army Depot; a position he held until 1976 when he accepted his last military assignment as Chief, Ordnance Program Division, Corps of Engineers in Saudi Arabia and served until his retirement. Ray retired from the United States Army in 1981 as a Colonel. Ray and his wife Eileen make their home in Orlando, Florida. The May 1991 Assembly noted, "Ray and Maureen Toole are in Saudi Arabia where Ray's ordnance back-ground uniquely qualifies him to establish and manage a bomb depot."

********************************************


Frank V's Update Since retirement, Frank has been associated with GRCI, Inc. and has led technical and engineering teams in analysis and evaluation of US Marine Corps tactical communications systems involving: integration of Navy Command, Control, Communications systems with USMC systems during amphibious operations; determination of communications control requirements on the future battlefield; and development of a proposed architecture for communications and computers required by a MAGTF in the post-2000 period. Frank then led teams working with the Navy supporting development and procurement of: simulated hostile weapons and EW systems for fleet exercises; and Navy decoy and sensor systems. Frank was instrumental in initiating the planning and documentation for the Fleet EW Support Group large aircraft program, which culminated in acquisition of the EC-24A aircraft for the Navy. Frank is a Senior Member of the Institute of Electrical and Electronics Engineers; a life member of the Armed Forces Communications-Electronics Association; and a life member of the Signal Corps Association. In the Washington DC area, Frank was president of the Harvard Business School Club of Washington and Chairman of the Board of Directors. His son, Frank P. Vellella, Jr, graduated in the Class of 1977, Cullum 35143. Frank and his wife Holly make their home in Annandale, Virginia.

********************************************

Update by Frank W. ..Just had a marvelous day !! Despite our aches and pains of maturity, Anne and I are doing well. We spend much of our time here in San Diego taking pills, going to dental/ medical appointments, participating in church activities and keeping out of trouble with the IRS. Besides our six married children, we have 16 grandkids and even 2 great grand kids, so there is always someone who needs counseling, advice, love, encouragement or, even, God forbid, $ . Anne's highlight of 2009 was in Nov, as we literally surprised her with family from VA, CO and Chicago arriving in vast numbers to celebrate her "Big Ochociento" birthday here in San Diego. We kept ourselves busy during the baseball season following the Chi Cubs on WGN, never quite knowing when Grandson Sean Marshall would be put in the game in relief. Sean is currently a restricted free agent and is negotiating with the Cubbies for handsome bucks at this time!! I'll be making my annual trek to Mesa, AZ in latter March to view Spring Training this year to visit Sean and the Cubs. The Class of '51 will have another Mini Reunion, hopefully, with Arlie Sherman, Dick Wells, Lou Bretzke, Lew Casbon and Harry Baird getting together at a Cubs game behind the plate courtesy of Sean Marshall. We thank God for our many blessings including our families, our health, the Class and our Country. Hopefully, it will be a good year for us all. Still trying to bat .400.

On January 31, 2011 Frank writes, "Where has the year gone ?? Anne and I are reasonably well, and as most of you do, we spend considerable amount of our time on medical issues and apptds. I recently had two eye cataract surgeries which permit me to see colors and the girls better. We devote a good deal of energy trying to keep up with our six children,16 grandkids and 4 greatgrandkids living all over the country. Of special interest, Daughter Dr Elizabeth and family live in Colo Spgs. Her husband Nick Piantanida, "89", has his orders to return from his tour (second tour) at Fire Base Shank located on the Afghan- Pakistan Border (8200' and little hot water-- sound familiar)?? Doctor Nick will be promoted upon his return to a deserved 0-6. Several classmates have inquired about our grandson Sean Marshall. The Cubs recently tendered a contract to him for two years for 4.7 M total. I told him that should keep him in Starbucks for awhile. Sean had a fine 2010 season ( 80 appearances) in his role as an 8th inning "hold" pitcher for "closer" Carlos Marmol. Sean further was selected by the Cubs as its "Roberto Clemente" awardee for the 2010 season for his civic contributions to the Chicago area in visiting hospitals, schools. etc. Anne and I are looking forward to being with him during Spring Training in March. Another highlight of our visit to Mesa, AZ will be the get together with the '51 contingent for a Cub game (courtesy of Sean), followed by dinner w/wives. The gang includes Arlie Sherman, Dick Wells, Lou Bretzke and Lew Casbon. (Go Cubbies). Anne and I feel somewhat guilty in reading about the abundance of snow in the country while we here in San Diego enjoy balmy temps. What can we say? We are looking forward, God willing, to joining those of you who can make the 60th. Warmest regards,"Frank

On 2-2-12 Frank writes, "Well we made it through another year. As Bill Buckely said when asked about his health, " I'm doing just fine but my body is decaying ". Anne and I are still in sunny San Diego but are cogitating a downsizing from our large home here. I am trying to stay modestly in shape by my frequent walks. (The weather is not an impediment here, so I can't use that as an excuse to not perform). Our six children and their families are all working hard and contributing to the economy and society. Five of them were here the other day, from around the country, to celebrate with me my 84th (Wow, just incredible). Also, seven of our grandchildren were here, including, Sean Marshall from Chicago. More about him to those of us who follow baseball. in every way Firstly, he had a super year as a premium reliever for the struggling Cubs during the 2011 season with a team best 2.26 Earned Run Avg. He even set a record of 34 "Holds" for the Cubbies. ("Holding" the three run or less lead for Cubs while winning). Last Fall Theo Epstein from the BOSOX arrives as new President to revive Cubs and tells Sean he will be one of three untouchables on roster. Soon thereafter, Epstein swings a trade w/ Cincy Reds sending Sean there for three fine young prospects. I said to Sean, "Just like being in the service receiving orders, but no one is shooting at you". Also, I guarantee you that Sean makes more $ than many lieutenants combined. In my discussions w/Sean recently, he indicated that his Cubs number #45 is not available in Cincy. However, he related that #51 is available on the Reds roster to permanently wear and he wiil attempt to obtain in honor of the Class of ' 51. That would be wonderful. . Enough on Sean for the moment. Anne and I are very blessed in every way, even can travel anywhere on Delta or American at no charge, but she doesn't enjoy the travel hassle. Even attend some MLB games at no cost. However, that's minor compared to having six children, 16 grandkids and 4 greatgrandkids. We thank and praise the Lord each day for all of our many blessings. GO ARMY ! BEAT NAVY ! GO Cincy Reds !!" Frank Winfield

On October 19, 2012 Frank writes, in response to a question from LLM, "Sean Marshall wore #45 with the Chicago Cubs (2006 - 2011). During last winter Sean was traded to the Cincy Reds for the 2012 Season and beyond. (As an aside, Cubs TV broadcaster indicated during the Season that it was the worst mistake the Cubs had made in 20 years, and they have made many). Back to our story, during the past several years(2004 - 2012), I have gone to Spring Training in the PHX area for four or five days to watch Sean in games with other ML teams in the vicinity w/ the Cubs and this past year w/ the Cincy Reds. During this period, Arlie Sherman and I cranked up mini- mini get togethers w/ the Class members in the area. Namely, Arlie Sherman, Dick Wells, Lew Casbon, Lou Bretzke and Harry Baird (X -51) and our wives. The day normally consisted of a ball game (Sean provided Classmates w/tix) and later in the Eve a dinner w/wives at a classy restaurant. Last year, however, Arlie and Paula hosted a delightful cocktail and dinner at their beautiful home in Paradise Valley, AZ . Of course, during this time Sean Marshall and Sarah (w/little Brody Marshall) and my brother in law Leo O'Brien ( U of San Francisco,'51) have attended these get togethers and they have been been virtually inducted as honorary members of our Class of '51. Well, when Sean Marshall attended Cincy Reds Spg Tng in Goodyear in Feb 2012, he found out that #45 was not avail. Instead he opted to wear #51 in honor of the USMA Class of 1951. Sean further honored himself, the Reds and the Class by having a banner 2012 as a top closer in the ML. He topped it off w/ three appearances of four innings, in the Playoffs against the SF Giants facing 12 batters and retiring all (Leo O'Brien and I attended the Playoff games in the Bay Area last week). That's the story, Frank. We all wish Sean success in the future and that is his connection w/the Class of 1951. I will contact Morris Herbert '50, the distinguished USMA athletic historian, to detemine if any other major league player has ever worn a number to honor a particular USMA class." Frank Winfield (Grandpa) '51

********************************************