20th Reunion

19-22 October 2000
The above photo shows the Class of 1980 leading the Corps(-) in the May 1980 Alumni Parade
GENERAL INFORMATION | PAYMENT |MEMORABILIA | ACTIVITIES


Last Update on 12 June 2001

Photos from the reunion are now online and can be found by clicking on
REUNION GALLERY.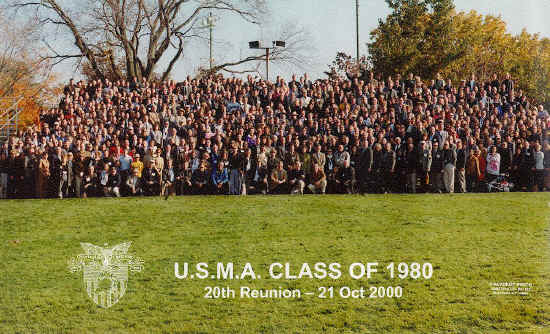 Group & Reunion Photos. Academy Photo is selling a collection of over 200 candid photos taken by Academy Photo during our reunion on a CD-ROM disk for $27.50. Hard copies of the group photo (not included in the CD-ROM), taken in the bleachers following the Alumni Review, are available for $18.00. Order from Academy Photo, USMA Box 102, West Point, NY 10996 or call (845) 938-3448.


LATEST INFORMATION

If you have questions or comments concerning the reunion, please direct them to the appropriate POC:


Reunion Committee
Planning, organization or feedback
Reunion Coordinator
Questions on administrative matters


The reunion has come and gone. The Reunion Committee would like to thank Joanie Emmer and our class aides for their work in making this an excellent event.
REUNION AFTER ACTION REVIEW The reunion committee will meet in the near future to conduct an AAR on the reunion. If you have any feedback, positive or negative, please send it to Bob Smith or Bob Morris.

All reunion update notes and the original information page will be kept in the REUNION ARCHIVES. Some of the information will be kept here for a short time longer in case it is needed for reference.