1977 News
---
28 Jun 2003
Terry Stewart provided a great picture that was taken 2 July 1973.
---
6 Jan 2002
Our 25th Reunion will be held 5-8 Sep 2002. Get the latest info here.
---
31 May 2000
We've added pages which show the current status of our Class Gift Giving Campaign.
---
24 Sep 99
Reported by Thomas Kindel: I regret to have to deliver the news that our classmate Randal Gehler passed away 23 September 1999. Randal has been the STRICOM liaison here in the Digital Force Coordination Cell at Fort Hood. In late July he was diagnosed with inoperable pancreatic and liver cancer. At the time he still appeared to be in relatively good health. However, his condition rapidly declined. He always remained positive, level headed, and brave throughout the progression of the disease. He will be sorely missed.
Funeral Service
1000 27 Sep 99
Imannuel Lutheran Church
1104 North Fourth Street
Killeen, Texas 76541
(This is right in the center of town, a half block off Rancier)
Funeral Home
Heritage Funeral Home
425 East Central Texas Expressway
Harker Heights, Texas 76548
Phone: (254) 690-9119
(Viewing will be Saturday and Sunday evenings. At this time the family does not plan to be present.)
Friends may remember Randal with flowers or memorial donations to "The Randal Gehler Endowment Fund at the Immanuel Luthern Church or Hospice." Cards can be sent to his wife, Sandra, at:
618 Man O War Drive Harker Heights, Texas 76548
---
19 Jul 99
From John Luther, LTC DAA:

Subject: Cl'77 tailgate announcement

Dear Classmate:
This Email is a follow-up to our assembly notes and provides the details you will need to make final arrangements for our class tailgate party 25 Sept 1999.

Please order your football tickets directly from the Army Athletic Association. Army will be playing Ball State. A special section of the stands has been reserved for those who send in their orders by 30 July. Price will be $24 per ticket (max of 8) with a small handling fee. The Army ticket office number is (914) 446-4996.

Our tailgate site is the 49 Lodge overlooking Delafield Pond. The party will start with a pre-game luncheon (1000 to 1300) of your typical tailgate fare - Hot dogs and hamburgers. After the game the real partying begins with a buffet dinner and cash bar.

The price of the tailgate is $35 per person. (Children under 6 are free -- For children between 6 and 12 the price is $15).

To make your reservations mail your check and a list of your guests to -

Class of 77 Tailgate
ATTN: John Luther
Building 698 Herbert Hall
West Point NY 10996


Please make your checks payable to Class of 1977 Admin Fund. The first 40 of you to reserve at least 2 spots at the tailgate will be mailed a special parking pass that will allow you to park at the 49 Lodge.
John J Luther
Lieutenant Colonel, US Army
Director of Academy Advancement
Tel: (914) 938-3700/3024
Fax: (914) 446-8237

---
21 Apr 99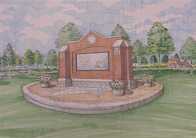 Click on above image for
larger view of Architect's rendering
of our proposed class gift
---
11 Apr 99
From David Anselmi:

I'm experimenting with something that appears to be rather promising. AOL offers a free service to all Internet users so that anyone can establish chat sessions with multiple users. If you'll download the latest version of AOL Instant Messenger from http://www.aol.com, you can participate too. [NOTE: Most AOL users must also upgrade their software.] Once you have the software, simply click on

aim:GoChat?RoomName=GoArmy+BeatNavy"

and see if anyone else is around to chat with.

A few caveats - AOL may not like us doing this, and there's no guarantee that everyone in this chat room will be 'one of us'. The longer we can keep this info only between us grads, the better off we'll be. I'm telling other USMA grads about this, so this will not be open to just our classmates (although if we get enough participation, we could create one just for our class).
---
11 Jan 99
From Ralph Masi:

Wife Denise & I, this past Thursday 7 Jan, delivered a brand new baby son...

Robert Vincent Masi.

...a fine-looking little guy, some 7 lbs. Given the January birthdate, I think that means... the USMA Class of ...2021 ??

Li'l Robert now joins Emily, 4... we are truly blessed. For the moment, I think, I may hold the record as the most current '77 "new dad"...... but look forward to passing the baton soon !!
---
18 Dec 98
From Bill Carrington:
Col's list came out this week. 46 classmates made it.
Greg Adams
Mario Carrillo
Greg Kuhr
Ted Russell
Kurt Andrews
Bill Carrington
Andy Manuele
Bill Ryan
John Antal
Rick Clapp
Matt Martin
Kevin Scherrer
Bob Ball
Jim Connelly
Ralph Masi
Harry Scott
Bob Barnes
Joe Durso
Mike McGinnis
Rick Shaw
Tom Begines
Matt Fair
Mark McGuire
Greg Tate
Ron Bertha
Tim Fong
Paul Melody
Joe Tedesco
Lance Betros
John Gagnon
Craig Naudain
Blair Turner
Dave Brooks
Jim Greer
Pete Palmer
Andy Twomey
Mark Brown
Greg Harding
Bob Richardson
Mark Vandrie
Steve Bucci
Stacey Hirata
Steve Rotkoff
John Weinzettle
Carlos Calderon
Mitch Howell
John Charvat was also selected this month as a JAG COL.
---
12 Dec 98
From Andy Chmar:
[Mike McGinnis is] our second classmate to be designated a Professor, USMA. Mike will become the Department Head next summer.
ACADEMIC BOARD ANNOUNCEMENT
NEW HEAD - DEPARTMENT OF SYSTEMS ENGINEERING


The Superintendent of the United States Military Academy is pleased to announce that he has accepted the recommendation of the Academic Board and will nominate Lieutenant Colonel Michael McGinnis to the Department of the Army as the new Head, Department of Systems Engineering and Professor, United States Military Academy.
ANDREW T. CHMAR
COL, OD
---
1 Oct 98

Class Gift Update #3.
---
29 May 98

Class Gift Update #2.
---
31 Mar 98
From Bill Carrington:
The Colonel's list came out [in Dec 97]. Following classmates were on the list. They are one year ahead of most of the class:
| | |
| --- | --- |
| Dewey Blythe | Bill Lasher |
| Mark Daniels | Bill Mason |
| Ted Hengst | Jim Morris |
| John Hightower | Scott Pritchett |
| Steve Hoogland | David Wood |
Congrats to them.
---
18 Nov 97
Robin Kiggins, wife of our classmate LTC Tom Kiggins, who presently serves as the Garrison Commander of Stewart Army Sub-post (STAS), died last Wednesday. As many of you know, Robin has been battling cancer for the past four years. A memorial service was held at the STAS Chapel on Monday, followed by burial at the West Point cemetery.

In lieu of flowers, the family has requested donations be made to:
Bishop Dunn Memorial School
c/o Sister Francis Irene Fair
50 Gidney Avenue
Newburgh, NY 12550

---
15 Nov 97
From Andy Chmar
Classmates,

FYI see the message below. Gary is the first person in our class to be selected as a Professor, USMA. His selection as the Deputy Head of the Math Department means that he will be the future Department Head when COL Arney retires. This is pretty significant accomplishment for a permanent member of the faculty at the Academy, as Gary will be permitted to serve as the Department Head until the age of 65 if he so chooses; and assuming he serves a normal Department Head tour, he will retire as a Brigadier General. We can all take great pride in his selection.
The Dean of the Academic Board is honored and pleased to announce the selection of LTC Gary W. Krahn for the position of Professor and Deputy Head of the Department of Mathematical Sciences. LTC Krahn was selected from an outstanding group of highly qualified Army officers. His personal qualifications of military leadership and academic excellence are truly outstanding and predict a very rewarding future for the department, the Academy, and the Army.
---
~ 30 Oct 97
Sadly, our 20th reunion is now over. I don't yet have the final numbers, but I believe that over 300 classmates attended. More information will be provided in the Reunion information section once it becomes available.