First, your friendly Scribe needs some help. Not all classmates or widows are on Dick Buckalew's (A-2) email list. I would appreciate CCQs forwarding these Class Notes to any of their company-mates and/or widows not on the class list and for whom they have an email address. And, if anyone else has an email address for a classmate and/or widow who is not on either the class list or is not known to a CCQ (on a company list), please help by forwarding my email Class Notes to such classmate or widow. Thanks!

I believe our ranks are fewer by two since I sent the February Class Notes with the listing of deceased classmates and wives. Everyone on Buckalew's list should know from Jack Downing's (H-2) emails that D'Ann Stone (A-1) died on 9 Feb and Dick Garlick (G-1) died on 21 Feb. The Stones (John and D'Ann) are our 42d couple on the Memorial List and the Garlicks (Pat and Dick) are our 43d couple. And, there were a few omissions on my part to February Class Notes: (1) I did not list Gene Wilson (I-1) who died 8 Dec 2016 despite my having spoken to Ellie and (2) I failed to list John Lynne, (M-1) although I did list his wife Jo Anne. Scribe is sorry for those omissions/errors. A few classmates/CCQs helped by sending me corrections. We should all be up-to-date on classmates and wives who have left this world of woe and gone to a better place which knows neither pain nor sorrow. And, I know of one other wife who died, but her husband does not want the info broadcast to the class and his wishes are being honored.

I had an email from Roger Waddell (A-1) recently about both Marg Garrett and D'Ann Stone: "I was going to write to you about your class notes email, then this came through. I believe D'Ann has been fighting cancer since 2007. On the class notes, how did you learn of the death of Marge Garrett (whose death was reported in February Class Notes)? I have not seen anything from Lee Miller, CINC-Obit, AOG, or Buckalew. Rube." Scribe did not know that D'Ann had been fighting cancer for so long – tough time for her. And, I cannot remember how I learned about the death of Marge Garrett. I replied to inform Roger just how little Scribe knows. If anyone in A-1 knows more, please contact Lee Miller (A-1 CCQ) do that he can let your company mates have all the info. Thanks.

Hint to one and all: if you have info about any classmate or wife or widow or children/grandchildren (especially those attending or soon to attend our Rockbound Highland Home on the Hudson), please share such info with your Scribe who is desperate for news. You can send me an email gsibert@comcast.net or call on my home phone 703-671-1415 (leave a message if I do not answer) or cell phone 703-328-5941 (better to call back because messages on my cell are problematical).

Ellie Wilson (I-1) (a recent email since our phone call): "Thanks for the update on Gene's posting for I-1. His memorial on Saturday was beautiful, went very smoothly and was attended with a good number of friends from various groups/organizations locally and out of town. My family and I were very pleased to honor Gene in celebration of his life in such a personal way. So, now it is on to the next chapter, or as is said, the new normal... whatever that may be. I am sure you are already walking down that road and most likely a challenging one at times. Also, wanted to let you know that with the help of one of my sons, I am downsizing Gene's and my email boxes to one address which is geneandellie@gmail.com. Maintaining 6 boxes is definitely more than I need. Life should be less complicated. Hopefully, this finds you well and looking forward to spring. Looking forward to your postings for '58. Hugs, Ellie." Gene and your Scribe were flight school classmates (Brown Hats) at Camp Gary and Ft Rucker before he went to Germany where he met Ellie.

More about Gene from Tom Morgan (A-2): "George, I am going to send you some pictures that I took of Gene Wilson's "Celebration of Life" event yesterday. What is a good address for you now? Tom Morgan." I provided my address to Tom and will repeat it here so that anyone can send photos to gladden the heart of your friendly Scribe: 4800 Fillmore Ave Apt 530, Alexandria VA 22311-5014.

From Andy Andreson (G-1 CCQ): "Dick Garlick's funeral will be held on Friday, 10 March, with visitation from 10 AM to 11 AM at Talbots Funeral Home, 340 North State Road 35, Alma, Wisconsin 54610; phone is (608) 685-3294. The funeral service will be at 11 AM at the Alma Cemetery where Dick will be laid to rest next to wife, Pat." Andy also reports that he will be attending the funeral on behalf of G-1 and the Class. The Class flag will be displayed. Andy also corrected an earlier email about Dick's age: he turned 84 in November 2016 and died of complications from Parkinson's. From other emails, your Scribe knows that Dick's daughter-in-law, Cindy, lives in Springfield VA and has been very helpful at keeping G-1 informed. And from WPAOG the standard plea for help: "If you have information related to this notification, please inform marilee.meyer@wpaog.org Personal testimonials may be posted at the link below: http://externalapps.westpointaog.org/memorials/article/22092." I can assure you that both Marilee at WPAOG and I appreciate any help you can provide.

From Jack Gordan (A-1 and our DC area social chairman): Recently wrote that there will be 19 attending the luncheon with our Yearlings at Ft Myer Officers Club on 2 Mar. Your Scribe will be AWOL by virtue of being in Florida. With any good fortune, there will be more information about who attended this joint luncheon and any news produced in my next Class Notes. No doubt, the number of attendees will likely increase.

From Norm Monson (K-2) in an email 20 Feb: "I read this and realized I hadn't expressed my appreciation for your taking on, once again, the scribe job. It seems to me like one of those impossible tasks that cannot ever be finished. And while I understand your feelings about brain failures, let's face it, aren't we all having more of those moments? At least you were cool enough to use the other F word." I think the word I used was failure. Cannot imagine what other "F word" Norm had in mind. Smile

From Jerry Mitchell (C-1 CCQ) in an email 19 Feb: "I have had a disaster in that my computer was hacked and then crashed when I wouldn't pay the ransom, and I am slowly getting back up to speed. I just got off the phone with John Schaffer, C-1. He has been in the hospital for the last several days and is at home recovering from pneumonia. He is pretty sick, but he is getting better." Pneumonia is bad stuff at any age, but worse as we get older. Great news that John is getting better.

Hugh Morgan (G-2), who died 10 Aug 2016. Most know that Hugh was an amateur radio aficionado. Here is what was written about making donations in Hugh's name to support the cadet Amateur Radio Club. This info was in an exchange of emails between Pete Penczer (our former Scribe who cannot be thanked enough by your current Scribe for his taking on this task for some 40 columns) and John Ulmer '62: "The passion in Hugh Morgan's life was Amateur Radio, a hobby he practiced from age 14. After the QST magazine article about the West Point Radio Club was published, some of his friends approached me about making donations to the club in his honor. That effort is ongoing. So far we have raised over $1000 for the club which is refinishing new quarters and purchasing new radios. Some of his classmates may wish to follow suit. Donations to the club must be made through the Association of Graduates. Checks should be made out to the West Point AOG and "Amateur Radio Club" should be written in the memo line. These donations should be accompanied by a letter of intent instructing that the gift be earmarked for the Amateur Radio Club in honor of Hugh W Morgan '58. Donations should be mailed to the West Point Association of Graduates, 968 Mills Road, West Point, NY 10996. Further information about the club and how to make donations may be found at the club's web site www.usma.edu/w2kgy. John Ulmer USMA 62."

60th Reunion: More on our 60th Reunion in April 2018 via an email answer from Garry Roosma (H-2) about dates for the reunion: "George, two things happen when you approach 80. One is your memory starts to fail and the other is ... well I forget. OK the dates for the 60th, Wednesday, April 25 (optional day) through Sunday, April 29. ​Regards, Garry." You will get more information from Garry as we get closer to the 60th. Scribe's intent now is for all classmates and widows to block the dates on your calendars for April next year – 25th (optional day) then 26-29 April 2018 – dates when you MUST, Scribe says again MUST, be there. Plan now to attend!

Scribe received an email from Tom Claffey (K-2) with the following info: "I had a terrific telephone visit with Jim Bishop (H-1) a few days ago. He mentioned that his grandson, James Logan Comer '18, will be enjoying the refurbished First Class Club next year as a Firstie and will graduate just days after our 60th Reunion! I'm copying Jim as well as Tony Smith (I-1) (our FCC Man on Scene) with this note." Thanks to Tom for sending the information about grandson James Comer to Tony Smith. And, congratulations to grandfather Jim and grandson James. Just think about it: James is graduating a mere 60 years after his grandfather Tom. How fortunate those two are!

Susan Sullinger (L-2). In a phone call Robert Higgins (L-2) and your Scribe tried to reach Bob's roommate Carl Sullinger (also L-2 in case you have not broken the code). We did not talk to Carl, but had a great chat with his wife Susan. She is fine and doing well in the California real estate business (San Jose area, if my memory is correct – just checked with Bob – San Jose is correct). You can refer to Garry Roosma's comments above on aging memories). If you are looking for something modest in the $2.5M and up category, give Bob a call on his cell 407-497-4594 to get info on how to reach Susan. Lost my notes on that but your Scribe is not in the market for a house in California. Not a house anywhere.

Scribe is in a luncheon group organized by Alan Salisbury (L-1) called Critical Issues Roundtable (CIRT for short): An email from Alan informed us that our luncheon speaker of 30 March will be Bridgett Serchak, daughter of our classmate Bill. "I'm pleased to announce that our next CIRT luncheon will be on Thursday, Mar 30, 12-2pm. Our special guests for this luncheon will be Bridget Serchak*, current Director of Public Relations, and Alan Heil, former Deputy Director of the Voice of America. We all know the critical role that VOA played in the Cold War. This luncheon will give us a great opportunity to learn about the VOA today, its mission and role in the current administration. Please respond if you plan on attending so I can get a preliminary headcount. Thanks, Alan. *Bridget is the daughter of Bill Serchak, USMA '58. She moved to VOA from being the PIO for the DoD IG. The discussion can include her tenure there as well." Think about it – we have a class daughter as guest speaker at a lunch attended by classmates.

Alan Salisbury info continued: Another activity Alan is involved in is the Alumni Glee Club, recently on TV. Here is a comment from Joe Schwar (I-2): "I was a little disappointed in how much was shown -- at least in my area. But they really nailed the National Anthem. And Alan was right there in the front row--looking very serious. Joe." Pete Brintnall and Palmer McGrew are two more classmates in the Alumni Glee Club. There may be more, but these three are the ones that come to mind.

Executive Committee: This edition of the Class Notes has provided the dates of our 60th. You should know that your Executive Committee (EC), chaired by Dick Schonberger (B-2), is busily working with Garry on the 60th and with others on various aspects of class business.

Jack May (B-2) from a recent email: The picture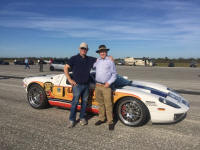 is of Hubert Phipps and Jack May at the NASA landing strip where the space shuttles landed in Cape Canaveral. The runway, made of unusually hard and dense concrete and over three miles long, is used on occasion for private high-speed automotive events. We are standing by the Ford GT40 that holds the world's record for a "stock car" (lots of modifications permitted ... over 2000 horsepower) for a standing mile .... 282+ miles an hour. This car was attempting to break its own record, but during the high speed run some parts disintegrated, without harm to the driver, but failing to achieve a new record. We were invited to attend the private speed occasion, arriving in high style in Hubert's helicopter. There was quite an array of unusual and special cars and about 100 unusual and special car lovers. It was an altogether delightful and unique event for car aficionados.