CW2 Daniel G. Prial, USCG
Cullum: 68913
Class: 2012
Cadet Company:
Date of Birth:
Date of Death: 01/20/2021 View or Post a Eulogy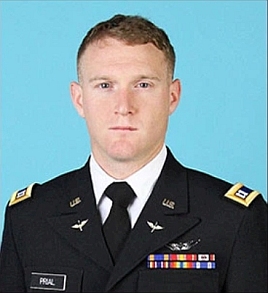 Chief Warrant Officer Prial had served in the Army since 2012 after earning a commission at the United States Military Academy at West Point. He served as a medical evacuation platoon leader with the 82nd Airborne Division's 82nd Combat Aviation Brigade.
He was deployed to Afghanistan twice while on active duty and had relocated to Rochester in the summer of 2020.
"He loved flying, it's why he got out of active duty and joined the (National) Guard. He gave up his commission and became a warrant officer because he just wanted to fly so maybe in a weird twist of fate, he was doing what he loved to do when he reached the ultimate end but that's Danny…doing what he loved to do and just being unapologetically him and we'll always love him for that," Scott said.
He attained the rank of captain before accepting the appointment as a warrant officer in the New York Army National Guard so he could continue to fly. He was working as a federal technician at the Army Aviation Support Facility at the Rochester International Airport. He was rated to fly the UH-60 Black Hawk helicopter and had 670 flying hours.
His awards include the Air Medal, the Army Commendation Medal, the Army Achievement Medal, the National Defense Service Medal, the NATO Medal, the Global War on Terrorism Service Medal, the Afghan Campaign Medal and the Army Aviator Badge.