July 27, 1981 - February 01, 2002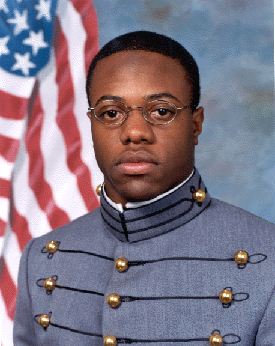 Photo courtesy of Academy Photo
Anthony Bruce Miller II died Friday, 1 February 2002, of natural causes. Anthony is survived by his parents, Anthony and Veronica Miller. Anthony played varsity football and was one of just four freshmen in 2000 to earn varsity letter. He enjoyed poetry and meditation in his spare time. He will be sadly missed.
Interment and condolence information will be posted here as it becomes available
---
---
Below are several pictures from Friday night after our Company had learned of Anthony's death. As most of the third class (Anthony's classmates) were already away for Yearling Winter Weekend, the plebes in G-1 organized an overnight vigil/ guard on Anthony's room. This was out of both respect and mourning, as well as to keep his room and posessions secure until they could be inventoried the following day. Plebes, and a few members of the third class who were around Friday night, put on their best uniforms and appearance, and performed this completely optional assignment. They took turns pulling 1/2 hour shifts all night long, with a standard (and silent) change-of-guard routine performed at the end of each shift.
I think this speaks very highly of the comraderie in G-1 and of the admiration and repsect we all had for Anthony. I wanted to send these your way not only for possible use on his eulogy site, but also in case anyone else out there is looking for material to be used in an article, etc. regarding the loss of one of our brothers. I know there will be many articles dealing with Anthony's passing and I just figured everyone might benefit from knowing what the plebes in G-1 did Friday night. Please feel free to forward these to anyone whom you see fit. I just wanted to get them out there so everyone else can know about this unique act of repsect.
Respectfully,
Cadet Robert L. Lodewick
CDT CPL Co. G-1 '2004
Click to see larger images
---
Poem for Anthony from Aris
I feel like I'm stuck in a never-ending dream.
It begins and ceases, and then finally comes back to me.
An omniscient deja-vu has me looking for answers and then... there's You
[Lord].
This can't be happening, I expect him to be there.
When I get back I don't want to stare...
at an empty room left just the way it was.
I turn to search for him... and then I look above.
-1NE Love forever A.M
---