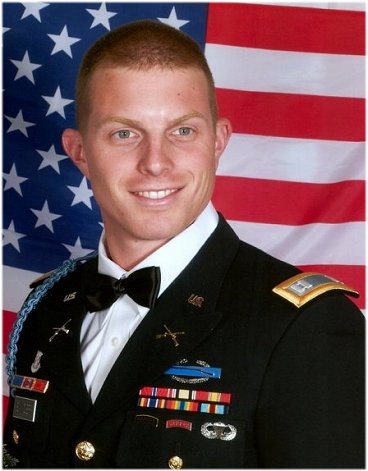 The Department of Defense announced the death of Capt. Adam P. Snyder, 26, of Fort Pierce, Fla. He died supporting Operation Iraqi Freedom at a combat hospital in Balad, Iraq, from wounds suffered when his vehicle encountered an improvised explosive device in Bayji. He was assigned to the 1st Battalion, 327th Infantry Regiment, 1st Brigade Combat Team, 101st Airborne Division (Air Assault), Fort Campbell, Ky. He was two months into his second tour of duty in Iraq.
In High School, Capt. Snyder was active in church music and drama as well as community theater. He had hopes for becoming an actor following his military service.
His community involvement included work with Habitat for Humanity, as well as volunteering for, and being chosen to be a bone marrow donor, just weeks before he was scheduled to start Airborne Ranger School.
He is survived by his mother and Step-Father, Larry and Fran Frazer, Father, Joseph Snyder, Brother, Evan, 15, and grandfathers, Bob Frazer and Bev Paulson (94).
His mother wants her son remembered as someone who``was always concerned most about his men.'' His father remembers him as a "spark of light in the darkness".
Funeral arrangements have not been finalized.