LTC Jacqueline S.L. Escobar USA
Cullum:59004
Class:'02
Cadet Company:D3
Date of Birth:September 1, 1980
Date of Death:August 17, 2021 - View or Post a Eulogy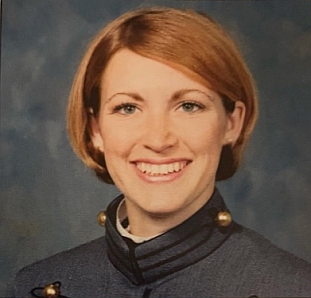 Howitzer Entry:
One of the most active members of the company, Jackie approached everything with good humor, a soft smile, and a contagious charm. She brightened even the darkest of days here. Her kind, easygoing manner touched us all and will undoubtedly take her far in life.
Honors & Awards
Joint Women's Leadership Meritorious Service Award
Sea Services Leadership Association
Jun 2018
This Meritorious Service Award is presented to one military and one civilian leader who has made a positive impact through their involvement, leadership role, and for his or her outstanding contribution in affecting policy and promoting diversity in the Army. The JWLS Award honors visionary leadership whose ideals and dedication help foster a positive work environment for reinforcing and furthering the integration of women in the Army.
General William DePuy Writing Award
US Army Combined Arms Center
Oct 2012
Annual special topics writing competition sponsored by the US Army Combined Arms Center in conjunction with its professional journal, Military Review. Winners receive a cash award and publication of their article in Military Review. The 2012 topic was, "What is the role of women in the United States Army for the next 20 years?"
2012 Depuy Writing Contest Winner - Breaking the Kevlar Ceiling
Twitter Image: Lt. Col. Jacqueline Escobar assumed command of the 3rd Brigade Support Battalion
A note from her husband, David Escobar (published with permission):
Dear Friends,
It is with profound sorrow that I confirm the passing of LTC Jacqueline S.L. Escobar. She passed away peacefully in her sleep surrounded by family on Tuesday, August 17th with the sun gently rising over Galveston Bay.
Towards the end of 2019, doctors in Savannah diagnosed Jackie with stage IV brain cancer. Over the last 20 months, Jackie privately fought through two brain surgeries, several rounds of radiation, multiple chemotherapies, and four clinical trials. Jackie modeled the old Jimmy Buffett quote, "You know death will get you in the end, but if you are smart and have a sense of humor, you can thumb your nose at it for a while."
Jackie's greatest professional honor was to command the 3rd BSB, 1st Brigade, 3rd Infantry Division as Ready 6. I have never seen her so proud.
Jackie will be interred in Arlington National Cemetery in the next 7 to 8 weeks with concurrent services in Washington, D.C. - more information forthcoming. Please do not send flowers.
In lieu of flowers, please make a donation to: the MD Anderson Brain & Spine Center
https://gifts.mdanderson.org/
and/or the ASPCA
https://secure.aspca.org/donate/ps-memory-sl-p1?
in memory of Jackie & her courageous battle.
Darcy Lou, Tattoo, and I miss her deeply. We thank you for your love and prayers; we ask you to continue to respect our privacy during this difficult time.
Please direct questions to the Casualty Assistance Officer; COL Sanchez at amado.sanchez2.mil@mail.mil