CPT Benjamin D. Tiffner USA (KIA)
Cullum: 57445
Class: '00
Cadet Company:
Date of Birth:
Date of Death: November 7, 2007 - View or Post a Eulogy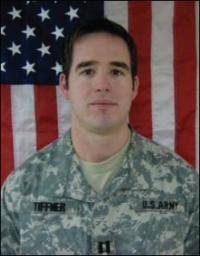 Capt. Tiffner, 31, of West Virginia, died Nov. 7 in Baghdad, Iraq, of wounds suffered when he was struck by an improvised explosive device. He was assigned to the 1st Battalion, 5th Special Forces Group (Airborne), Fort Campbell, Ky.
He is survived by his parents, Mr.& Mrs. Timothy Tiffner, and four siblings.
Governor Ernie Fletcher has directed that flags at all state office buildings remain at half-staff in honor of Capt. Benjamin D. Tiffner. Flags will remain at half-staff until sunset on the day of Capt. Tiffner's funeral. He will be buried in Arlington National Cemetery. Date not yet determined.