COL John M. McHugh USA (KIA)
Cullum: 43461
Class: '86
Cadet Company: D4
Date of Birth: December 3, 1963
Date of Death: May 18, 2010 - View or Post a Eulogy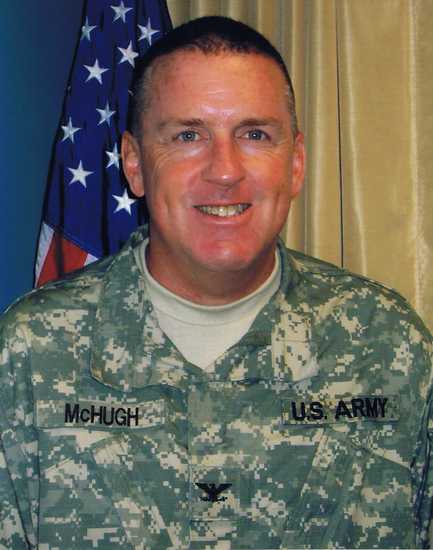 Col. John M. McHugh, 46, of New Jersey, was assigned to the U.S. Army Battle Command Training Program, Fort Leavenworth. He died May 18 in Kabul, Afghanistan, when a suicide bomber steered his explosives-laden Toyota minibus into an American convoy as it moved through the thick of rush-hour traffic. Along with COL McHugh attack killed 17 other people, including 4 other American soldiers (Lt. Col. Paul R. Bartz, 43, of Waterloo, Wis., Lt. Col. Thomas P. Belkofer, 44, of Perrysburg, Ohio, Staff Sgt. Richard J. Tieman, 28, of Waynesboro, Pa., Spc. Joshua A. Tomlinson, 24, of Dubberly, La.) Col. Geoff Parker, RCR, and wounded at approximately 47 civilians. He had arrived in Afghanistan from Fort Leavenworth, Kan., just days before he was killed.
Col McHugh was one of the highest-ranking officers to die in Afghanistan since the war began.
Following his graduation in 1986 he went on to Rotary Wing (Flight School) and UH -60 Aviator courses, McHugh was stationed in Nurnberg, Germany, with the 2nd Armored Cavalry Regiment (ACR). He served as a platoon leader with S Troop, 4th Squadron, 2nd ACR and deployed to Operation Desert Storm as the regimental aviation officer. Upon graduating from the Aviation Advanced Course, McHugh was assigned to the 4th Infantry Division, Fort Carson, Colo., as a flight operations officer for 4-4 General Support Aviation Battalion (GSAB) and commander, A Company, 4-4 GSAB. From 1998 until 1999, he was the executive officer for 1-13th Aviation Regiment, Fort Rucker, Ala. From 2001 until 2002, he was the executive officer for 3-58th Aviation Regiment, Giebelstadt, Germany. He served in multiple training assignments. From 1994 – 1996, he was assigned as a UH-60 assault company trainer at the National Training Center, Fort Irwin, Calif. From 1999-2001, he was a maneuver observer trainer with Operations Group C, Battle Command Training Program, Fort Leavenworth, and from 2002-2004 he served as the operations officer/aviation operations trainer for the Falcon Observer/Controller Team, Hohenfels, Germany. From 2004-2006, McHugh commanded 1st Battalion, 11th Aviation Regiment at Fort Rucker, Ala., and was responsible for providing air traffic control for the U.S. Army Flight School. McHugh has a master's degree in administration from West Virginia Public University. Following command, McHugh served as executive officer for the Army Air Traffic Services Command and deployed in support of Operation Iraqi Freedom as the deputy commander of the 164th Theater Airfield Operations Group. McHugh assumed duties as the chief, Operations Group Alpha, in June 2009 upon graduation from the U.S. Army War College where he received a masters in strategic studies.
He is survived by his widow, Mrs. Connie McHugh, his five children (two sons - the youngest just 5 years old - and three daughters) and a granddaughter. His oldest child, Michael, was serving in Iraq when his father was killed. He met his father's body in Kuwait and escorted his body home.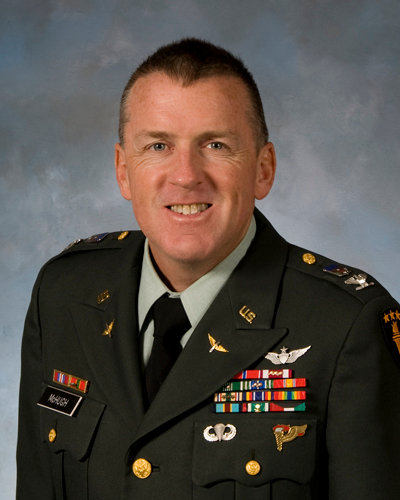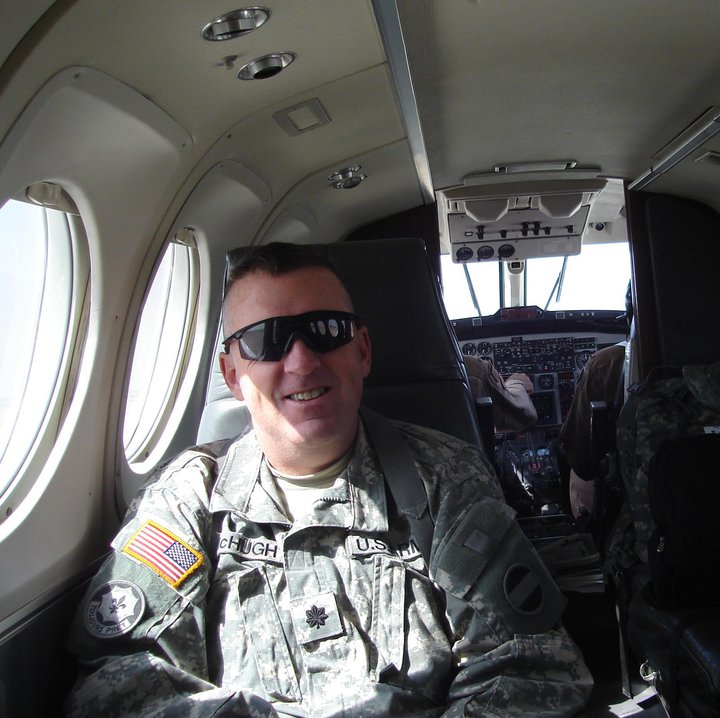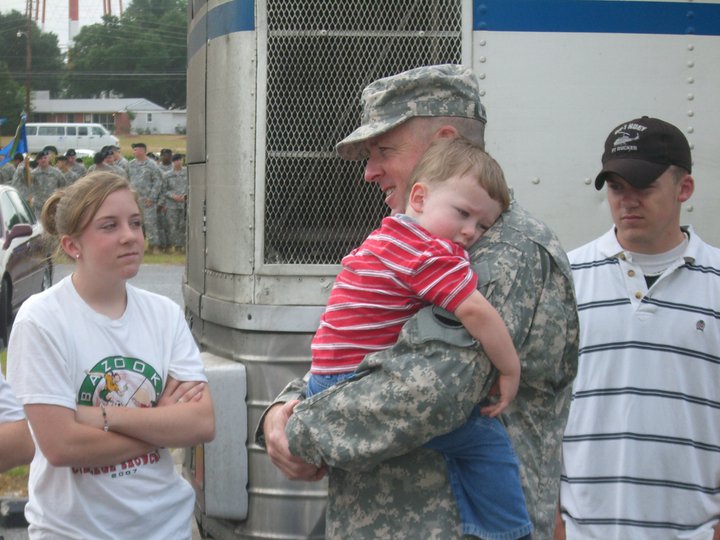 ---
For more information on COL McHugh, media may contact U.S. Army Battle Command Training Program PAO at 913-683-4118
---
Albino Eulogy for COL John McHugh
Tuesday 18 May 2010 began pretty much as a repeat of most every other day in Afghanistan for us in a sort of way reminiscent of the movie "Groundhog Day" except this was no comedy. My life as a military planner was monotonous busy-work working on plans that would be executed if only… (if only we had the troops available, or the resources, or the will, or any of the numerous things we were short of, so essential to execute a plan). 24/7 we worked on these plans with time marked in six hours increments when the mess hall overfed us meals at 0600, 1200, 1800, & 2400. We only slept in fits worried that something was left undone.
The only break in this monotony for me was my frequent trips throughout Kabul or Afghanistan trying to secure the troops, resources, will, etc. for the plans from our Afghan or other allies. Often we would travel in convoys so our heavily armored vehicles therein could provide mutual security. On occasion these convoys would defend against attack, and I was always prepared for such as a Special Forces officer; this is what I signed-up for. This was in contrast to some of the drivers who perhaps thought that their posting at an HQ unit "echelons above reality" and their staff duties would preclude them from combat. However, even if their primary Military Occupational Specialties (MOSs) were as 71L clerk typists within the HQ staff, the HQ staff still needed drivers to get the officers to meetings throughout Kabul and Afghanistan. As drivers, they were subject to some of the most unpredictable combat the Middle East has to offer in terms of IED attacks against their convoys, regardless to what they signed up for. I likened them to the bomber pilot heroes of World War II who had to fly slow and level, day in and day out, while Nazi FLAK and fighters constantly decimated them on average 5% daily. Whether they survived any particular attack on any particular day was more due to dumb luck than Soldier skill exemplifying the utter randomness of war.
On that particular morning two of my drivers, SPC Joshua Tomlinson and SSG Richard Tieman were preparing to drive in a convoy going into downtown Kabul. I called them my drivers because I was the Officer in Charge of Force Package 2 that deployed with them from our home station in Heidelberg, Germany -- I specifically remember looking at their faces as I scanned the formation in the Heidelberg gym as I gave a last departure speech to the entire Force Package while trying to give our deployment an upbeat outlook by comparing our forthcoming combat tour with the adventures of Alexander the Great in Afghanistan. (In retrospect, I now realize how lame and awkward my words were…)
However, I knew them best because I regularly rode with them throughout Kabul. During my rides with them we would talk about everything far beyond ordinary small talk but always avoiding shop talk and the stress inherent in that. With the familiarity and frequency of the rides we shared, I felt justified in calling them my drivers.
That particular morning I would not be riding with them. Out-of-town visitors, from Fort Leavenworth and elsewhere, made the convoy too crowded for me to be included. So as I walked out of the mess hall after breakfast, I was pondering work-arounds since I would not be meeting my contacts across Kabul face-to-face. As I was lost deep in thought, a voice yells at me from a distance, "Bob, is that you?"
Somewhat startled I looked up to see an Eagle staring intently at me. I snapped off a "Sir" (but no salute as was policy in case we were under enemy observation) since I was just a Lieutenant Colonel called to active duty from the reserves and the Eagle was a "full bird" Colonel. I looked into the eyes of this Colonel searching for recognition. Although it was clear he recognized me, I clearly did not recognize him.
"Bob, it's me, John McHugh from West Point, class of 86, we shared some classes together."
"John!" I smiled grabbing his hand and shaking it wondering if I was doing it warmly enough to hide the fact that I was only mostly sure that I recognized him.
He then went on to briefly explain the circumstances that brought him to Afghanistan. In turn, I explained how I came to Afghanistan, after almost retiring from the reserves. Indeed I gave him a shortened version of the whole story of how 9-11 dragged me back into military service after I thought I left it for good for the music business. He in turn explained how 9-11 kept him in the service even after he did his 20 years.
Our conversation then turned to what we have been doing since our 1986 graduation. We compared notes on mutual friends that we might know and then we talked of family. With all smiles, he talked of his wife and kids and the pride that he had in them, mentioning each by name. Then, noticing the time he said he had to go meet a convoy. I then jokingly accused him of taking my seat, since I was "bumped" from the convoy. He said it was a shame that I would not be joining him on board the convoy because then we could have sat together and continued our conversation. We then seriously talked about what to do if the convoy made enemy contact or was attacked by roadside bombs. We discussed the logic of having a pistol in hand for the trip or instead holding a fire extinguisher; I finally convinced him that it was probably best not to have anything in hand, since anything not holstered or secured to the vehicle would likely become another loose projectile bouncing around inside, further injuring the occupants, should an IED explode nearby. We then made indefinite plans to get together later and said goodbye to each other for now. He then walked off to join the convoy.
Less than an hour later I thought I heard a short muffled rubble from the southwest direction of the convoy's departure. My uneasy feeling was quickly confirmed by our operation center abuzz with reports of the attack but it was not until later that I learned John and I would not be getting together or that my drivers would not be taking me downtown ever again.
When we learned more details about the attack and the growing casualty list I was dumb founded. It was the Taliban's largest and most successful attack on a coalition convoy during our tour. The explosion killed both a U.S. full Colonel and a Canadian full Colonel, representing the highest ranked KIAs for both the U.S. and Canadian militaries in Afghanistan. (That John was the highest ranked U.S. service-member killed is an impressive distinction, but one that offers no solace to friends and family to whom his rank was immaterial...) The attack also killed two fellow U.S. Lieutenant Colonels, one of which was LTC Thomas P. Belkofer whose mother had the honor of introducing President Obama at the recent Democratic National Convention. I regret that I had not met the other LTC, Paul R. Bartz (my apologies), but would have had they lived longer on their brief visit to Afghanistan. My two fellow U.S. Soldiers (my drivers!) from my Force Package Two and from my unit in Germany were also dead. Among the dead were 12 Afghans whose nearby families and friends no doubt grief their loss just as much as we grief for our dead Soldiers who traveled from the opposite side of the world to die there. All were killed on Dar-ul-Aman road leading to the ruins of the Dar-ul-Aman palace. In learning Dari I learned Dar-ul-Aman means "Abode of Peace" -- how sadly ironic to this tradegy – I only hope that each of the victims on Dar-ul-Aman road find their own "Abode of Peace" in a happy afterlife each according to his own faith.
But for the most part, I just filed the tragedy away in the back of my mind, and continued on with tasks at hand. I had a coordination mission to Bagram AFB to prepare for and dozens of things to do before I could fly there. For the most part, compartmentalizing and driving on with our military mission at hand was what we all did because that is what we were trained for and what was expected of us. My one exception to this is that when I felt it was safe to do so, I had a personal mini-breakdown, as private as possible, at the Kabul memorial service we had for my drivers SPC Joshua Tomlinson and SSG Richard Tieman. There I prayed furiously for them, for John, and all the other fatalities of the attack, cursed the unfairness of war, and had a good cry. After that I returned to being emotionally numb about the incident, until long after I left Afghanistan.
I first wrote this as an exercise to come to terms with my own troubled feelings about this incident and the randomness of war. But, it is the recent realization that I probably was the last USMA classmate to see John alive and probably heard the very last time John vocalized the names of his wife and children that compels me to massage this into some sort of eulogy. The purpose of this eulogy is simply for whatever comfort it might give John's friends and family to know that half an hour before his death John was talking fondly and proudly of them with a smile on his face. I can fully report that John was in good spirits as he walked off to meet his fate. I had the privilege of meeting John's daughter at our 30th year West Point reunion and I tried to relate this story to her of her father's last moments but I was choked with emotion and awkward. Even now my memory of some of this is unclear, lost in the fog of war. But as I write this, I can only hope that perhaps here my words are better composed to more adequately convey the human warmth and friendship John exuded in the hour before his death On this Memorial Day, may John Rest in Peace knowing he is not forgotten.
-Bob Albino
West Point
Class of "86"