Family and Friends
---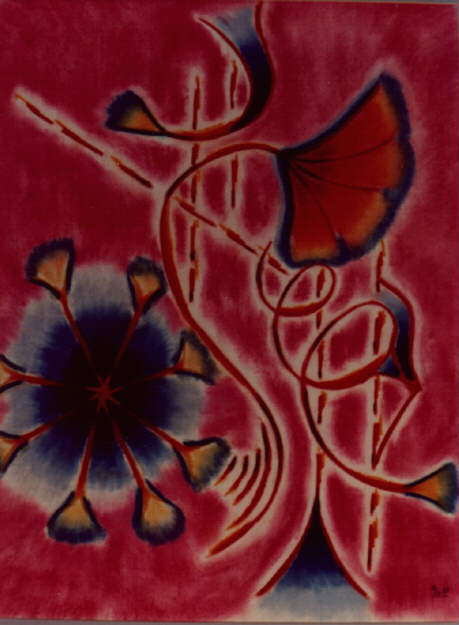 Above original drawing "Ginko" by Leslie Epstein
---
My Canuck friend, Corinne Leek, finally got around to sending me a picture of her new foal Espionage or Spy for short. Corinne came to visit me in Feb of 97.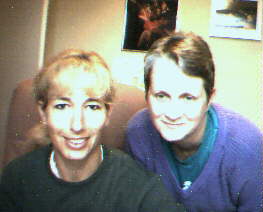 Spy was born in May 1996 and is a Hannovarian TB cross. She also sent a picture of her mare Troika who looks to have a kind eye, but I heard who can be a terror when she choses NOT to be caught. Here's the only KNOWN picture of CB and Twol . It's also a great picture to look at when it's 100 degrees in Texas. Twol is the Hannovarian daddy of Spy. And the latest addition to be to this Canuck's family Toby, a sweet puppy face if I ever saw one.

---
Another northern friend, Fruit Loopy Canuck Susan Deike, riding Spotty Brown her TB mare.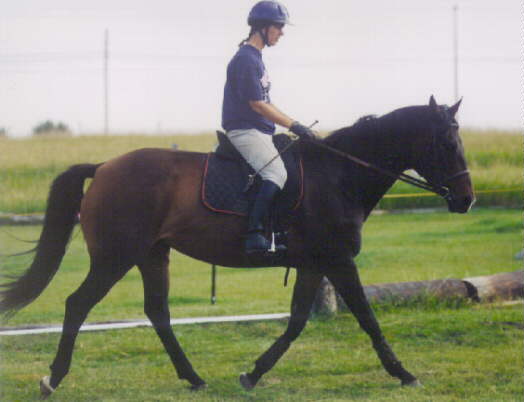 Her 2 other geldings,Solstice and Vinnie 'the hoof' shown here watching her ride this summer. I think you can spot a few gopher holes in the pics if you look carefully. Suz came to visit me on Halloween of 1997 - here's a record of her visit to Bon's Sport camp bed and brekkie.

---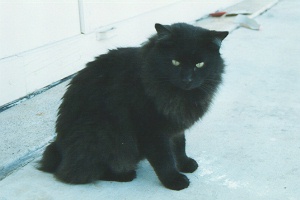 Bear came to live with us for a short time in 1996. We found her a home when she and Digger decided that fighting was more fun than getting along. John could almost not bear to give her up but we found her a good home with a loving Mom who promised to keep her indoors and safe.

---
This is a photo of Judy Bergman and her horse Rocky. Check out the beautiful sky and mountains in this Arizona shot.

---
My evil twin sister from south Texas Cyndi Craig gave me these pics of her paint mare Lisa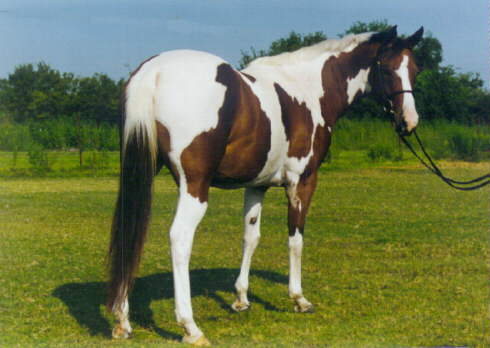 and her bay Arab gelding Muscatyr .
Jane Kilberg from south Texas has lots of fun with Spots and matching bows .
Val Frazier took a trip to Ireland this past summer. Cross Country!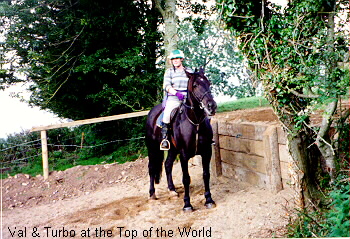 and more jumping , and steps . Here's a picture of her going Cross Country with her colorful horse Bye .
I guess it runs in the family. This is a picture of my niece Paige showing off her beautiful National Show Horse called Ernie. Look at how long that tail is.


Elizabeth Moon's home page - author extraordinaire and horsewoman
Duhons & Willowbrook Designs pages - if you like animations and original art! Almost all of the animations you see on my pages are her creations.
Carole Nowicke's home page
---
Last updated: 3 Jan 1999