Roger Hoxmeier

Cullum: 931798




Class: 1965




Cadet Company: G-2




Date of Death: March 30, 2011




Died in Verdi, NV




Interred: Cremated and Inurned - View or Post a Eulogy



---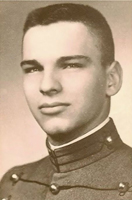 Roger Lee 'Hox' Hoxmeier was born in Dubuque, IA and was the eldest of three sons (Roger, Gary and TJ) of Lucille and Leo Hoxmeier. His parents were WWII factory workers prior to Leo working at Dubuque Packing and Lucille becoming a stay-at-home mom.
Hox attended St. Columbkille Catholic Elementary School before entering Loras Academy, which was subsequently absorbed into Wahlert Catholic High. These formative years were instrumental in shaping Hox as a caring, yet humble, fiercely competitive role model and leader of a man.
Early on, Hox distinguished himself academically, athletically and in civic affairs. He excelled in football, baseball and personal development through weight-lifting. He sang in the school and church choirs and played both the piano and accordion. He worked summers caddying and teaching accordion lessons. He was selected to attend Boys State, where he was exposed to the government and its various agencies. He worked on the school newspaper and became a member of the nation's oldest junior ROTC, culminating with his appointment to cadet colonel.
The highlight of Hox's young life was his appointment to West Point. He continued self-development through weight-lifting and wrestling, always ranking in the top few in class PE standings. His favorite course of study was tactics, and the most memorable historic events he recalled to his children were the assassination of President Kennedy and General MacArthur's Farewell address to the Corps. As a cow squad leader in New Cadet Barracks, he led PT and bayonet instruction (bayonet stenciled on his chest), always challenging his best against Simpson's best. His family recalls that Hox attributed West Point amongst the most defining times in his life, a time when he bonded with others of similar potential and ambitions, creating friends for life. Classmates remember him as highly motivated, disciplined and a man of character.
Regretfully for his classmates, Hox elected to leave West Point prior to firstie year to start married life with Faye in California and pursue a law enforcement career. TJ remembers that his brother was always impressed with the Highway Patrol, which was most likely why he pursued police work after West Point.
Throughout his law enforcement tenure, Hox distinguished himself and rose to the highest ranks of police leadership. He was an innovative policing leader during the 70s and 80s and was a founding member of the Simi Valley Police Department. His contributions to this newly incorporated city are still being felt decades later by residents who enjoy living in one of the safest cities in America. Hox retired from law enforcement in 1982 as the Ventura County Sheriff's Department Executive Commander.
Shortly thereafter, in 1983, Hox married Dianne, who partnered with him through 28 beautiful years. During this time he mastered another career as a stockbroker and financial advisor before re-retiring in 2004. Throughout his professional career Hox was involved in numerous community organizations (United Way, Boys & Girls Club, Salvation Army and Interface Community). His creative spirit and sense of duty touched many who considered themselves blessed to have worked with him throughout his professional life.
Hox was a proud father, a loving husband and parent and an exemplary role model to all four of his children (Michelle, Dan, Tony, Ryan), all of whom grew into adulthood adopting his values. They remember him as creative, loyal, loving and one who was honored to have been a member of the Corps. Michelle remembers playing in her parent's closet as a child and staring up at an impressive, highly decorated "B-robe," one that could have passed for a ceremonial robe of great importance. She still envisions it clearly today, knowing how much the West Point memories meant to her dad.
Michelle and her brothers remember their dad as an honorable and devoted law enforcement leader. As a testament to his ability to meaningfully influence them, they were all inspired to serve—enlisting as active duty soldiers, a sailor and a marine. They all then followed in public service as decorated and distinguished public safety leaders in the Riverside County Sheriff's Department and in police departments around Southern California, where they continue to serve in fond remembrance of him today.
Hox celebrated retirement the "easy way" for him, continually working the weights and proving well into his 60s that he could still compete and win—no surprise for one of his character. Still not content, he fulfilled another dream. After nearly two years, through snow and cold, wind and rain, and the hot summer sun, Hox and Dianne carried the stones and bricks and nailed the boards, finishing 3,400sf on two acres: a beautiful home in Verdi, NV, backed up to the Truckee River, looking across the valley and up the snowcapped mountains of California. Here is where God called him home after a lingering illness.
Hox built a beautiful life and a loving and beautiful family. Respecting his request, a saddened wife and children joined at his favorite fishing hole, Gull Lake, and "cast some ashes while enjoying heaven on earth with one another." His remaining ashes are displayed at home in Verdi, NV. Hox is also survived by seven grandchildren and one great-grandchild.
Roger Hoxmeier is remembered with love and respect by those whose lives he touched, and the Class of "Strength and Drive" is proud that Hox is one of us.
— '65 classmates