Philip Vinson Harper

Cullum: 26081




Class: 1965




Cadet Company: E2




Date of Birth: September 29, 1943




Date of Death: August 12, 1991




Died in Richmond, VA




Interred: Maury Cemetery, Richmond, VA - View or Post a Eulogy



---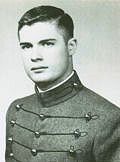 Reaching back a quarter century, a Vietnam veteran's voice choked with emotion as he described Phil Harper's philosophy for living with a devastating war injury. "Phil didn't want to make a life business over being handicapped; he was interested in the outside world, not being part of a 'victim group.'"
His spine crushed by a collapsing bunker and facing an excruciating future, Phil did not wallow in grief. Instead, he threw himself into the plight of paralyzed American veterans and into rejuvenating a moribund organization called the Paralyzed Veterans of America. With Phil's ideas and energy, the PVA was transformed into a true service organization reflecting Phil's passion and devotion.
"We're nothing if we can't take care of our members," fumed Phil early in his association with the PVA. Phil envisioned a veteran's organization small enough to solve individual problems, but strong enough to fix what was broken in the structure of veteran's care. In the sixties and early seventies much was broken: drugs and weapons in the hospitals, insufficient and poorly compensated staff, limited resources, and no service ethic.
Phil's anger produced energy. His boss during this period recalled, "Phil wrote the book on work, he stayed in his office day and night, researching and studying, he never stopped working, even at parties."
What Phil produced from 1974-76 endures to this day: a comprehensive national service program including the establishment of service directors at each regional office; training and management procedures for service directors; and individual office locations responsive to service requirements. Further, Phil fought to place Vietnam veterans in key positions in the government, to obtain higher pay grades for prosthetic specialists in V.A. hospitals, for additional funding for prosthetic research, and for national legislation to benefit disabled veterans. His legacy is a national organization reflecting Phil's passion for service. It is difficult to imagine a more meaningful tribute.
What were the sources of Phil's passionate and principled drive? His associates continually mentioned West Point; Phil was quick to add his family.
West Point clearly played a major role. "Phil was very proud of where he had been and what he had done," noted one of his associated. "Phil always knew he had to fight."
But when Phil attacked the status quo, he did it not only with anger, but also with principle. Recalled another associate of Phil's, "Phil always said, 'No lying, no cheating, no stealing,' and he didn't tolerate those who did."
At West Point, despite his own academic challenges, Phil always found time to help others, a foretelling of his deep commitment a decade later to paralyzed veterans.
In Boxing and wrestling, Phil was decidedly less generous; his competitive spirit was focused and fierce. Knowing that competition was keen for the exalted position of class "anchor man," Phil calibrated his grade point "overage" with gusto to ensure he finished last in our class. His campaign plan succeeded brilliantly. Our Howitzer concluded, "Whichever branch Phil finally chooses will receive a dedicated, hard-fighting leader." The Queen of Battle was the ultimate winner.
Phil's Virginia roots and nurturing family also shaped much of the personality we loved and admired. He was born in Portsmouth, VA, the second son of 4 children. His dad, Phil Sr., and his mother, Saran Lee Ruth Harper, were hard-working; they set an outstanding example. Phil Jr. was hardheaded, even at an early age. He ran away from home when he was 18 months old for not getting his way. He feared nothing!
Until he went to high school, Phil played baseball; in high school, he took up basket ball. He was not a natural athlete, but he made himself good! He practiced hard and lettered all 4 years. Besides school and sports, he had a job as well as chores at home.
His dad realized that if his boys were to attend a first-rate university it would have to be one of the military academies. When Lee was not able to attend because of a football injury, his hopes turned to Phil.
At Chuckatuch High School, Phil was an excellent student, did very well on the SATs, and graduated as class valedictorian.
West Point led to Phil's first assignment as an Infantry second lieutenant with the 7th Cavalry, followed by his tour of duty with the 1st Cavalry Division in Vietnam, his injury, his struggle to recovery, and then service with the Paralyzed Veterans of America.
In 1974, Phil net Linda. The meeting venue was a bowling league, the "Ups" (those who could walk) and "Downs" (those in wheelchairs). After bowling, Philip (as Linda called him) asked her to go out. Linda had a grand time, and she knew right away that Philip had all the qualities she wanted in a husband. She told her mother that this was the man!
Linda and Phil tackled life together, living it to its fullest, and not letting Phil's handicap diminish in any way the joy of their union.
Phil also was devoted to his two daughters, Rebecca and Krystal. Because he was close to home so much, he was always part of their many activities. Phil gave the whole family strength and taught them never to let a handicap limit the attainment of even the loftiest goals.
Classmate Marty Resick put it in context, "Phil succeeded in life. Look at the results; a great wife, kids, and people like me with memories of a wonderfully carefree spirit. I've told the story at least 50 times of how Phil graduated, responding to the roar of his classmates as he finalized the graduation line, coming down with his diploma to give the number one man in the class some advice. What a delicious moment! Phil survived Vietnam. He was saved by his courage and the 'Equalizer,' his M-16 rifle. In Phil, you had a friend for life, a man for all seasons. I'll see him again."
We'll all see him again, Marty, his family, his classmates, and the thousands of paralyzed veterans whose lives were enriched by Phil's passion and devotion. When that delicious moment arrives, we'll all be on our feet -- veterans, family, classmates -- saluting one who gave his last true measure of devotion to those in desperate need.
Thanks, Phil. We all miss you. Well done!