Timothy James Vogel

Cullum: 26078




Class: 1965




Cadet Company: K1




Date of Birth: September 30, 1941




Date of Death: April 28, 2007




Died in Red Lodge, MT




Interred: West Point Cemetery, West Point, NY - View or Post a Eulogy




Location: Sect XXXIV, Row F, Grave 257A



---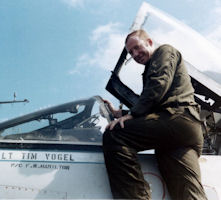 Timothy James Vogel's journey to West Point was, like his life, anything but ordinary. Tim's life journey began at Pensacola air Station, where he would one day, earn his wings as a Naval Aviator. Tim was born to fly. His father, a Naval Academy graduate and World War II ace was also an outstanding athlete. Tragically, his father was killed while on a combat mission in Korea.Tim kept a log book as a young boy and made entries of his father's exploits. The last entry in the book after his father was killed was, "don't worry I'll take over from here, Dad".
Tim spent his life trying to emulate his father. After graduating from Saint Mary's high school where he excelled in football and lacrosse, he enlisted in the Navy to take advantage of the service academy prep school. After a year at Bainbridge he failed to gain admission to either the Naval Academy or West Point. Not to be deterred, Tim managed to get into the West Point prep school on his second try and was the only sailor in an all Army institution. The fact that Tim was recognized as an up and coming lacrosse star was a factor in his being accepted at West Point.
Tim saw his four years at West Point as a means to fulfill his life long dream of becoming a Navy pilot. "The Timmer" struggled with academics and had to work a little harder and longer to keep his dream alive. On the lacrosse field, it was a different story. It did not take him long to become a legend in Army lacrosse. His exploits in a winning effort against Navy in his first varsity year are still remembered by Army lacrosse fans. He was a fierce competitor who could outrun most players. He was, however, known for his shot. During his junior and senior years Tim was reputed to have the fastest shot in the country. As a result of his outstanding contribution to Army lacrosse he was recognized as an honorable mention All American in his junior year and a first team all American his senior year.
After battling the academic departments for four years, Tim was ready to graduate. Tim's graduation was also, far from ordinary. Since both he and his brother Fred were graduating on the same day from both the Military Academy and Annapolis, their mother could not attend both ceremonies. So, Tim's mom contacted Lady Bird Johnson and had the White House arrange a flight to West Point and back to Annapolis so she could see both of her sons sworn in. Tim accepted his commission to the Navy and went on to become one of the Navy's top jet pilots.
Tim was actually the third generation of his family to attend the service academies, to serve his country in its time of need, and to take to the skies in flight; his father's inspiration and Tim's as well goes back to his great uncle, a 1913 West Point graduate and one of the earliest Army aviators. Tim opted to fly as his great uncle had done and to go Navy air as his father had done.
After earning his wings at the Naval Air Station, Pensacola Tim entered the happiest times of his life – behind the stick of a Corsair II attack jet. Tim had hundreds of carrier landings to his credit and over 200 combat missions over North Vietnam. Tim's brother Fred visited him on the USS Enterprise. Tim was flying missions day and night, around the clock, against one of the most heavily fortified military targets in the world. To hear Tim talk about it, it was just another day at the office. For his actions in Vietnam Tim was awarded the Distinguished Flying Cross, Navy Commendation medal, multiple awards of the Air Medal and the Presidential Unit Citation.
Along the way Tim got married and had two lovely children, Tim Jr. and Sherri and three grandchildren. Tim left the Navy in 1983. With time on his hands, he decided to go to law school. He graduated from the University of North Dakota and began his second career.
Not too long after that, the cruel hand of fate touched this mighty athlete and warrior. Tim was diagnosed with PSP – Progressive Supranuclear Palsy. It is a rare degenerative disease that affects the brain. During the beginning stages of the disease, Tim was able to get around on his own. He attended a reunion, saw a lacrosse game with some of his teammates. By that time, the disease was starting to take its toll. He became weak physically but not mentally. He never lost his sense of humor and his memory was sharp as ever.
Tim 's health declined rapidly around 2002 and he was placed in a nursing facility in Virginia not far from the Pentagon. Many friends, classmates, and teammates visited Tim as they traveled up and down the east coast. Stopping by to see Tim was always on the agenda. In 2004 Tim's daughter moved to Montana and Tim followed. It was in Montana where Tim would experience the freedom of flight for the last time and where he would lose his battle with this dreadful disease.
During his time in Montana, many of his classmates would often get together and visit Tim. The locals called them "the Band of Brothers" . On one occasion the Band of Brothers arranged for Tim to take one last flight in an airplane. Arrangements were made, and on one clear and beautiful day, Tim was in the sky again – where he was destined to be.
Not long after, Tim passed away. The funeral services were held on 8 May 2007 at West Point. The Band of Brothers were there, as were many of his lacrosse teammates, family, friends and classmates. Tim's entry in his notebook after the death of his father, "don't worry, Ill take over from here, Dad" was in deed prophetic. You did a great job, Timmer! Be thou at peace.
Your family, and classmates