Mr. Bartholomew D. Barry Jr.

Cullum: 26077




Class: 1965




Cadet Company: H1




Date of Birth: July 18, 1943




Date of Death: November 27, 2018




Died in: Boston, MA




Interred: Arlington National Cemetary - View or Post a Eulogy



---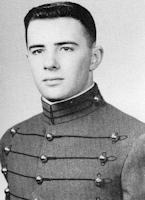 Bartholomew D. "Bart" Barry Jr. was born on July 18, 1943 in Wakefield, MA, the son of Bartholomew D. and Lillian Barry. He attended St. Joseph's Parochial School and was both an altar boy and choir boy. He attended Wakefield High School and lettered in hockey, golf, and baseball.
Bart won appointment to the United States Military Academy from Massachusetts Congressman "Torby" Macdonald and was sworn into the Corps of Cadets on July 5, 1961 age 17. At West Point he had a distinguished litany of accomplishments, including his record-breaking scoring as a plebe hockey player and his subsequent varsity Division I career—setting records for goals and assists in his final two seasons while leading the Army Hockey Team to No. 2 national and No. 1 Eastern College Athletic Conference rankings his junior year.
Classmate Jerry Merges, a varsity swimmer, remembers rooming with Bart and going to his hockey games to cool off from the warm and humid natatorium. Both cadets were exhausted after sports practice and looked forward to "brown boy" (comforter) time in the evenings.
Bart graduated with a B.S. in general engineering on June 9, 1965, having never spent one hour "walking the Area" with his rifle at "Shoulder Arms" for infractions of the rigid demerit system—a rarity among student athlete graduates.
Commissioned at graduation in the Army Air Defense Artillery (ADA) branch, he attended the Officer Nike Hercules (nuclear capable) Missile School at Fort Bliss, TX. Bart then successfully completed the Airborne and Ranger schools at Fort Benning, GA before being deployed to his first ADA assignment in Germany in January 1966. Classmate Dan Steinwald recalls: "Bart and I were in the same area and had almost identical Corvettes. They were racing green/tan interiors/tan rag tops. We were stationed about an hour apart and got together on a few occasions. The sight of a Corvette driving in Germany was one thing, but twins driving in tandem was a sure conversation starter."
Later, in 1966, the Army was building up for Vietnam War. Bart was reassigned to the U.S. Army Advanced Infantry School Fort Lewis/McCord AFB in Tacoma, WA. One year later Bart was deployed to Fairbanks, AK as a first lieutenant, the youngest officer to command a nuclear capable Nike Hercules Missile site. He received an early promotion to captain in September 1967. His battery achieved the highest score recorded on a Department of the Army Technical Proficiency Inspection, which examined the readiness of the entire site.
Captain Barry was then deployed to Southeast Asia, where his units were the "action arm" of the controversial counterterrorism "Phoenix Program." He was awarded the Silver Star for gallantry in action, the Bronze Star, the ACM with "V" for valor and oak leaf cluster, the Air Medal, the Combat Infantryman Badge and numerous Vietnamese and campaign decorations.
In November 1969 Bart resigned his commission and soon thereafter joined the Polaroid Corporation in a sensitive position managing the development of the novel SX-70 integral film product. He was elevated to manage the prototype camera/film assembly laboratory at Polaroid's iconic Charles River Facility on Memorial Drive in Cambridge, MA. Next, he helped establish and coordinate the design and build of a "state of the art" semiconductor R/D Lab which developed leading edge microelectronic sensors and solid-state laser diode devices for electronic imaging and printing. He served as Polaroid's first representative to the International Semiconductor Safety, Health and Environment Association (SSA) and was subsequently elected to the Board of Directors for the International SSA. Bart opted for a unique one-time early retirement in April 1996.
In July 1996 he joined the Gillette Company as director of blade edge technology. He devoted 12 years to leading new product development and global implementation of new technologies, processes and teams at Gillette. In September 2007 he retired from Gillette. Seven successful new products—including MACH3, FUSION, VENUS and power vibrating versions—were introduced from his blade edge technology organization.
While with Polaroid Bart attended the Executive Program at the University of Southern California Graduate School of Business (1984) and the Advanced Management Program at Duke University's Fuqua Graduate School of Business (1993). During his Gillette years he completed the Management of Technology and Innovation Program at Cal Tech in Pasadena, CA (2005).
Bart and Wendy Beach Barry were justifiably the proud parents of their four children: Bart III (captain of hockey and golf teams and attended Arizona State University, Tempe, AZ); Heather (captain of girl's tennis team, three-year starter in soccer, and graduated from the University of Southern California-Los Angeles, CA); Amy (captain of girl's tennis and soccer teams, as well as four-year starter, and graduate of Le Cordon Bleu College of Culinary Arts, Pasadena, CA); Jacqui (captain of tennis team and graduated from the College of Charleston, SC, where she was elected president of the student body and gave the keynote address at the 2007 graduation exercises). Bart was also the proud grandfather of Bart's son, Nico, and daughter, Tina; Heather's daughters, Sophia and Sienna; Amy's son, Chase, and daughter, Charlotte; and Jacqueline's sons Avari and Kairo. He resided in Wayland, MA and was engaged to Ms. Jacqueline D. Cecil of Camden, ME—a lifelong committed partner, an avid hiker, and a worldwide travel companion since 2001. They "wintered" in Scottsdale (Paradise Valley), AZ; "summered" in Camden, ME and Jackson, WY; and traveled extensively: Ireland, mainland Europe, and Japan.