Mr. Donald Craig Parcells

Cullum: 26062




Class: '65




Cadet Company: D1




Date of Birth: May 5, 1943




Date of Death: November 9, 2005




Died in Short Hills, NJ




Interred: St. Rose of Lima Catholic Church Short Hills, NJ - View or Post a Eulogy



---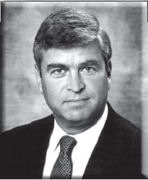 "Let us not forget to share a drink from the cup that was his life ...
for we may never have the chance to drink from one so full again."
--From Don's children
Donald Craig Parcells was born in Oradell, NJ, the second oldest of Ida and Charles Parcells' four children. Don's life journey was marked by success, whether it was on the athletic field, on the battlefield in the Viet Nam War, as a banking business executive, or as a community leader. His indomitable spirit and drive literally enveloped everyone around him, and he unabashedly extended loyalty, care and love to friends, colleagues, and his West Point classmates. He was a "loyal" friend, a dedicated family man, and a wonderful husband. Don possessed a sense of values and beliefs he not only internalized, but also naturally and effortlessly lived in his day to day life.
Beginning his cadet career, he sought to balance the competing demands of academics and the tactical system with the more personally satisfying endeavors of football and friends. Don was an outstanding Army football player at the fullback position. His physical attributes and football ability were the ideal of a West Point football player. He often recounted that his fondest memory was when he scored a touchdown in the 1962 Army-Navy game with President John F. Kennedy in the stands! Don earned three varsity letters and was instrumental in each of Army's major victories during his varsity tenure. Don's football career culminated with his selection to play in the annual North-South College All Star Game in Miami, FL.
Upon graduation, Don was commissioned in the Field Artillery and assigned to the 11th Artillery, 25th Infantry Division at Schofield Barracks, HI. This tour of duty was cut short, however, when the division deployed to Viet Nam, where Don was severely wounded. Following a lengthy recuperation in Japan, he returned to Viet Nam. In 1968, he was an instructor at the Artillery School, Ft. Sill, OK, and subsequently served as assistant secretary of the General Staff, Headquarters, XVIII Airborne Corps. In 1970, Don resigned in the grade of captain. His awards included two Bronze Stars for Valor, the Army Commendation Medal, two Air Medals, and the Purple Heart.
"From our time as cadets at West Point, to the Viet Nam War period and through the many years since, Don was a man of honor, an athlete, and a brave soldier. He was a man that we all looked up to, a man that enjoyed and loved life to the fullest."
In 1971, Don began his business career working for the Union Camp Corp. and then Citibank, the Chase Manhattan Bank, Marine Midland Bank, First Fidelity Bank, and the First Union Bank Corp. from which he retired in 1999 as president.
During his business career, Don continued to expand his "network." He made lasting friendships easily, and he seldom missed an opportunity to socialize and hold heady debates. He was the consummate raconteur--telling and embellishing the same stories over and over again to his personal delight and the delight of others. His unique ability to touch and relate to everyone he met and draw them into his life became a wonderful common connection among his following. He was the proud father of six children: Craig, Chris, Daniel, Matthew, Sean, and Shannon and the loving husband of his wife Elaine.
As a highly respected member of the Short Hills community, Don supported many different charitable causes and devoted much of his time to public service. In 2004, The American Cancer Society named him Man of the Year.
Don was deeply religious and had a strong devotion to God. When he was diagnosed with a brain tumor, Don had a special faith and determination to beat it and win. He displayed a never-give-up attitude and was an inspiration to others who were suffering with the same disease. The message he told them was "to find the right doctor, to fight, and never give up."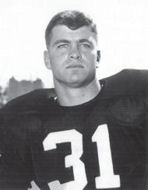 In a memorial service at St. Rose of Lima Catholic Church in Short Hills, NJ, where he rests, Don was eulogized by his oldest son Sean, along with his brothers and sister standing beside him:
"The true measure of a man's life is how much he is loved by others. Our father was a giant among men. As his children, he taught us many things: courage, honor, character, devotion, self-sacrifice, and honesty. But most of all he taught us how to love ourselves and one another. He wanted the best for us, and he wanted us all to be happy. He loved his family and felt that this was God's special gift to him. We are proud to have had him as our father. He was a man who loved people from all walks of life, never judging them. He welcomed people into his home as if they were family. And we know they were all proud to call him friend."
This great man, Army #31, quietly passed away in dignity and pride with family and loved ones, as well as many more in spiritual assemblage, standing by his side.
--Don's classmates, family, and friends