Jerry Reed McMillan

Cullum: 26058




Class: 1965




Cadet Company: E1




Date of Birth: October 5, 1943




Date of Death: December 24, 1994




Died in Fair Oaks Ranch, TX




Interred: Ft. Sam Houston Notional Cemetery, Son Antonio, TX - View or Post a Eulogy



---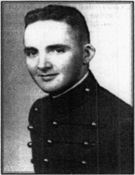 JERRY REED MCMILLAN was born in Texarkana, AR, on 5 Oct 1943, the son of Reed and Myrt McMillan. Jerry graduated from Texas High School in May 1961, having received a congressional appointment to West Point that spring. He entered West Point in July as a member of the Class of '65. After being commissioned in the Field Artillery Jerry completed Airborne and Ranger Schools and was assigned to Ft. Sill in the artillery school's support battalion while he awaited assignment to flight school. He graduated from flight school as a fixed wing pilot and joined 1st Aviation Brigade as an artillery spotter in Vietnam. Upon completion of his Vietnam tour, he returned to Ft. Sill as an aviator with the school's support wing. It was there that Jerry encountered the first indication of the medical condition that would affect his career. He was "grounded" after experiencing a hyperthyroid condition but seemed to respond to treatment. He then was transferred to Ft. Hood, where he worked during the early days of "computerized fire control systems." This experience would, after separation for medical reasons in 1977, serve to launch Jerry into a civilian career that he would find both financially and intellectually rewarding.
After completing his tour at Ft. Hood, Jerry was assigned to Seoul, Korea. It was there that he and his wife adopted a daughter, Kim Myung Ja. His children--Karen, Jake, and Christopher--willingly shared their father, whose generosity and capacity for love were boundless. Toward the end of his tour in 1976, Jerry had his first heart attack and, following several weeks of hospitalization, was transferred to Ft. Sam Houston for further evaluation and eventually medical retirement in July 1977.
After a period of recuperation, Jerry opened a college bookstore near the campus of the University of Texas at San Antonio and parlayed that into a successful business in a relatively brief period. When that business proved a bit too routine, however, he joined with a neighbor--Joseph Richburg--and a few more friends to develop a "computer search" concept into a very successful marketing product. It was at this point, in 1982, that Jerry found his "true love." Computer software development became his life's work after the Army and built for him the financial security that enabled him to provide for his family. He turned down several offers to leave his beloved state of Texas, and especially San Antonio, and was able to spend the next 8 years living beside a fairway of the game he loved to play, golf. This game did not overstress his physical condition and provided him an outlet for his friendly, competitive nature.
I first became acquainted with Jerry during "reorganization week." I was alone in my Central Area barracks room putting away my gear, and since I was a "recognized" plebe that year, I was dressed very casually. About that time in "popped" a very young-looking new cadet, who quickly closed the door, slumped to a relaxed position, just in time to see me casually dressed. Jerry immediately came to a full brace, probably thinking he had entered the room of an upperclassman by accident. Several moments passed before I convinced Jerry that I, too, was a plebe and, in fact, his roommate. That moment in time was the beginning of a friendship that I will always treasure.
Jerry's years at the military academy were not without academic difficulties, but he displayed the same stubborn determination in his bouts with the Dean as he did in the intramural arenas, where he overcame any natural athletic shortcomings with a fierce desire to do his best. I recall a number of coaching sessions in the latrines of Central Area after lights were out, trying to "Habla Espanol." I also recall numerous handball games in which he taught me that spirit and desire are more important than physical prowess. During his 4 years at the Academy, the academic departments stayed in hot pursuit, but Jerry won at the end. His easygoing Texas drawl concealed his hard-driving spirit and his refusal to quit, no matter how difficult the challenge.
My heart aches as I write this be cause I know I have lost my best friend, and he can never be replaced. From the time our friendship began until that last round of golf on 20 Dec 1994 (which he won), I knew Jerry as a person that the Academy would be proud to claim as a son. Throughout his life, he lived by those hallowed words of Duty, Honor, and Country in his own "Texas-friendly" style. Pretense, ego, and deceit did not have a place in Jerry's world. His concern for his family was always foremost in his mind, and he thought nothing of sacrificing for their benefit. His adopted daughter, Myung Ja, lived with him and no doubt extended his life through constant reminders of "watch what you eat" and "don't forget your medication." Words cannot express his family's and his friends' loss.
A classmate